"War & The Weather"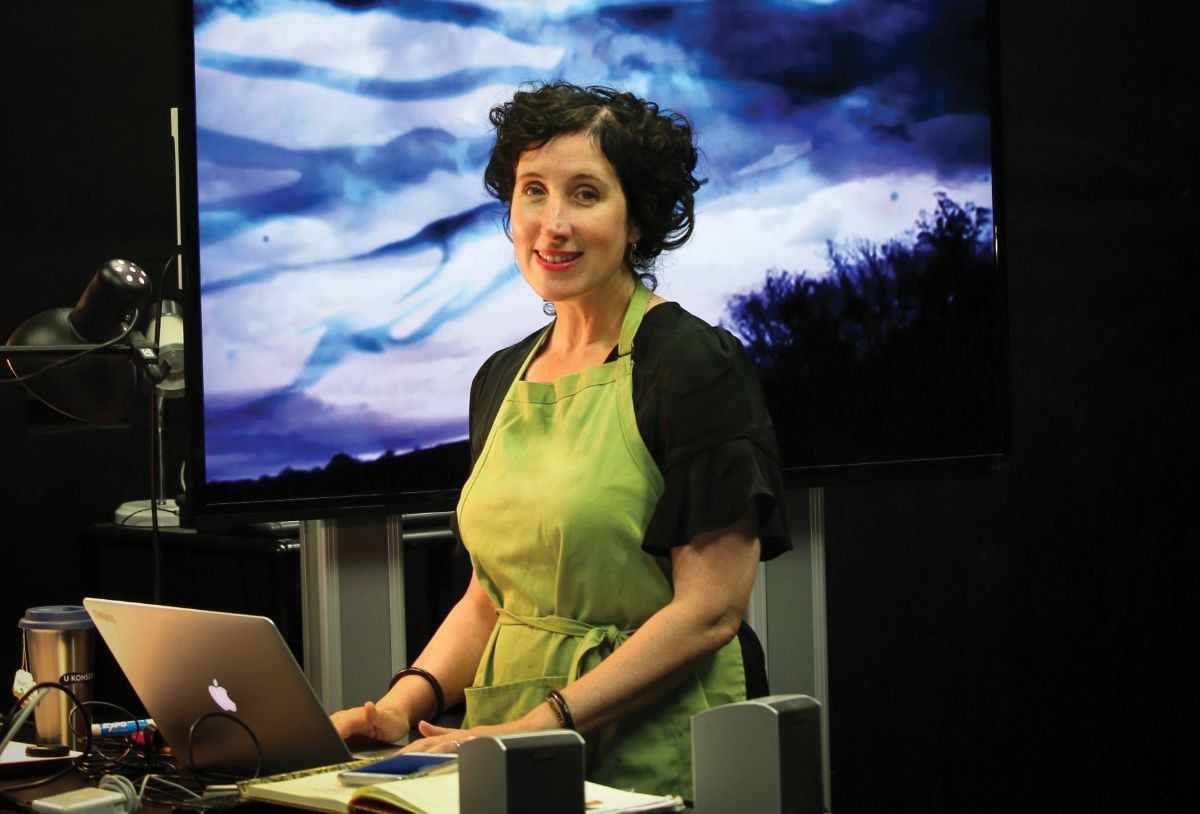 Photo by: Joan Iguban Galiguis
Professor and filmmaker Enid Ryce in the Cinematic Arts & Technology studio at CSUMB.
By Joey Perotti
Published Feb. 4, 2019
The history of water in California is "complicated and sprawling and crazy," says filmmaker and CSUMB professor Enid Ryce. She didn't realize that when asked to collaborate on a project about the subject in 2007. If she had known, "I never would have agreed to do it."
The project led to the discovery of a book by a Civil War general and, more than 10 years later, became the inspiration for Ryce's latest film. "War & The Weather" combines elements of documentary, animation, and experimental film, and features a score by world-renowned composer Philip Glass. Ryce completed the film at CSUMB, where she teaches in the Cinematic Arts & Technology department.
I try to make mainstream, normal-style films and they just take a left turn. I've always been a painter, and I've always made experimental films, and I thought, I've never really done them together.

— Enid Ryce
The book "War & The Weather: Or, The Artificial Production of Rain" was published in 1871 by Gen. Edward Powers and catalogues every battle of the Civil War, and more specifically, when rain fell. A best-seller in its time, the book posited the theory that warfare causes precipitation, and paralleled another theory that was part of the colonization of the American West called "Rain follows the plow," Ryce said.
Both of these theories promoted the idea that the noise of European-style civilization would transform the climate of the American West into one resembling Europe's. "I thought it was so interesting because in a way it was an argument to continue the Indian Wars" and "that doing so would literally transform the landscape into one more hospitable for European culture," Ryce said.
Powers actually received $10,000 from the government and fired cannons into the sky in Texas in a failed attempt to produce rain. "So it seemed really interesting, this idea of like, 'Well, let's see... We want it to do something, so let's shoot at it!' "
Waterways in the Sky
Ryce said she always works with history and science and likes to connect the two. She met a number of scientists when she was invited to create art installations and experiences at the Bay Delta Science Conference in Sacramento. It was here that Ryce learned about "atmospheric rivers," waterways in the sky that carry as much water as the Mississippi and are responsible for most of the major rainfall in California. This conference is also where the vision for her film came into view.
Ryce has been the director of community engagement for the Philip Glass Days & Nights Festival for the last six years. She was invited to screen her last film, "A Land for War," at the festival in 2017. The documentary about the former Fort Ord military base and its impact on the land premiered at the National Gallery of Art in Washington, D.C., with an accompanying exhibition at the Library of Congress.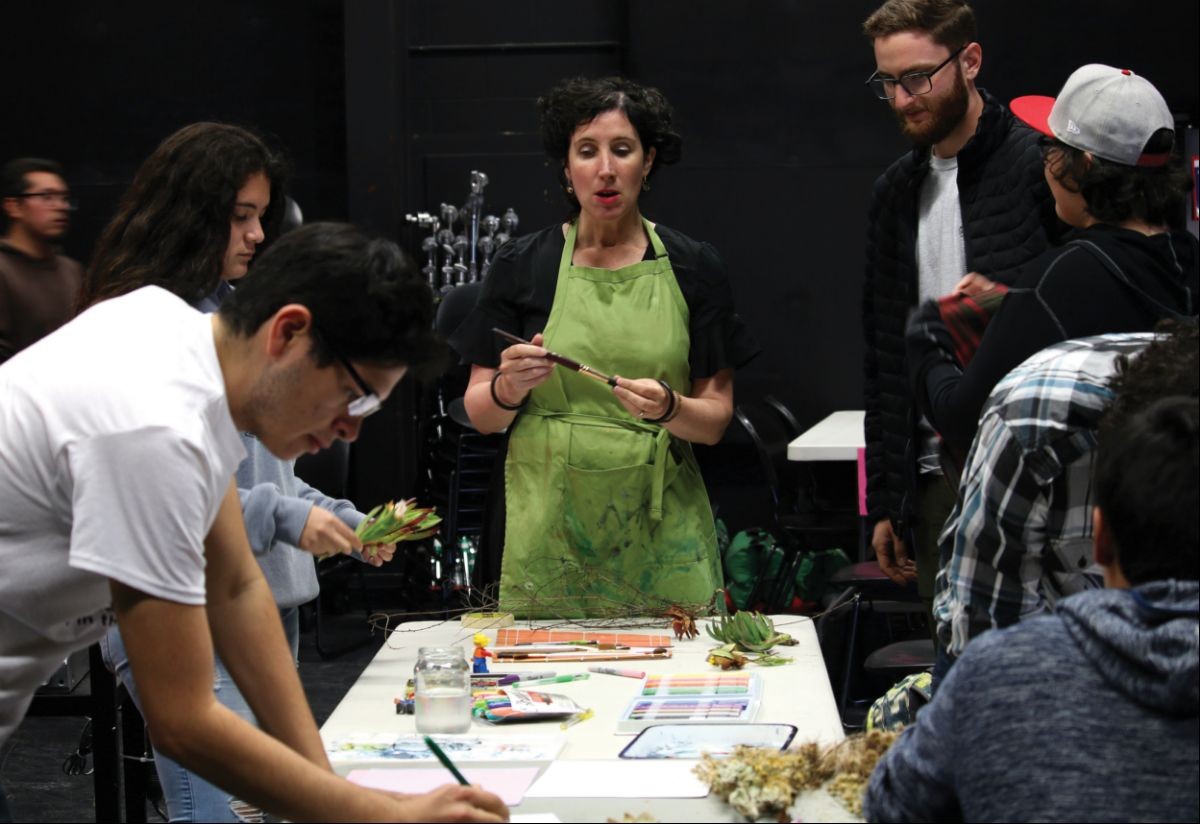 Photo by: Joan Iguban Galiguis
Enid Ryce and students work on experimental animation techniques.
The night before the "A Land for War" screening, Ryce was in the hospital. "I got a virus that attacked the nerves around my brain that control balance and vision, and I lost the ability to focus my eyes and walk. I had to relearn how to do that over this past year. So I missed my screening."
Despite a slow recovery from her virus, Ryce was determined to complete her next film, "War & The Weather." Glass had heard about the project and decided he wanted it to be the first ever arts and science project developed at the festival.
Just as she had worked with scientific and historical collaborators during the research and pre-production periods, Ryce had no shortage of help during the actual production. Not only had Glass agreed to score the film, but experimental animator Timothy David Orme came from South Dakota for a week to animate scenes.
Another Collaborator
They had never met in person, but had had long admired each other's work and kept in contact online. When Ryce told Orme about "War & the Weather," he offered to help. "From 9 a.m. to 5 p.m., every day for a week, we went in and animated 32 scenes. So it was really exciting, and I learned so much, and now I'm teaching my students. We just did an animation workshop, and I'm starting a new migrant youth animation workshop based on Tim's advice."
Orme not only worked on the film, but also pitched in at the Migrant Activity Center in East Salinas. "He did a workshop for migrant youth on animation and that was how we ended that week."
For one week the Cinematic Arts department allowed use of its studio to create different stations such as voice recording, research, painting, animating, editing, and projecting old footage onto canvas for re-filming. "I've always liked projecting film onto painted surfaces and filming it," Ryce said.
While it may have been easier to take a more simplified approach, Ryce wasn't interested in making a basic documentary. "I try to make mainstream, normal-style films and they just take a left turn," explains Ryce. "I've always been a painter, and I've always made experimental films, and I thought, I've never really done them together."
Rewarding Work
Ryce also credits the experimentation to needing to differentiate her project from what has come before. "There's literally a 'Ken Burns effect' in iMovie you can do, and that's from his very famous film ("The Civil War") where the images pan, so I had to find a different way to do it." Ryce said. "With the Civil War images, I painted these rivers and then animated them, and so they're flowing through the images."
In addition to using the Cinematic Arts & Technology Studio, the entire crew was comprised of mostly female CSUMB students. "It was a very diverse crew. They shot the interviews, the panel discussion, and now I'm going to be working in post-production with CSUMB alumni at Honest Engine Films." Having current students working on the film may slow down the process at times, but Ryce believes in their work. "Working with the students to create something -- that's a hundred percent the most rewarding."
Ryce returned to the Bay Delta Science Conference to screen a work-in-progress cut of the film. She was nervous because the audience was made up of scientists and water experts. To her relief, "It was really well received, and I even received an invitation to show it for all the employees at the Department of Water for the state of California."
But one screening may have topped that experience. "I was really proud because the one-year anniversary of (my hospitalization) was when I showed 'War & The Weather' at the Philip Glass Days and Nights Festival. I came back and everybody was like, 'You know what happened to her?' And I said, 'Well, I'm back. I can walk, I can talk, and I made this film.'"
"War & The Weather" is slated to officially premier in the Fall of 2019. While recovering from her virus and creating an experimental animated documentary, Ryce has also been running , turning the building into a hub for arts, culture and community. about the center's one-year anniversary.