No Day at the Beach
The beach may be considered a natural locale for volleyball. But basketball?
Coach Isaac Williams, who accepted the CSUMB men's basketball head coaching position in May, has already discovered that being a coach at the CSU campus located closest to the Pacific Ocean offers some unique advantages.
Finding the time necessary to assess the strengths and weaknesses of his team, while studying the key vulnerabilities of his opponents was one of Williams' greatest pre-season challenges. Luckily, the dunes of the former Fort Ord are just the place to find the peace and quiet he needs.
It's really great to be able to head down to the beach during the day and focus – sometimes on things bigger than basketball.

— Coach Williams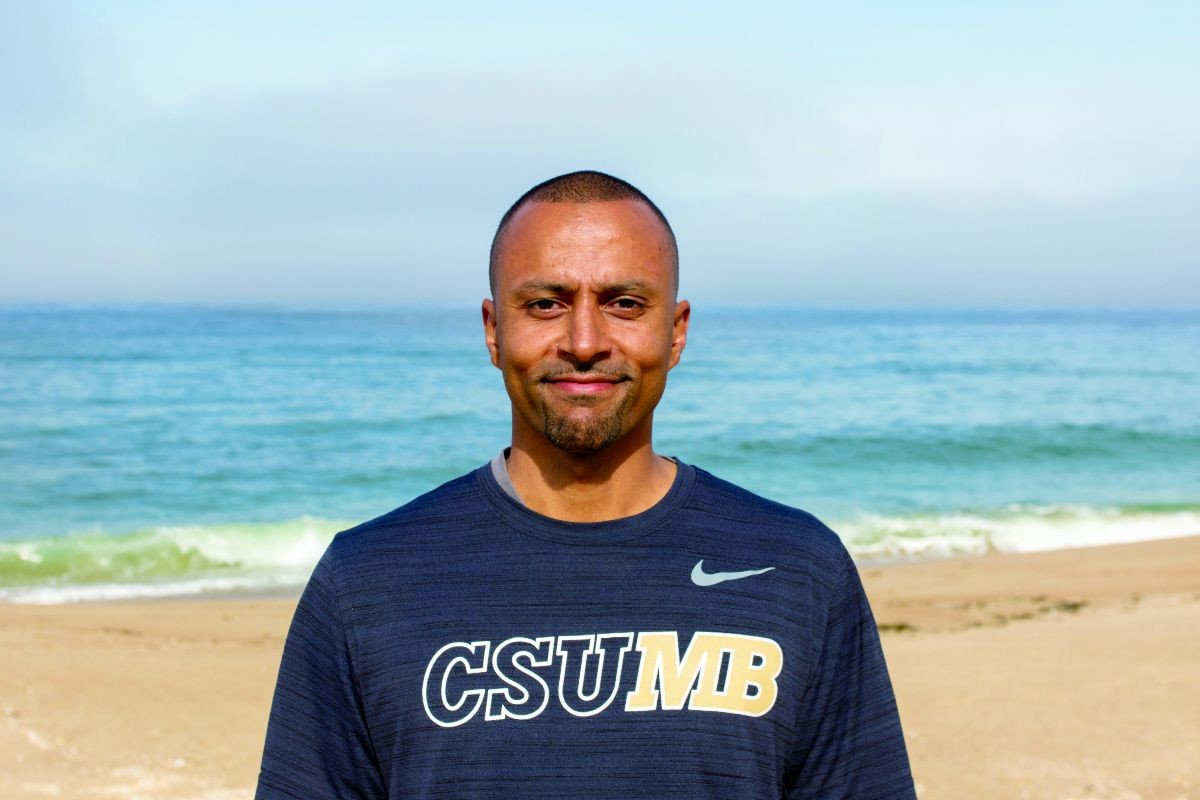 "Being down at the beach is calming. I'll go down to watch film on my iPad or read. I've been really focusing on finding time to read and learn to become the best coach and person that I can," said Williams. "When you're down there, you can really be present in the moment and not get distracted by some of the day-to-day tasks in the office. It's really great to be able to head down there during the day and focus – sometimes on things bigger than basketball."
Pre-season Fridays at the beach with Coach Williams, however, weren't so quiet or peaceful.
Williams held beach workouts and sand agility training for his team every Friday during the pre-season. Beach workouts – not a regular training routine at his last coaching stop at Eastern Oregon University (EOU) – are increasingly being incorporated into speed and agility training regimens, as they help improve balance and strengthen the smaller muscles of the foot and ankle.
Fortunately (or unfortunately, depending how you might view it) for student-athletes at CSUMB, the nearest set of 60-degree incline sand dunes are less than a mile from the Otter Sports Complex.
Being able to mix up your workouts and diversify your training is great.

— Coach Williams
"We've had some tough workouts down at the beach, but I think the guys have had fun, and at least we're out at the beach and in the elements," said Williams. "Being able to mix up your workouts and diversify your training is great. The season can be long, so it's always nice to bring something new and different to your training."
Williams may not know who his top rebounder will be or who will lead the team in scoring this season, but one theme of his coaching philosophy has already been unmistakable: the importance of strength and conditioning. Those will be essential to rebuilding a team that was riddled with injuries last season, at one point playing with only six players and finishing with a 4-22 record.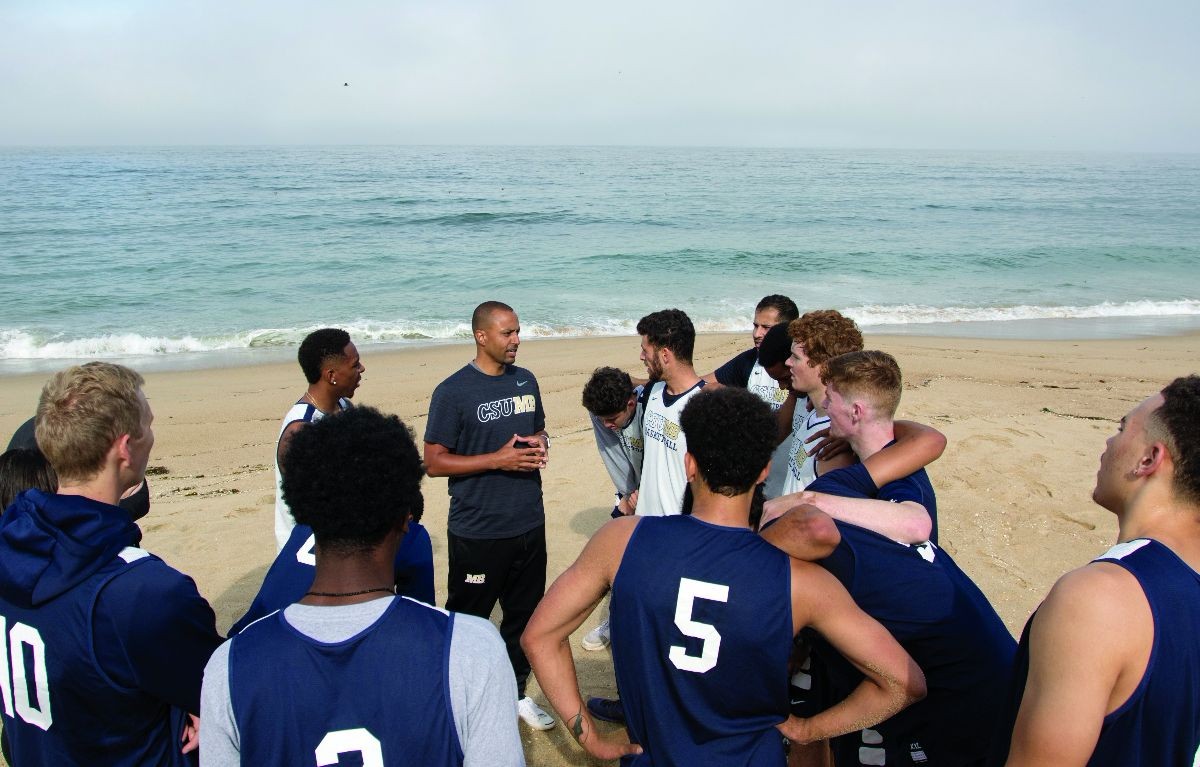 Coach Williams meets with his team on the Fort Ord dunes.
Rebuilding projects are nothing new to Williams, as he deftly proved during his time at EOU.
Before Williams arrived, the Mountaineers had posted just one winning season and a .371 win percentage in 10 seasons.
After serving as an assistant coach for five seasons, Williams became head coach at EOU, his alma mater, in 2009. From 2009-13, EOU had three 20-win seasons and earned four consecutive trips to the NAIA Division II National Tournament. During the 2012-13 campaign, Williams led the Mountaineers to the first No. 1 ranking in program history.
Then, Williams left EOU to move to Boise State University, where he served as director of operations for the men's basketball team for two years. In that role, Williams coordinated team travel and scheduling, as the Broncos had two straight 20-win seasons, and earned a trip to the NCAA tournament in 2015.
He moved back to EOU for the 2016-17 season, during which the Mountaineers compiled a 24-9 overall record, 15-5 in league play.
All told, Williams left EOU as the winningest coach in program history in terms of percentage (.745) and the second leading coach in wins.
"Isaac is a proven leader, winner, recruiter, and player developer. He will provide great leadership for our student-athletes and we are excited about the future of our program," said CSUMB Athletic Director Kirby Garry when he announced Williams's hiring. "The more we learned about him and got to know him, the more convinced we became that he was great match for Cal State Monterey Bay."
"The transition to CSUMB has been really smooth," said Williams. "The administration, coaches and support staffers have been amazing. Each has taken time to try and make the transition as easy as possible for me coming all the way from Oregon. It can be a tough profession with all the travel, odd hours and time spent away from home and family, but I have felt so welcomed here and I am very grateful for that."