Jose Luis Alvarado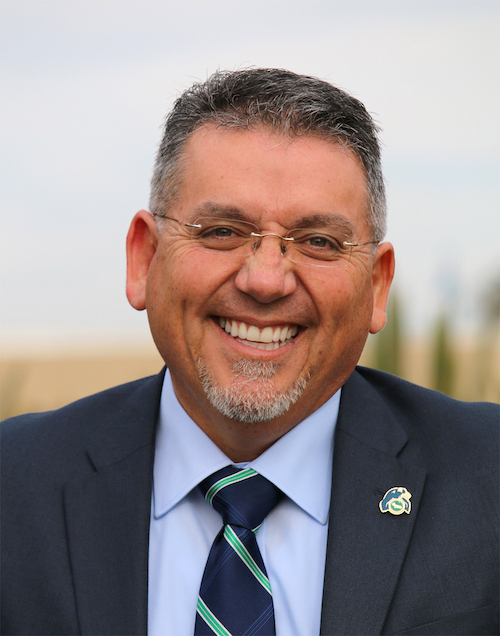 Jose Luis Alvarado
"It has been a sprint from Day One. And it is not letting up."
That's how Jose Luis Alvarado describes his nearly two-year tenure as dean of one of Cal State Monterey Bay's newest colleges – the College of Education. And as talks about his goals for the college, you can see what he means.
"We are dedicated to developing professionals who can go out in the communities and say, 'The status quo is no longer appropriate. The kind of results we have had in the schools is no longer acceptable.' We want to be change agents, to bring about success for every student in every school," Dr. Alvarado said.
Alvarado came to CSUMB after working for 15 years as a faculty member and administrator at San Diego State, rising to the rank of associate dean of the College of Education.
"I really identified with the vision and mission of this university," Alvarado said.
"My life pretty much resembled the lives of the students who grew up in the Salinas Valley. My parents worked in the fields, and I became a CSU grad, so that was in perfect alignment. And, of course, the excitement of coming in and building a new college, understanding that the education programs have a long tradition of excellence here," he said.
Alvarado was born in Mexico and moved with his family to California's Central Valley when he was 10. He didn't speak English, and ran into plenty of doubts that he would ever earn a college degree.
He went on to receive bachelor's and master's degrees in special education from San Diego State and his Ph.D. from the University of Virginia.
While building on the already established teacher credential program, Alvarado has sought to broaden the college's focus. The college has introduced a major in human development and family studies, to address needs at both ends of the age spectrum, from preschool to gerontology.
In the planning stages are programs to educate school psychologists, to provide training in educational leadership for school administrators, to educate school counselors, and also to move into post-secondary education fields, including academic affairs and academic administration.
The long-term goal, Dr. Alvarado said, is to address the full range of educational needs that exist in this area."What we have accomplished so far would have taken a typical college five or six years," he said. "We have accomplished it in a year and a half. So we are on a fast trajectory. Absolutely."