Balancing Act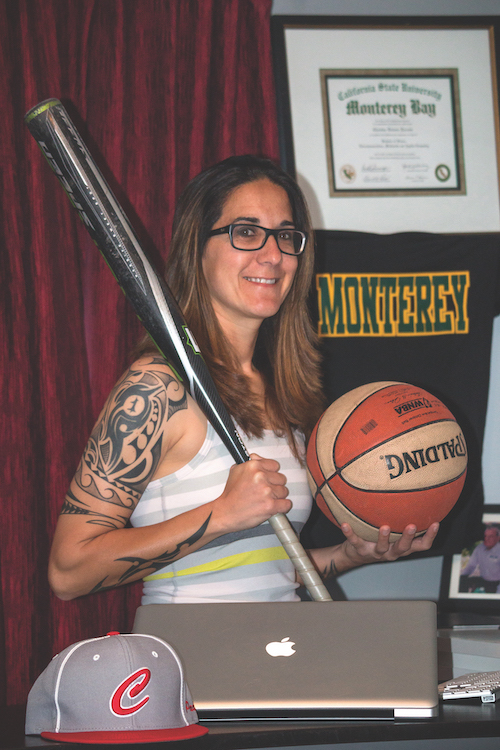 Christina Ferrante
"I'll sleep when I'm dead." Spend any time with Christina Ferrante and you know she means it.
The woman who says her best working hours are from 11 p.m. to 5 a.m., is the definition of self-starter, driven and a self-admitted glutton for punishment when it comes to work.
Her business, Christina V. Ferrante - Creative. Consulting. Development., is a one-woman marketing machine. She does the brand strategy, art direction, social media, web design and development herself.
She has done photography for USA Softball and various NCAA Division I college softball programs as well as several professional female athletes, for whom she also manages their brands.
If that's not enough, Ferrante somehow manufactures more time as the head coach of the Monterey High girls basketball team and assistant varsity coach of the Carmel High girls softball team.
"I spread myself so thin, but I do it to myself because I love what I do."
Ferrante also loves Cal State Monterey Bay, "You leave here, you are a part of here, and they want you to come back because it's a team."
Ferrante comes back twice a year to speak to her former professor Eric Tao's technology classes. She wants to help continue what she says was a "relationship of trust and mentorship and respect that I had with all of my teachers."
The proud Otter alum (BA '07, MA '09) also has some sage advice for students from her own experiences, which she says were much different than a lot of her classmates. "Don't be afraid to offer your services for nothing right now because word of mouth in this community is huge."
Ferrante has worked full-time and gone to school full-time since she graduated from high school. Bartering was her first entrée into the business world. "I would make websites for experience and trade-offs. I would make a website for a restaurant and would get free food for a period of time."
Before finding her home at CSUMB, she played softball at Monterey Peninsula College, went to school for a short time in San Diego and eventually returned to Monterey when her grandfather fell ill.
That's when she found her niche in the Telecommunications, Multimedia, and Applied Computing program at CSUMB. All the while, she was teaching herself about web development and design, creating pages for the city of Pacific Grove. Once she graduated, Ferrante was hired by the city of Salinas as the webmaster and systems analyst, eventually doing a complete overhaul of the city website. It was then she also worked to get her master's degree in Instructional Science and Technology.
All that side work got her through college debt free. It also gave her the ability to network, something she says CSUMB taught her how to do.
Ferrante just can't stop herself from starting another project or taking on another commitment; but it isn't random. They are all thought out, they all have meaning.
Right before the 2012 Summer Olympics, Ferrante launched a website called WSN247.com. Its mission is to bring more attention to female sports and their athletes after Ferrante saw a void in the mainstream sports media. The site is chock full of athlete blogs and the latest news from national and international women's sports.
Ferrante is all about evolving. That mentality also explains the next new project she always has up her sleeve.
Speaking of sleeves. You might be wondering about those tattoos covering her arms. Those too were thought out and have specific meaning.
One prominent tattoo is the bow and arrow, which has two meanings. The most significant is "go forward"– something Ferrante's grandfather often said before he passed away on the morning of her master's degree commencement ceremony. The second is Sagittarius – the astrological sign of both her grandfather and grandmother. Another tribal design represents the idea that when life gets hard, choose a different path and keep going.
All things that Ferrante passes on to the students she speaks to at CSUMB and coaches in high school. She tells them there is opportunity everywhere and most of all "be good to people, they will remember you. They will either remember you for a good reason or a bad reason, and the first impression is everything."