Two students given Presidential Award for civic engagement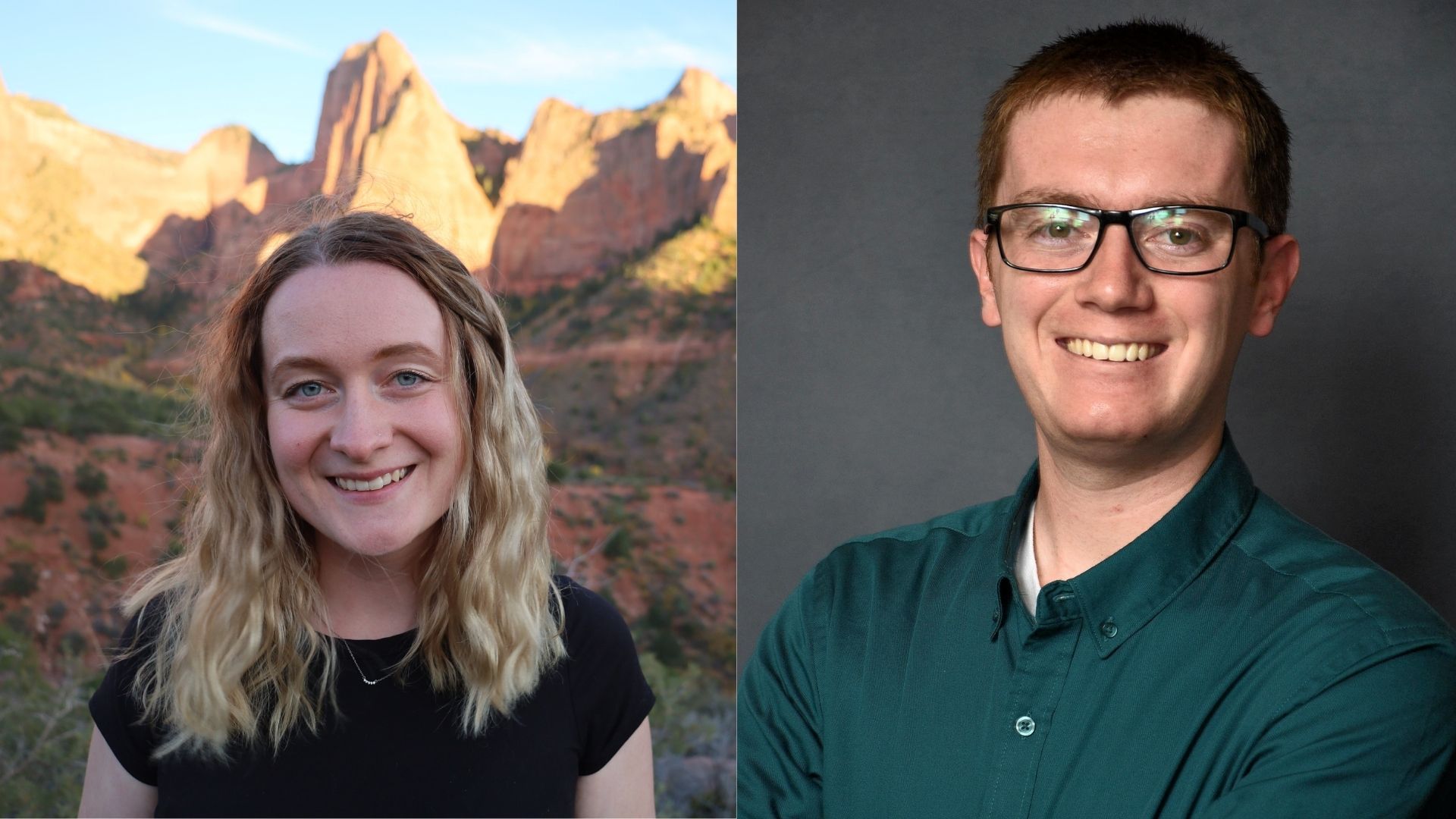 May 11, 2022
Every year CSUMB honors exceptional graduating students with university-wide and Dean's Medalist awards. This is one of a series of stories about this year's winners. For information about graduation ceremonies, go to the Commencement webpage.
By Kera Abraham
For Ethan Quaranta, college has never been just about taking classes. It's also about making change. Since his first weeks at CSUMB, he's jumped in to support a wide range of environmental, sustainability, and equity efforts – both on campus and in the broader community.
"He has been a leader in all senses of the word," says Suzanne Worcester, a professor in the Applied Environmental Science department. "I can't recall working with any other student in the past 20 years who has done such a breadth of exceptional service."
Quaranta has led CSUMB sustainability initiatives, was campus lead in a CSU-wide climate action campaign, and stood up for issues of student equity and justice – while maintaining his summa cum laude standing.
With the Associated Students, he served as sustainability senator and vice president for external relations, with active roles on the Transportation and Parking Committee and the President's Sustainability Committee.
His leadership of the Environmental Affairs Committee has been especially hands-on. Quaranta helped organize campus-wide sustainability events, EarthFest, and the campus farmers market. He launched new committee working groups, providing more focused areas for student engagement.
"An additional point of pride, I nearly tripled committee membership," he says.
He advocated for democracy and representation, both on campus – as Associated Students' elections commissioner and on the CSUMB Presidential Search Advisory Committee – and statewide. He also represented CSUMB in the Cal State Student Association and lobbied members of the California Legislature.
Among Quaranta's most notable achievements is his work on Divest the CSU of Fossil Fuels. The climate campaign achieved a major victory last fall, when the university system pledged to drop an estimated $160+ million in fossil fuel investment assets.
"His contributions have been absolutely pivotal," Worcester says. "The result of Ethan's effective organizational and negotiating abilities is the Trustees' statement to divest from fossil fuels in just nine months."
As Quaranta sees it, climate and sustainability issues are deeply integrated with those of social equity. While on the President's Sustainability Committee, he helped shape the Inclusive Sustainability Plan; he also participated on the College of Science's Justice, Equity, Diversity, and Inclusion Ad Hoc Committee. During the implementation of the updated Title IX, Quaranta spoke up for international and DACA students.
In the broader community, he's taken leadership positions with the local Sierra Club chapter and the Monterey County Young Democrats.
"Ethan is an extraordinary student leader who is clearly very dedicated to his advocacy work," says Joanna Iwata, Associated Students' senior coordinator for governance and operations. "This is obvious through his proactive outreach, among many other positive attributes."
Quaranta's experiences at CSUMB have ignited a passion for public policy. He plans to pursue a career in planning or legislative affairs, and to continue his path as a change agent.
"I have been told often that the work I have done at individual and systems scales have led to a tangible change," he says, "and inspired them that a better future is possible."
Juliana Cornett, MS, Marine Science
President's Graduate Award for Exemplary Regional Stewardship
Science can be a powerful tool for civic change. Juliana Cornett, a graduate student in the lab of Cheryl Logan, is leveraging her skills as a marine science communicator to influence policy and inspire the next generation.
"Juliana is a model emerging ocean leader at the national and regional levels, and has made an enormous impact in the Monterey Bay region," says Logan, an associate professor in the Department of Marine Science. "She is an innovative leader in her discipline and a dedicated agent of positive change to the CSUMB community and the region."
Cornett's thesis focuses on the effects of hypoxia – low-oxygen conditions in the water – on flatfish in Elkhorn Slough, a Monterey Bay estuary. She examined the physiological and biochemical responses of speckled sand dabs and English sole to hypoxic conditions, which often result from agricultural runoff. Her thesis is on track toward peer-reviewed publication.
Cornett presented her findings at conferences including the Western Society of Naturalists Annual Meeting, where she was awarded Best Graduate Poster. Her research contributes to the ability to predict future fish population abundance, and to inform restoration efforts in estuarine habitats.
While maintaining close to a 4.0 GPA, Cornett has consistently made time to mentor younger students in marine science. As an assistant with the CSUMB Coastal & Marine Ecosystems Program (CMEP), she helped plan, implement, and evaluate educational programs for high school and undergraduate students. She co-coordinated the Sea Lion Bowl, a high school competition that builds ocean science awareness and provides networking opportunities for about 250 students a year. She's also mentored students at the CSUMB Undergraduate Researcher Opportunities Center.
"It is very important for undergraduate students to have connections with an early-career mentor who may feel more relatable as they ascertain their goals, and navigate their academic and career path," Cornett says.
In a nomination letter, CMEP Director Corey Garza and Education Director Laura Good state, "She has an excellent work ethic, consistently meets deadlines, and works very well independently and under pressure. Juliana is an asset to our ocean education work, and we are excited to see her leadership skills bloom post graduation."
Since her first semester at CSUMB, Cornett has also volunteered for Peace of Mind Dog Rescue, a local nonprofit. Her service included assisting in the veterinary clinic and doing home checks with prospective dog foster guardians and adopters.
"Though I work around 30 hours per week between my two jobs, on top of time devoted to coursework and research, I have always made time for community service," Cornett says. "I believe it is incredibly important to support organizations that help others."
After graduation, she plans to pursue a science policy and conservation fellowship. She's confident the skills and experiences she gained in grad school will set her up for a successful career.
"I look forward to building upon the foundation I've established at CSUMB as I work toward becoming a better scientist and educator," she says.