The 2021 in-person commencement took place on April 23, 2022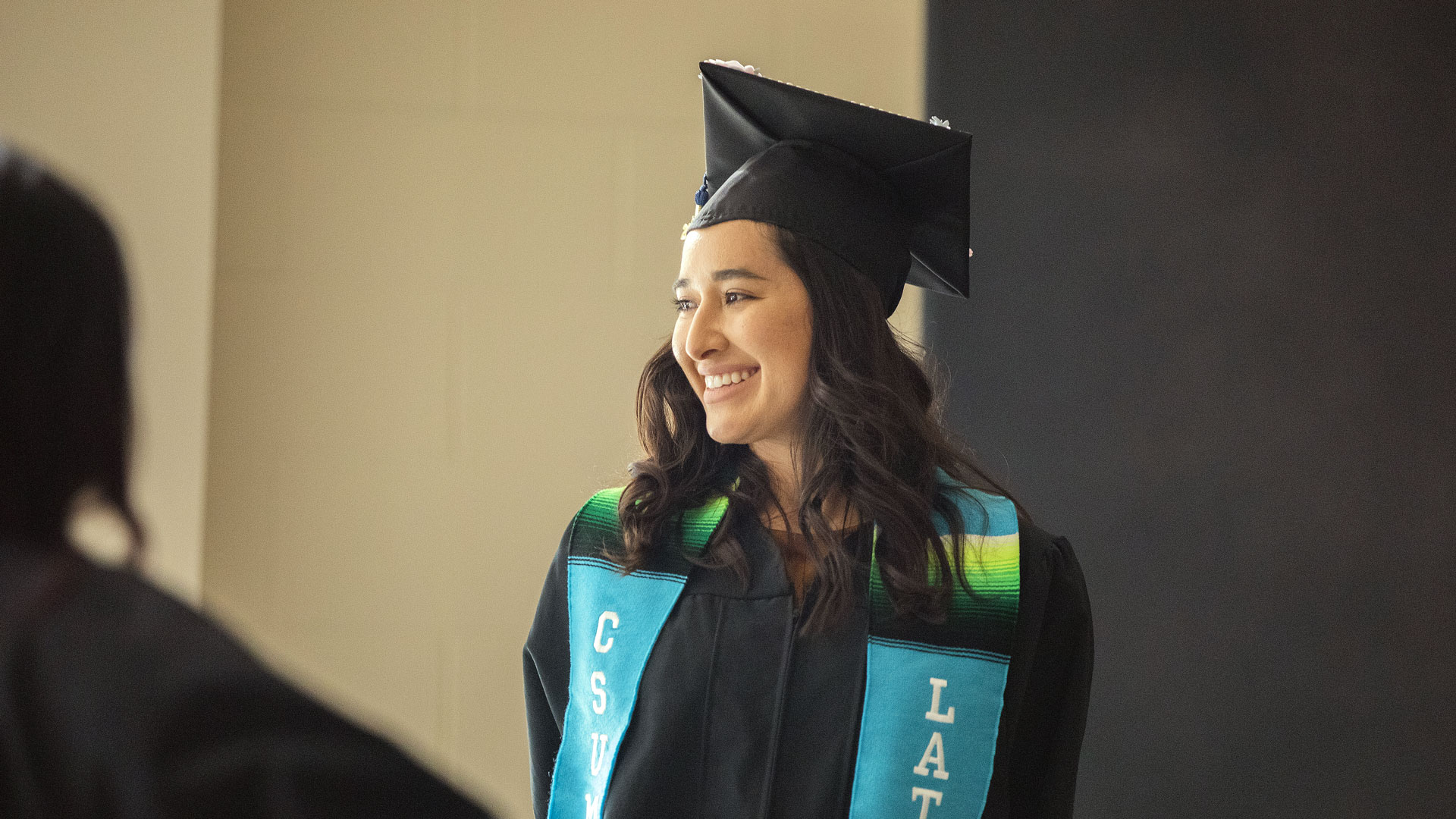 April 25, 2022
By Walter Ryce
Students who finished their degrees in 2021 were deprived of a traditional in-person commencement. Although they were not able to "walk" across a stage in 2021, CSUMB organized a drive-thru "carmencement" as an alternative.
But many grads wanted to have that traditional ceremony — family and friends cheering, walking across a stage, shaking hands with university leadership, etc. — and they returned a year later, on Saturday, April 23, to have it.
That day marked second and final in-person make-up commencement ceremony for those who graduated during the most restrictive time of the pandemic.
The weather was clear and sunny the whole day through. Otherwise, the day proceeded much like the 2020 commencement the week prior: the five colleges divvied up the day into three ceremonies, the grads in their robes and mortar board caps awaiting their turn in shifts.
The College of Arts, Humanities, and Social Sciences graduates went first in the morning.
Katie Ramirez, a humanities and communication major, said she hadn't seen herself going to college, but she pushed and made it in, then struggled to finish. So when she found out she wouldn't have a traditional "walking" ceremony she was devastated.
"I tried to tell my mom, but I burst into tears," she said.
So this moment, a year later, felt surreal to her. And the sense of accomplishment is compounded because she was just got a job in the career she was pursuing.
Dylan Wade (social and behavioral sciences) of Marina, on the other hand, wasn't too put off about not walking in a ceremony. He hadn't planned to anyway because he's going for his teaching credential and a bachelor's degree was just one step in that process. But his fiancee convinced him to come.
"She said 'you worked so hard, so celebrate'," Wade said.
Constance and Wah Cheong are the parents of graduate Lillian Gephart-Cheong Pacheco. They drove three hours, starting at 5 a.m., from the East Bay to make the ceremony.
"We're very excited for Lillian," Constance said. "We love CSUMB. It was the right size and location for her. She's a graduate student at San Francisco State, and this was a great launching pad for her."
They planned to visit the bookstore after the morning's ceremony, but Lillian didn't have time for much else. She had to work later that day. But after she walked across the stage, after shaking hands with the dean, the provost, and the president, she paused for a couple of seconds and waved to her parents before leaving the stage.
Yuriana Medina, who is best friends with graduate Juliana Hurtado-Guillen, came from Watsonville to show support. Medina says that Juliana's family drove 12 hours from Utah.
"It's never too late to celebrate," Medina said.
The College of Education and the College of Science ceremonies came next.
Ryan Brown earned a masters in environmental science with a concentration in watershed systems, and was newly hired as an environmental scientist with the Central Valley Regional Water Quality Control Board.
"It gives closure to come back and reflect," he said. "It feels nice."
He said he knows of cohorts who have moved across the country to take jobs, and for whom coming back was not as viable an option as it was for him and his family who live in California.
Desiree-Renee Varela Gonzalez (liberal studies with an emphasis in history) is local, Salinas, and even found a job she loves there: she's an interim special education teacher for 4th to 6th graders.
She's in the teaching credential program for special education at CSUMB.
"Moderate to severe [kids with disabilities] is my place," she said. "Kids with down syndrome, autism, orthopedic impairment."
Janine Bandayrel also earned a degree in liberal studies, is in a teaching credential program, and works locally in teaching — she's at a private Catholic school.
"It's almost surreal to be here," she said. "Driving here I was feeling nostalgic."
Molly Toledo was in the audience for her daughter Rosanna Toledo (molecular biology). They did the drive-thru carmencement, but really wanted the pomp and circumstance of this in-person ceremony.
"We were here last week for my niece," Molly said. "She graduated in 2020. My other niece is walking in the May commencement. And my son wants to [attend CSUMB] after high school."
The final ceremonies of the day belonged to the College of Business and the College of Health Sciences and Human Services.
Nawied Amin earned a master's in business administration and lives in San Bruno near San Francisco. He's currently volunteering at fundraising events. He said it feels great to have gone through the commencement ceremony.
As for what his next plans are, he said, "Good question."
Behind him, a group of five graduates in gowns formed a tight circle and sang the famous "Da da da-da daaaa" chorus from the "You'll Be Back" song from Hamilton.
Portia Johnson from Torrance earned a degree in kinesiology in 2021, and felt ecstatic to be able to finally walk across a stage.
"It feels more official," she said. "I can close this chapter of my life."
She planned to go have dinner with her family at a restaurant overlooking the ocean.
Rebecca Harbison (kinesiology) said her favorite thing about having attended CSUMB was the campus culture.
"But I got really involved," she said. "I joined the Associated Students, I was a campus tour guide, I did rugby. I made a lot of great friends."
She said she met her best friend, Katerina "Kat" Patrice, in a high school summer program on campus, and she came to this commencement so that they could finish their undergraduate college career together too.
Then Kat wrapped her arm around Rebecca and insisted on telling the story of one of Rebecca's accomplishments as a student senator.
"My friend brought vegan ice cream to the Otter Express," Kat said. "Halo Top. An alternative option for people with allergies."
Both laughed and joined other of their friends and strode off for photos.
CSUMB staff members and volunteers did a multitude of jobs throughout the day to produce the ceremonies, including ushers, ADA assistance, greeters, ticket-takers, wranglers, audio-visual, information booth, cheering section.
Laborers Damian Flores and Gerry Rapacon added to that: setting up tents, flags, streamers, and chairs.
"Another commencement in the books," said Flores.