CSUMB's commencement brings joy after more than a year of isolation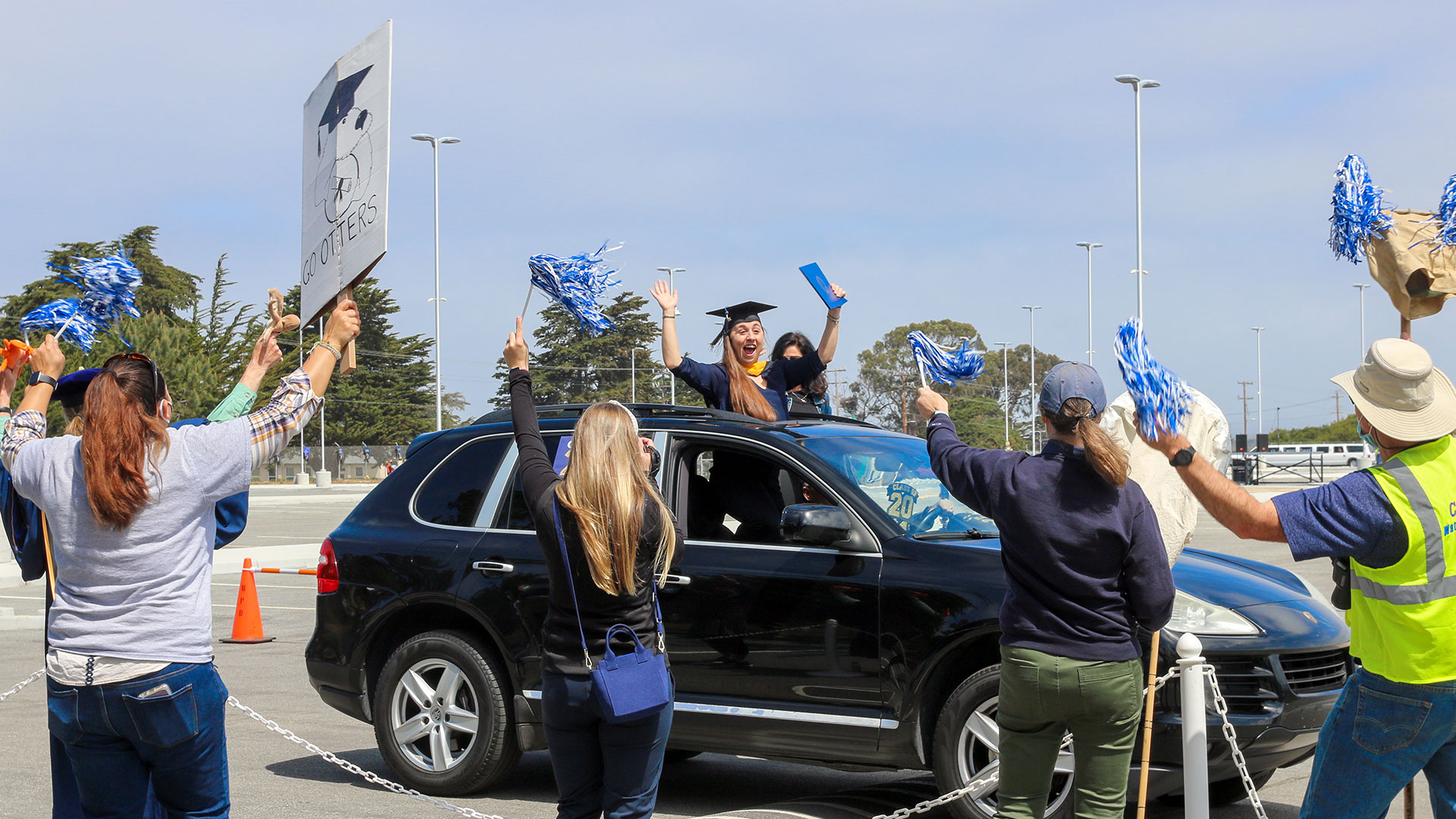 May 25, 2021
By Tatiana Olivera
After 18 months of experiencing lockdowns and social distancing due to the COVID-19 pandemic, CSUMB graduates from both the Class of 2020 and 2021 were excited to celebrate their achievements in a day-long commencement car parade, known as a "carmencement," on Saturday, May 22.
Faculty and staff lined Parking Lot 59, shouting congratulations and praise as students drove by in their decked-out vehicles with their families and friends. Some cars simply had "Congratulations graduate!" written on their windows while others went all-out.
One graduating student sat princess-style on the back of a convertible. Another student painted the side of his car to look like a beach and held out a fishing pole with a giant diploma hooked on the end. Several students came in limousines and party buses, and one even came in a wine trolley.
The carmencement was organized by college, so each group of cars was released at specific times, ensuring that there wouldn't be significant traffic. Cinematic Arts and Technology graduate Jalissa Anguiano appreciated how fast the carmencement was compared to traditional commencement ceremonies.
"It's quick! I like it!" Anguiano said. The quick ceremony allowed her and her family to have time to grab brunch afterward.
Sweet Jane Hammon, who received her degree in human communications with a concentration in legal studies, was surprised at how well the carmencement went.
"It honestly was great!" she said. "It was a lot more than I thought it was gonna be. I thought it would be something very basic. But this is amazing!"
Psychology graduate Alexa Perez said she wished she could walk the stage with her classmates, but the carmencement was better than she had expected.
"The energy was great!" Perez said.
Like many of the other graduates, Perez participated in the carmencement with her entire family in their vehicle. Her sisters, grandmother, nieces, and nephew cheered for her as the announcer called her name from a podium.
Dozens of faculty and staff members cheered on the graduates as well. They held up signs, shook pom-poms, and blew bubbles while shouting until their voices gave out.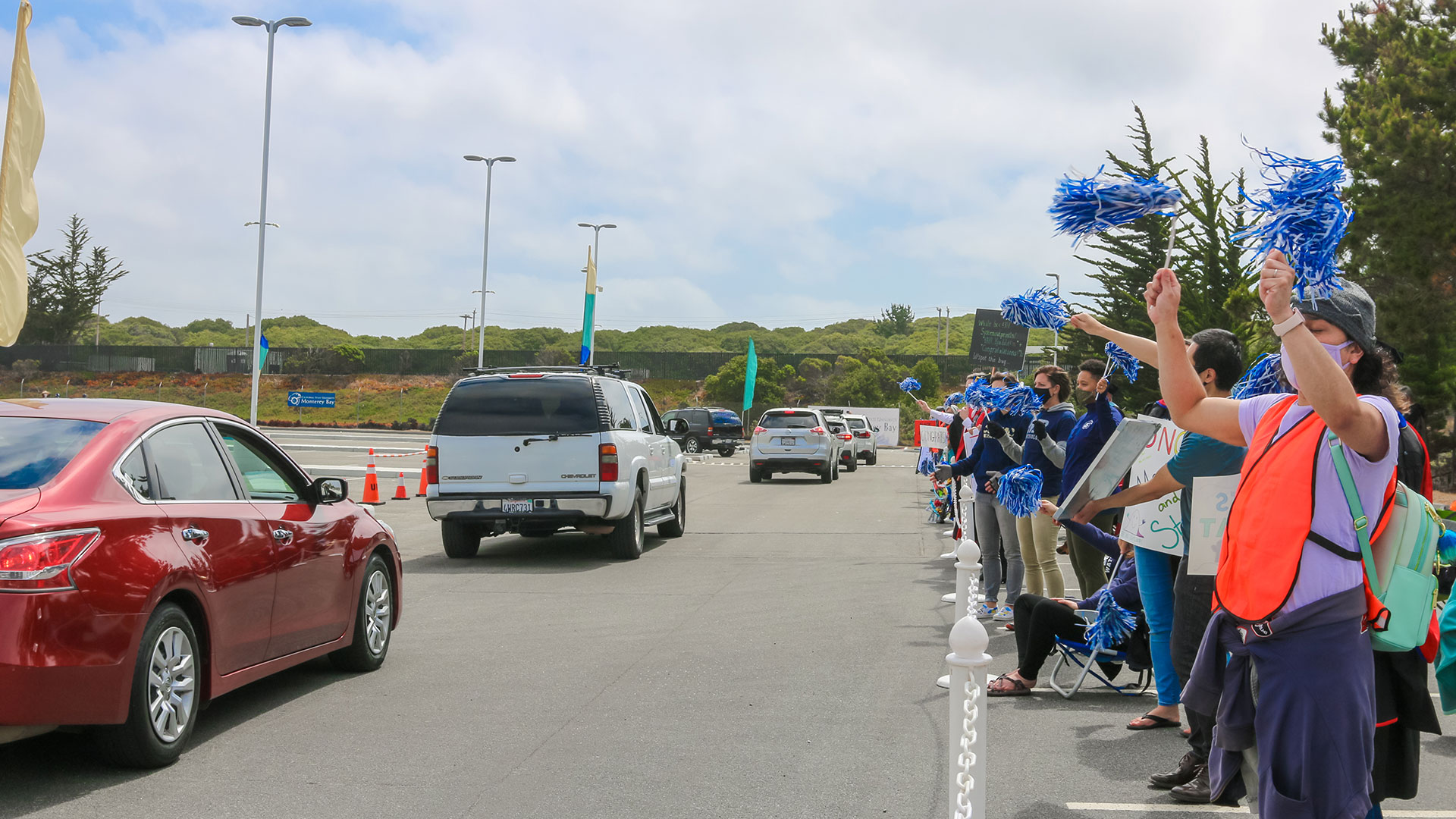 Raul "RJ" Enriquez, administrative support coordinator for the Academic Senate, cheered on graduates from the very first car in the early morning to the last one in the late afternoon.
"The students spent four years working really hard to get where they are," Enriquez said. "I volunteered to support the graduates today because I strictly work with faculty and administration, so the only times I get to see students is when I'm at events like commencement or grad fest. I like to see and support the graduates and the students whenever I can."
Richard Arredondo, property clerk II in Business and Support Services, and Damian Florez and Gerry Rapacon from Facilities welcomed the graduating students as they drove into the parking lot.
"To see the students grow up from freshman year all the way to their senior year is great," said Arredondo, who has worked at CSUMB for over 21 years."It makes me feel like a proud older brother or parent."
Florez and Rapacon helped set up the event, but instead of leaving after completing their task, they stayed to encourage the graduates until the end of the day when it was time to tear down.
The three were excited to see the student assistants they've worked with graduate. They noticed that many of the current faculty and staff are CSUMB alumni. So their message to graduates was, "Good luck and hope to see you back!"
"I always cheer on the students," said Rapacon, whose niece graduated in the carmencement. "I was able to witness one of my last student assistants drive away in the sunset. I congratulated and wished him well."
Enriquez's message to the students: "It has not been an easy year for any of us, but you did it! Congratulations! We made it through."