The 2020 in-person commencement took place on April 16, 2022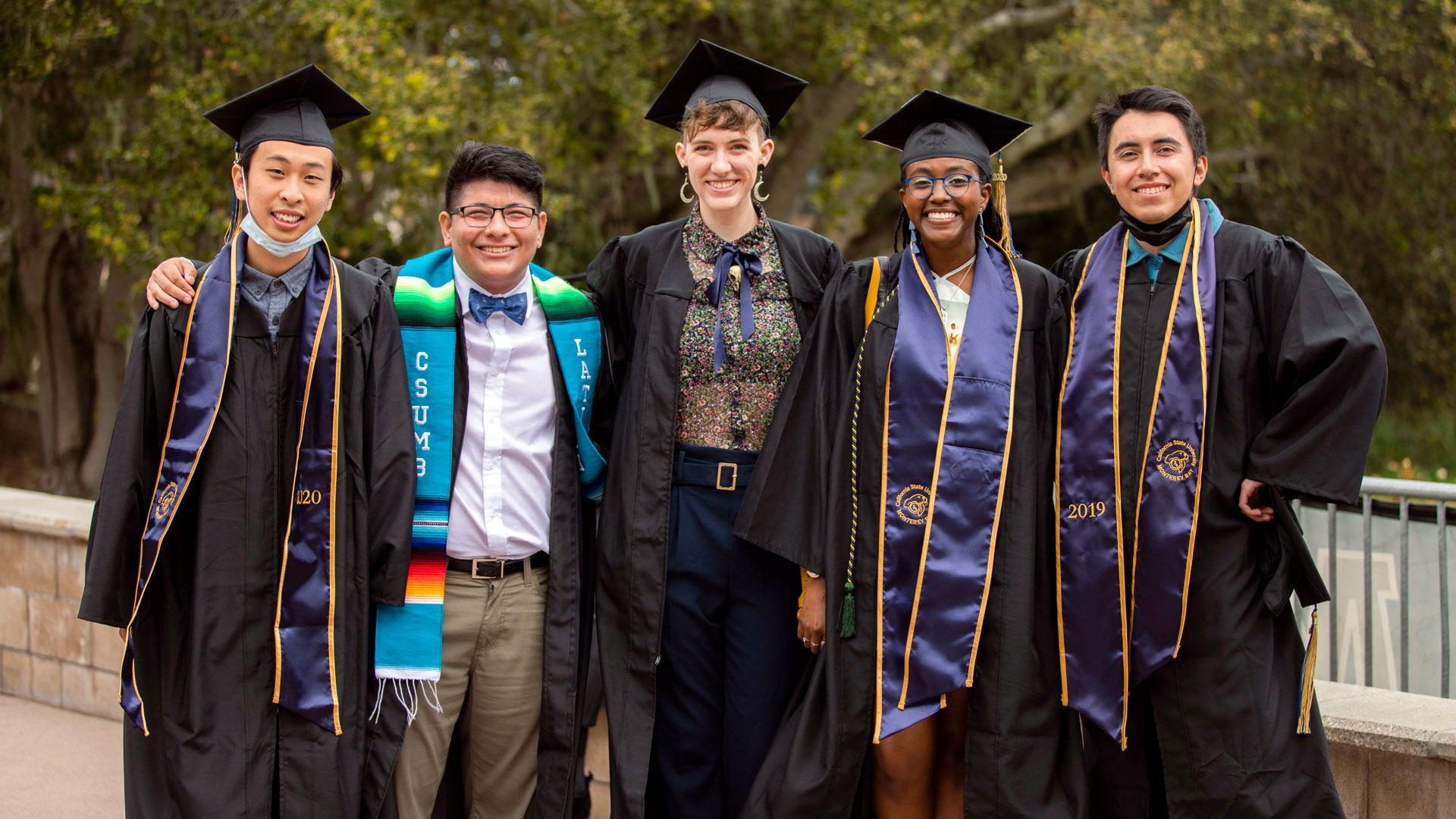 April 18, 2022
By Walter Ryce
Students who earned their degrees in 2020 and 2021 were deprived by the pandemic of being able to walk across a stage with their peers, shake hands with the university president, hear the cheers of family and friends, and take photos of a culminating moment in their college journeys — until Saturday, April 16.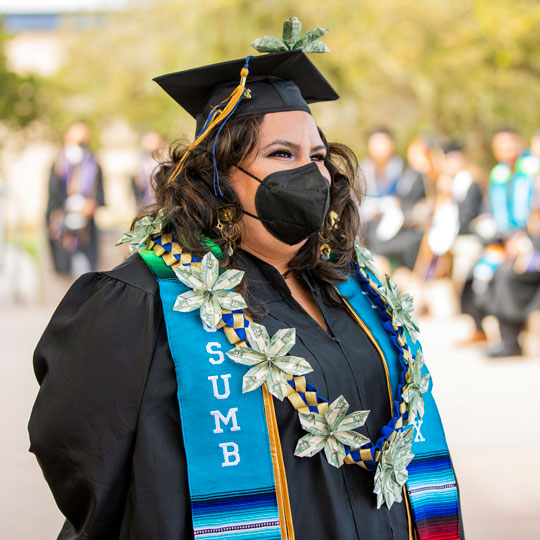 That's when CSUMB held their first of two belated, in-person commencement ceremonies at the University Center for Class of 2020 graduates who wanted, and waited for, that experience. And many did.
The morning began with gray skies and drizzle, which didn't dampen the feeling of elation and energy among the graduates in caps and gowns who waited for their moment.
The commencements began with the College of Arts, Humanities, and Social Sciences ceremony.
Miguel Barron, a graduate who transferred from Hartnell College and earned his degree in social and behavioral science two years ago, said CSUMB had felt like a second home. He's been working in Soledad in the almost two years since he finished his undergraduate schooling.
"I still have my CSUMB parking permit," Barron said. "It feels like I haven't left yet."
Allura Olympia Amour Garis (a humanities and communication major) said she had spent six years in community college in San Diego, but completed her bachelor's degree in two years at CSUMB.
"[Attending CSUMB] was the best thing ever," she said. "It was very supportive. I had opportunities here."
While she spoke, fellow cohorts interrupted to hug her.
The big hall in the University Center was full almost to capacity, while the World Theater handled overflow and live-streamed the proceedings.
Matthew Stramel, the father of a psychology major named Keely, was sitting as close to the stage as possible with Keely's boyfriend, mother, and brother.
"We thought she would just miss out," Stramel said of the in-person ceremony. "So we were happy to hear the university was doing this."
James Hernandez (social and behavioral science) is currently studying at the Monterey College of Law.
"I wish more of my family could have attended to see me and clap," Hernandez said. But fire marshal codes called for attendance restrictions.
Each ceremony included the playing of "Pomp and Circumstance," remarks by special guests, and each graduate walking the stage and shaking hands with the president, provost and their deans.
Then staff members cleaned and vacuumed to reset for the next commencement ceremony. The second one of the day was the College of Education and the College of Science which began at 1 p.m.
Brittany "Cat" Seerini (environmental science, technology and policy) was wearing rubber glove shoes and called herself a "nature nerd."
"[Going to college] was kind of terrifying," Seerini said. "I'm the first generation in my family to go."
But she ended up relishing marine field work and being treated like a professional.
David Nava (environmental science, technology and policy) seemed very pleased to be hanging out with five of his cohorts. One of them had just heard about the in-person graduation the night before — but got ready in time and showed up.
"The two-year wait gave us time to settle," Nava said. "People are stepping into their careers."
David's mom, Susie from Corcoran, said as soon as they got word about the in-person graduation she booked the hotel and put in for vacation time at her job: "I said 'We'll be there, hell or high water'."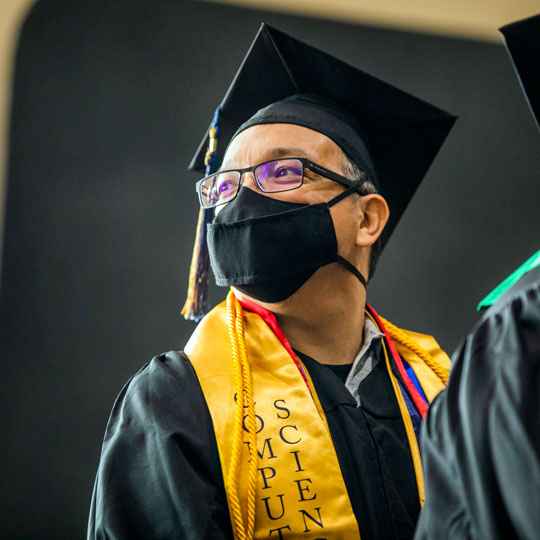 After 2020, Jordan Berg (human development and family studies) moved back to Ukiah and worked for a local bank there, and now works at the Alzheimer's Association. She says she still felt connected to the uiveristy despite the time and distance because her boyfriend, Ben, studied and worked there in the interim.
"It feels good to be back," Berg said. "It's been a long time. I wasn't sure this was going to happen."
Mark and Elizabeth Balce flew in from Nashville to witness their son Mitchell, who lives in Orange County now, walk across the stage.
"He loved it here [in Monterey]," Mark said. "He was thinking about staying."
"He wouldn't trade his time at CSUMB for anything," Elizabeth said.
The third and final ceremony for the class of 2020 was for the College of Business and the College of Health Sciences and Human Services.
Rachela Fruge-Groulx (Master of Business Administration), who was waiting to take pictures with mascot Monte Rey, said she completed her degree online and was eager to see her cohorts and professors in person.
"It was important to show up, to have this experience and be inspired," she said.
Vanessa Contreras (kinesiology) from Stockton said she missed emails about the day's ceremony until the Monday before, but was feeling a sense of accomplishment.
"I'm more here for my parents" Contreras said. She plans to be a counselor and social worker.
Luke Henderson showed up for his wife, Leah Tallchief (Master of Business Administration), with their 4-month old Finley in a sling carrier on his chest. The night before she had attended a cohort commencement dinner at Black Horse Golf Course.
"It's surreal to come back and celebrate," Luke said. "Finley gets to see his mama walk today."
All day, staff and volunteers worked different roles to make the day go smoothly for the returning graduates.
After the ceremony, a graduate said aloud "That was too fast! Where's the afterparty?"
Many families intended to go to local restaurants. ("Drinks will be had!" one friend of a graduate said.) Another graduate said he was planning a trip to Las Vegas to celebrate.
Then everyone made their way to the shuttle bus line to be driven back to the parking lot, or they carried flowers and balloons and walked back to their cars, sometimes through drizzles of rain, this long-awaited part of the college journey finally completed.