College of Science and College of Education grads honored at Convocation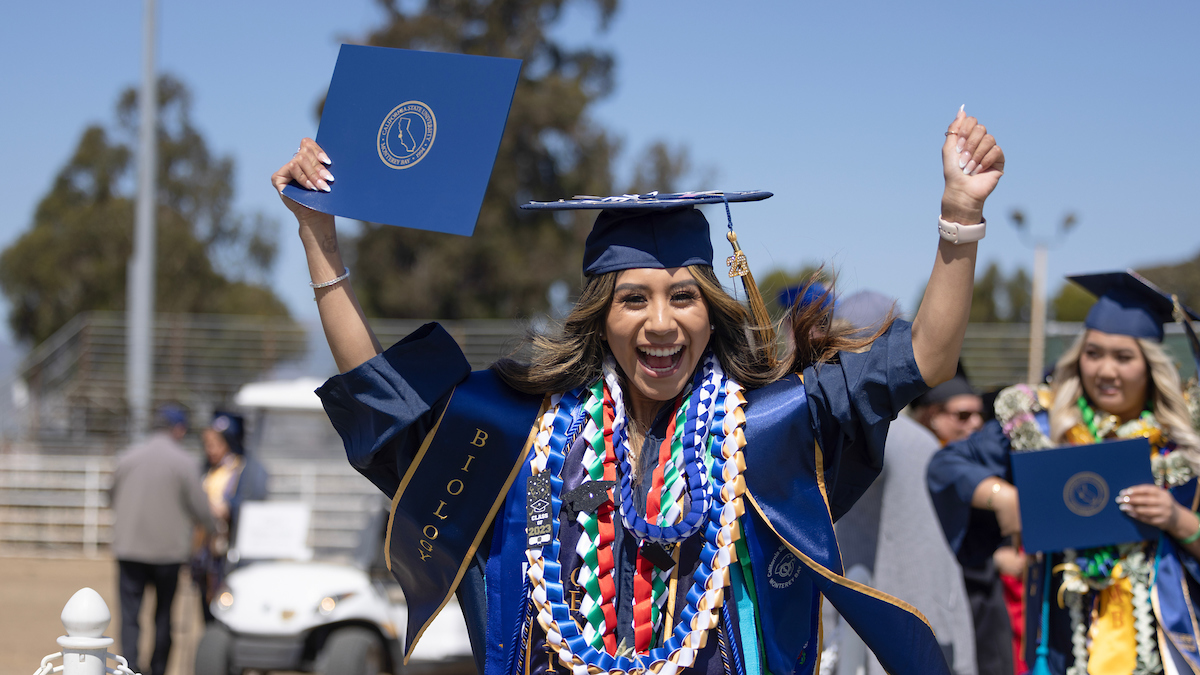 May 23, 2023
By Mark Muckenfuss
The Salinas Sports Complex arena is famous for its annual rodeo where broncos and bulls routinely twist and toss cowboys from their backs.
But on Sunday, May 21, the field was filled with a sea of dark blue caps and gowns and a confetti of color from decorated mortarboards and floral leis as CSU Monterey Bay honored more than 2,400 graduates and sent them riding confidently into their futures.
Following the main Commencement at noon, the College of Science and the College of Education held a joint Convocation ceremony in the arena for their 1,005 graduates. As the students filed into the arena they drew a roar of cheers and the thunder of stomping feet from the families and friends who packed the stands.
1 / 3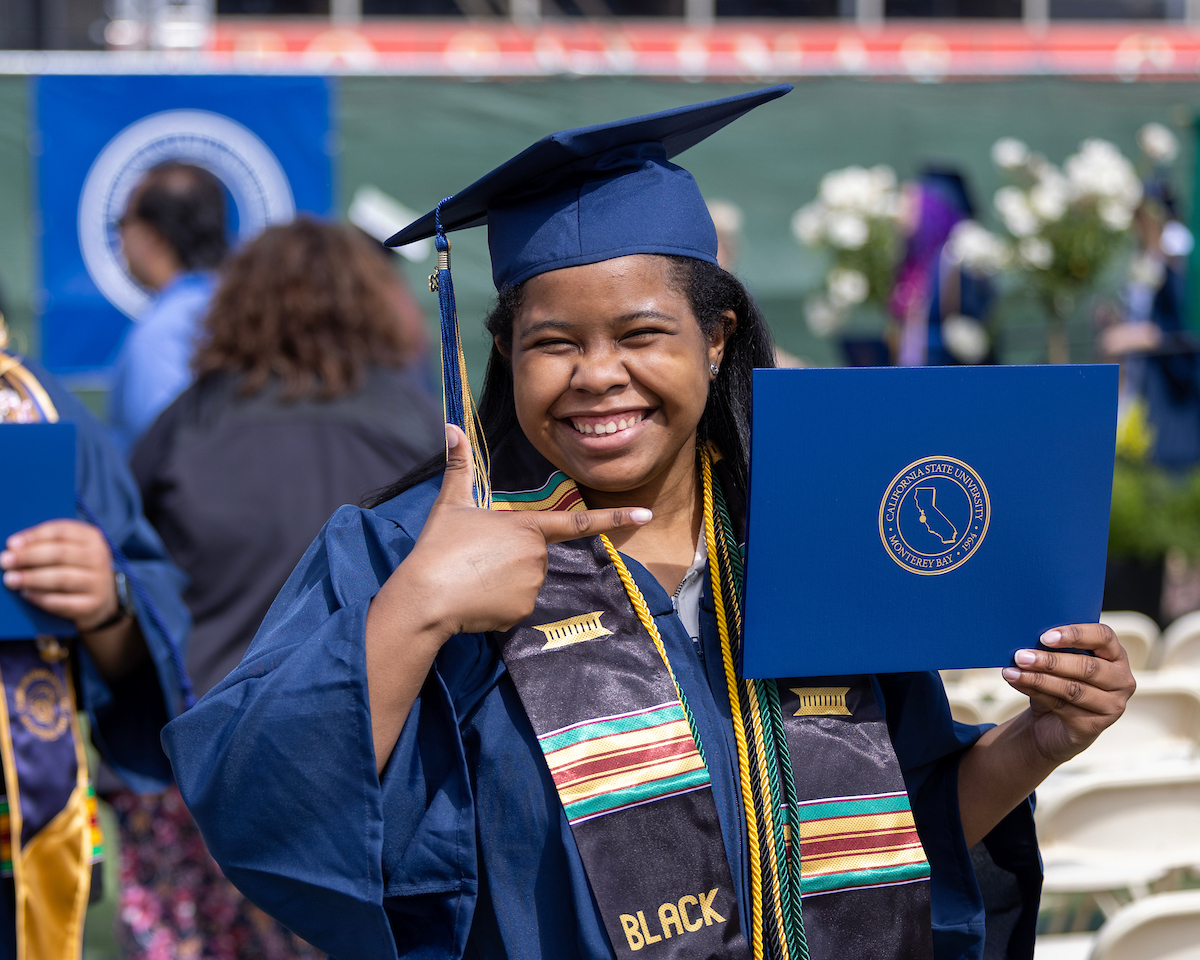 Photo by: Brent Dundore-Arias
2 / 3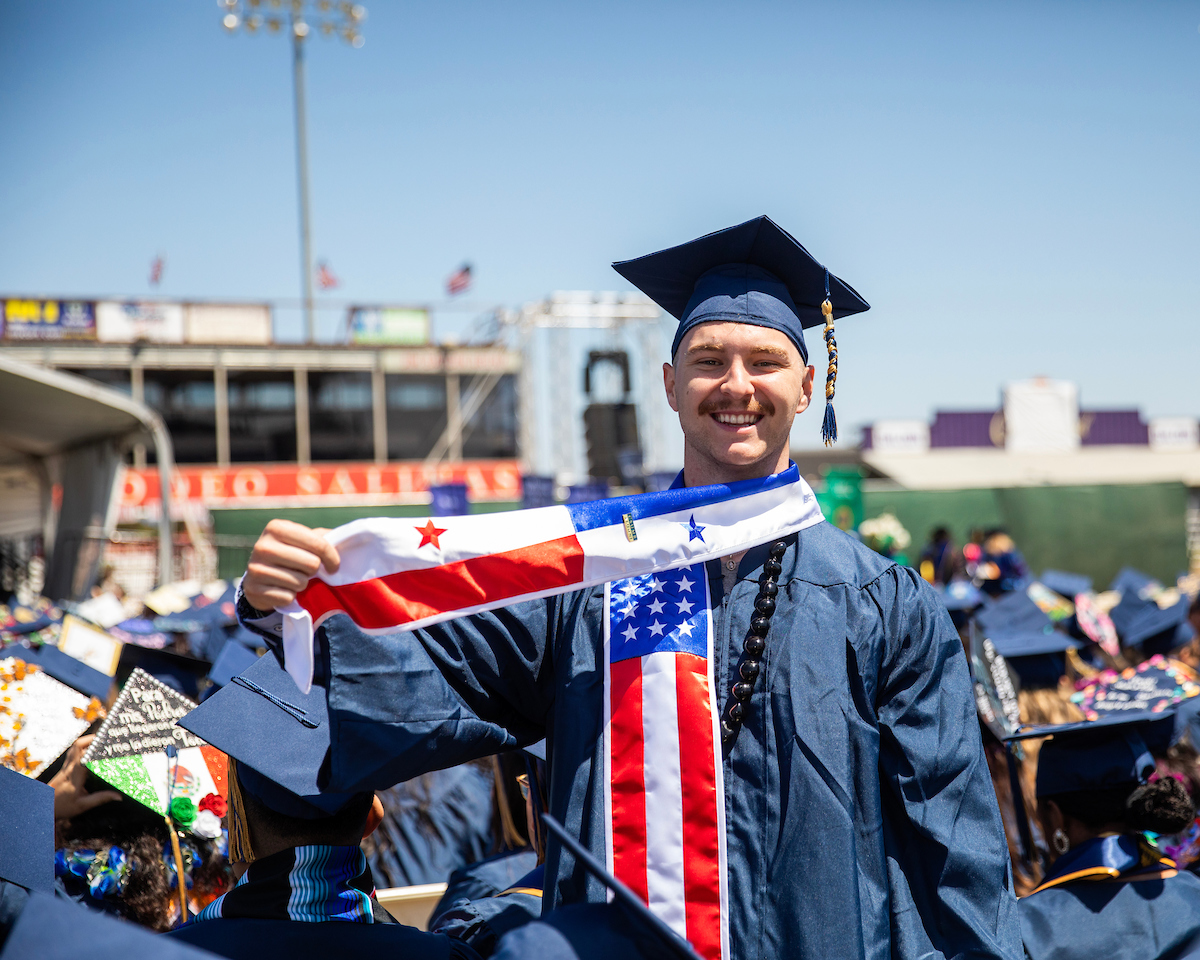 Photo by: Brent Dundore-Arias
3 / 3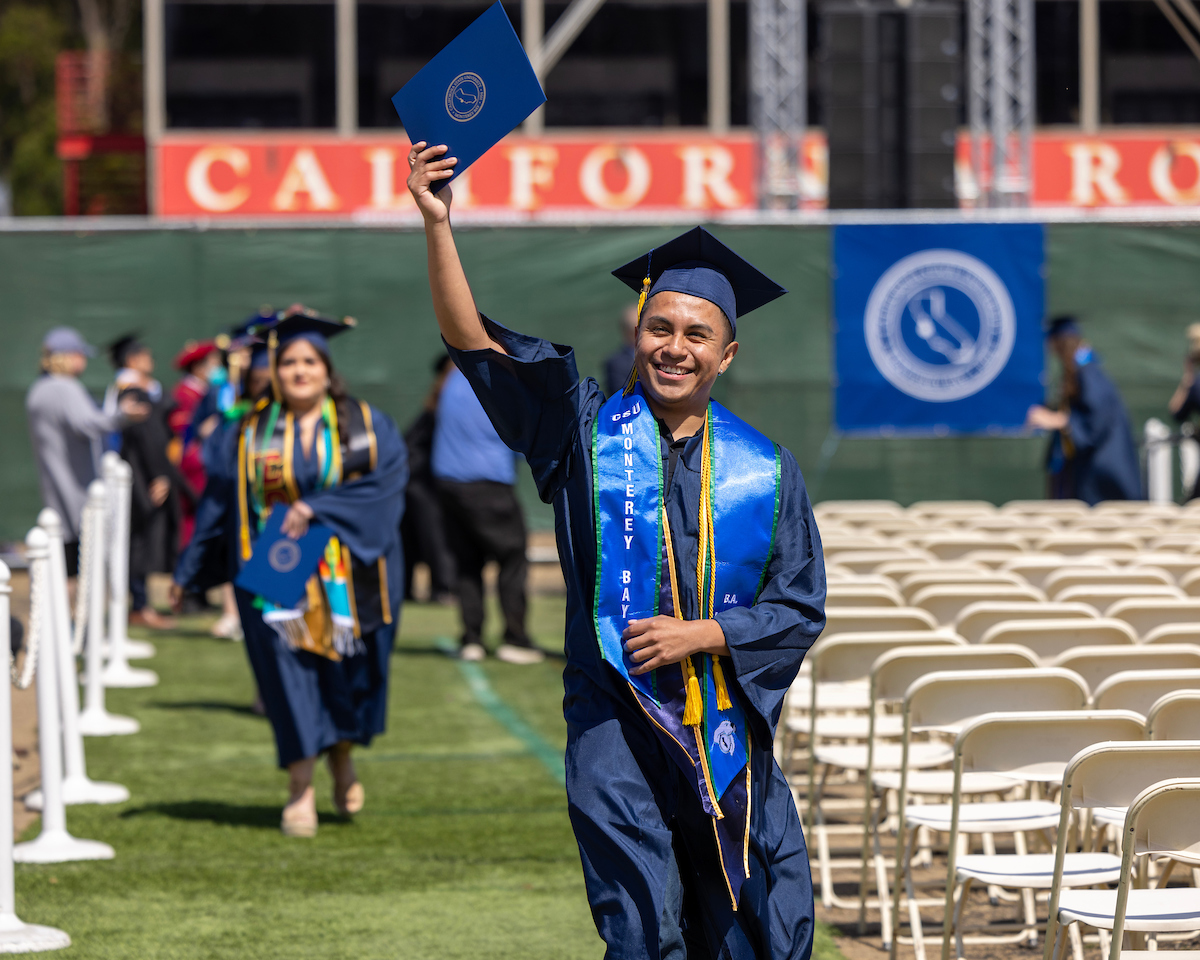 Photo by: Brent Dundore-Arias
❮
❯
"The events today culminate years of hard work, study sessions, papers, labs and fieldwork," said Andrew Lawson, dean of the School of Science, addressing the students. "Today you join a very special group of people in the country," he added, noting that just 38 percent of Americans hold a bachelor's degree. "You are the leaders of tomorrow."
Lawson celebrated the group for the work it had done and the mark it have left on the university.
"Today we send forth a cadre of educated, enthusiastic, creative and passionate alumni to better our state and our world," he said. "We are so proud of you."
Two student speakers shared their stories and some words of encouragement for their colleagues.
Samantha Fischer, a human development and family science major, told the crowd about reigniting her college career after facing family tragedy and her own battle with alcoholism.
"I know that everyone here has their own stories of how they overcame obstacles and proof of their own resiliency," she said. "I am so proud to be an Otter and to be graduating with this Class of 2023. We made it to graduation. We survived Zoom classes and the transition back to campus, and that is something to be proud of."
Using her own journey as an example, she said, "I believe that we are all capable of doing great things. So let's look at each 'no' and each obstacle as an opportunity to adjust, refocus and try again. No matter how long it takes, do not give up."
The disruption of classes due to the COVID-19 pandemic was an unavoidable element in recounting the experiences of this year's graduates. It was mentioned at several points in the proceedings, including the address by Caitlyn Morgan, an agricultural plant and soil science major, who was named Dean's Medalist for the College of Science.
"We all persevered through the global pandemic, along with many other challenges in our personal lives, to arrive here today," Morgan said. "I encourage each of us to celebrate our successes and achievements, and to not take our experiences for granted."
The conferring of degrees began on a somber tone, with the awarding of a posthumous Bachelor of Agricultural Plant and Soil Science degree to Javier Mora Jr., who was killed at his home nearly a year ago. Mora's father, dressed in cap and gown and accompanied by family members, crossed the stage and accepted the award on behalf of his son.
Mora said he appreciated CSUMB honoring his son.
"It means a lot to us," he said. "My son worked so hard for it. We're really grateful to CSUMB for giving us this degree and to be able to at least take him in spirit across the stage," Mora said.
Afterwards, the graduates crossed the stage one-by-one, waving their certificates and cheering themselves for their accomplishments. Most seemed to revel in the moment and the ceremony felt more festive.
"I would not even be here without her," said Liliana Garduno as she stood with Mayari Chavez. Both women are from Salinas and both were receiving degrees in human development and family science. They met as students at Hartnell College. After earning their associate degrees, Garduno wasn't sure she wanted to continue her studies until she discovered Chavez was going to attend CSUMB.
"She had registered already and I said, 'If you're doing it, I'm doing it,'" Garduno said.
"We motivated each other through the pandemic," Chavez replied.
Both plan to work in education. Chavez is currently working with preschool children and Garduno is a behavioral technician working with students who are disabled.
"I hope to get my master's in school counseling," Garduno said, noting that the shoe is now on the other foot. "I'm trying to motivate [Chavez] to get her master's. It's possible."
Delaney O'shea, of Sonora, said her biology degree represented a major step in her life's journey. She plans to work in the healthcare field before eventually applying to medical school.
"It's a new beginning," O'shea said. "I actually get to begin my life."
Go to the Commencement web page for videos, photos, the digital program and more.
Read about the convocation ceremonies for: