College of Health Sciences and Human Services and College of Business grads win big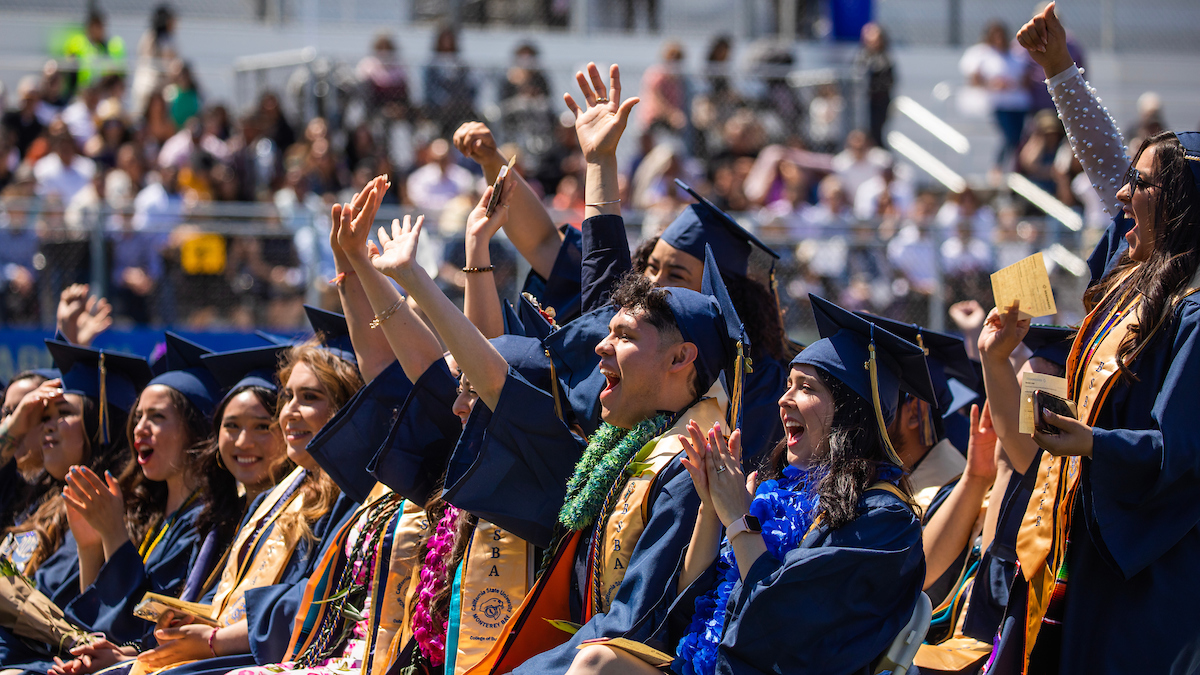 May 23, 2023
By Adrienn Mendonça-Jones
CSU Monterey Bay's Commencement day started out a cold and gray morning, with barbecue woodsmoke permeating the misty air of Rabobank Stadium in the Salinas Sports Complex.
By two o'clock in the afternoon on Sunday, May 21, the tri-tip was sold out, the sun shone brightly, and the clouds had cleared away for a perfectly balmy afternoon ceremony.
Loud cheers erupted from families and friends as graduates from the university's College of Business and College of Health Sciences and Human Services made their way onto Rabobank's field and promenaded past the green and white painted end zone to score their ultimate goal – a higher education degree.
The ceremony's marshall, Vanessa Lopez-Littleton, welcomed the students and turned the program over to its emcee, Brad Barbeau, before Interim Dean Marylou Shockley (COB) and Dean Harald Barkhoff (CHSHS) highlighted the good work of a handful of graduates from their respective colleges.
Eventually, it was time for CSUMB alumnus Patterson Emesibe to welcome new graduates to the Alumni Association's ranks.
Emesibe recalled the mantra of Chef G, who worked in the Otter Kitchens and told her student workers that no matter what the recipe says, "the first ingredient is always love."
Love might be a unifying theme of another kind of work: nursing.
Hugo Gutierrez, who was graduating with a bachelor's degree in nursing, took advantage of a pipeline program that feeds students from local community colleges into CSUMB's nursing program.
"The great part about the CSUMB program is they allow concurrent enrollment with Hartnell, so while I was enrolled in the AA program at Hartnell, I was [also] doing bachelor's work through CSUMB," said Gutierrez.
Like many students, Gutierrez, who eventually wants to earn his master's degree and become a nurse practitioner, has a passion for his profession because of personal connections.
"I've been diabetic for 28 years and I had some very, very bad experiences with it," said Gutierrez. "I decided I wanted to take that negative experience and turn it into a positive."
Renié Rondon-Jackson, assistant professor of social work, carried the banner for her department, leading social work graduates onto the field.
"We really talk to our students about how many of us became social workers because of something – some adversity that happened to us, or maybe not necessarily to us personally, but maybe to family members," Rondon-Jackson said.
"One of the things that we stress with our students is that you need to really make sure that you're kind of healed. You know, you can't come into this field thinking that you're going to heal yourself as you heal others," said Rondon-Jackson. "Except the pandemic taught us something different, right?"
Andrés Mena delivered the student address to his fellow business graduates and spoke about similar challenges, recalling how many graduates began their journey in 2019, "bright-eyed and full of expectations."
"We transitioned to remote learning, where cold profile pictures replaced warm smiles, muted microphones replaced classroom chatter, and human connection was stripped away as we grappled with the fear of an invisible enemy," said Mena.
"It was a year of adversity, but it was also a year of resilience," he continued.
As a social worker, Rondon-Jackson recognizes how a strong sense of community builds resilience.
"One of the things that we say to our students is to celebrate the small stuff, celebrate every single step of your client's accomplishments," she said.
Go to the Commencement web page for videos, photos, the digital program and more.
Read about the convocation ceremonies for: