Starting 2023 Strong: Mental Well-Being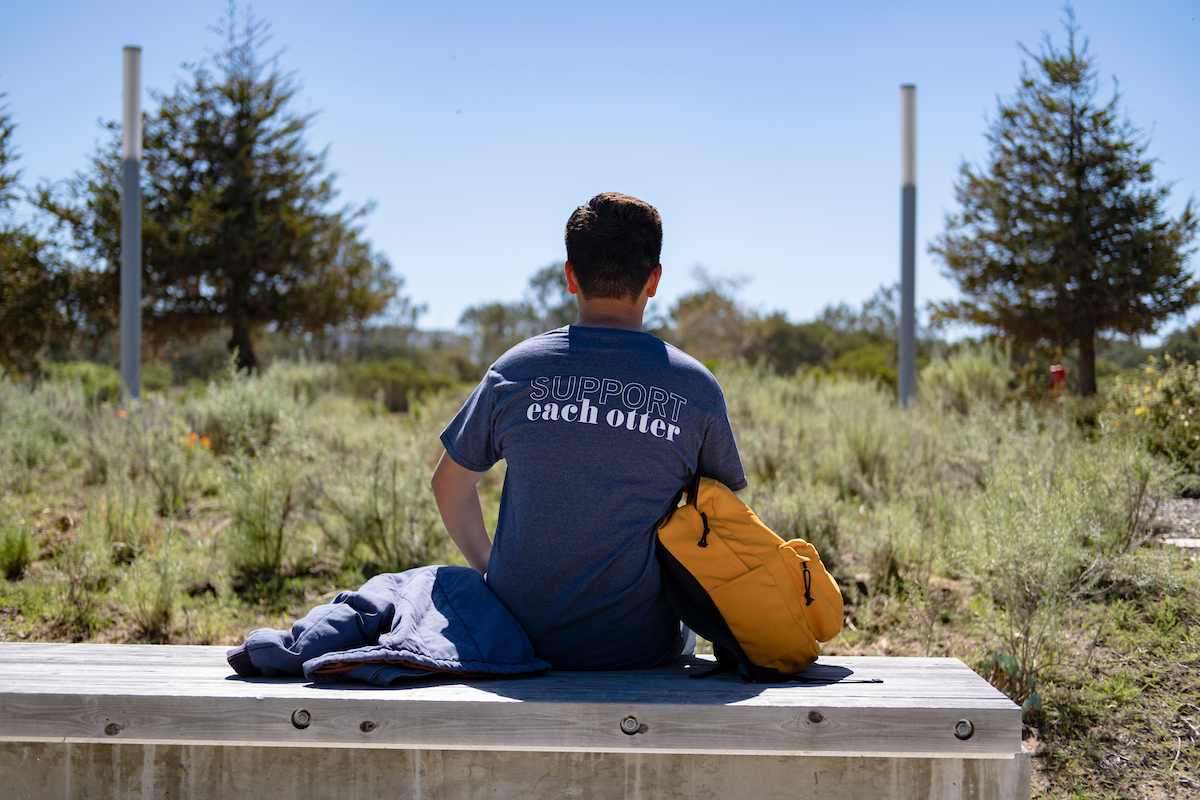 January 4, 2023
By Mark C. Anderson
Small habits can have big impacts when it comes to self support.
Jessica Lopez and Chelle Tran, two staffers at CSU Monterey Bay's Personal Growth and Counseling Center, understand this well.
Lopez serves as the outreach lead at PGCC, providing direct counseling service to students in individual and group therapy.
Tran, a PGCC counselor, finds additional inspiration in helping create the AAPI Support Space (Asian American Pacific Islander) group and the new Re-imagining Relationships collaborative. The RRC discusses all types of relationships, while exploring how we draw lines between and within them.
In fact, drawing those lines is one of her favorite small habits for supporting self and others.
"Having healthy and clear boundaries is something we talk about a lot but don't always fully dive into or understand," she says. "A rule/limitation is something we impose onto others ("You are not allowed to do this thing"); a boundary is a statement we share about ourselves ("I become uncomfortable and may have to leave the situation if this were to occur"). Boundaries are actually expressions of self-worth and of facilitating connection, support, and love towards others—it's us sharing what we can authentically and enthusiastically say yes to."
Lopez likes to encourage—and practice—a complementary habit: compassion.
"I believe that we are all doing the best we can," she says. "Extend compassion to others, especially when they may not show up the way we had hoped or desired. Communicate your feelings of disappointment, while also pausing to extend an effort to understand."
And, Tran adds, connect that compassion to yourself.
"I'm referring to being able to pause, check-in with oneself, and ask, 'What type of care am I really needing right now?'" she says. "Sometimes, we find that we really need to get up, do something joyful, and boost our mood. Other times, we actually might check in and realize we really need to pause, rest, and let ourselves be imperfect."
Lopez emphasizes personal health as fundamental to self care, which can have different definitions for different people: scheduling a check-up, going to the dentist, talking to a therapist, making a good meal, or even wearing something that you like.
"These are all small examples of how we can love," she says, "or, in other words, care for ourselves."
When it comes to relationships—whether romantic, platonic, familial, monogamous, non-monogamous and beyond—Tran presents some counter-intuitive lessons which the new Re-imagining Relationships group looks into.
"De-prioritizing longevity can actually increase sustainability," she says. "Sometimes, holding onto the idea of 'forever' can lead to frustration, hidden expectations, anxiety, relationship perfectionism, or resentment as to 'why things are not the way they were before' or the way we expected them to be. If we instead try to take pause, we have a higher likelihood of being able to communicate what we are experiencing."
Other avenues to improve self-love tool kits await, as Lopez and Tran are quick to point out: You@CSUMB presents a bundle of relational and self-care tips, accessible with an Otter ID and password. This Jan. 23, PGCC hosts a RESET—Reflect, Eat, Sleep, Exercise, Talk—event in the quad from 12:30-2:30pm to promote wellness tools for the spring semester.
This 3-part new year's series also includes Starting 2023 Strong: Exercise and Diet and Starting 2023 Strong: Financial Fitness.