CSUMB launches new 'the wave' shuttle service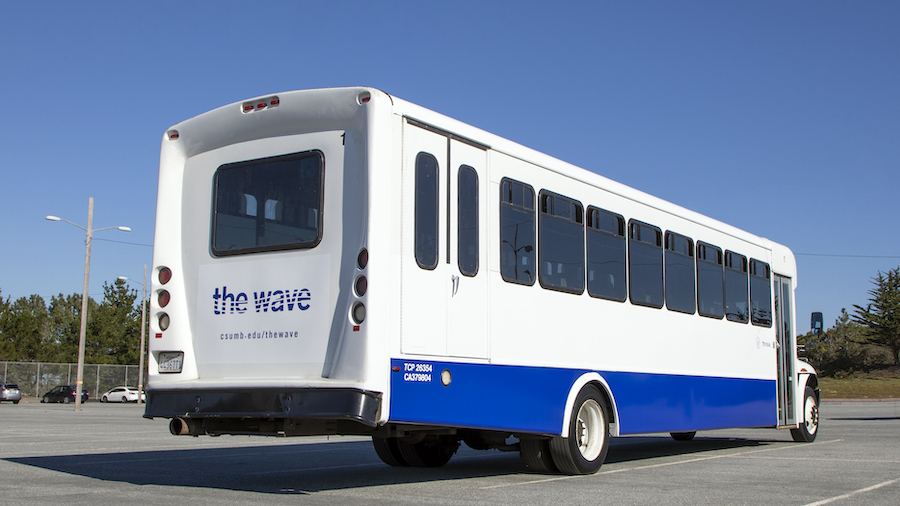 January 24, 2022
CSU Monterey Bay students, faculty, and staff can now catch "the wave" to get to and around campus. The new and improved free shuttle service launched on Friday, Jan. 21.
"By riding 'the wave,' commuters and campus residents can get to their class, activity, or office much quicker, more affordably, and ride on a cleaner bus," said Matthew McCluney with Campus Planning and Development. "The shuttles support student success by providing another way for students to get around campus safely and conveniently."
Benefits of riding "the wave" shuttle for everyone include:
No hunting for parking

Save money on gas and permit fees

Reduce emissions

Safe and reliable

Frequent service all day

Free, just hop on!
Two shuttle routes are available: East Campus and Main Campus. East Campus shuttles depart every 15 minutes from 6 a.m. to 8 p.m. or 25 minutes after 8 p.m. on weekdays. Main Campus shuttles depart every 10 minutes from 7 a.m. to 5:30 p.m or 25 minutes after 5:30 p.m. on weekdays.
"East Campus residents have long relied on a shuttle service to Main Campus to avoid driving and parking. 'the wave' improves upon this service with more frequency and more seat capacity," McCluney said.
For more information and to download the app for stops, route maps, schedules, and a live shuttle tracker, visit the "the wave" webpage.