Exciting changes await students in housing, dining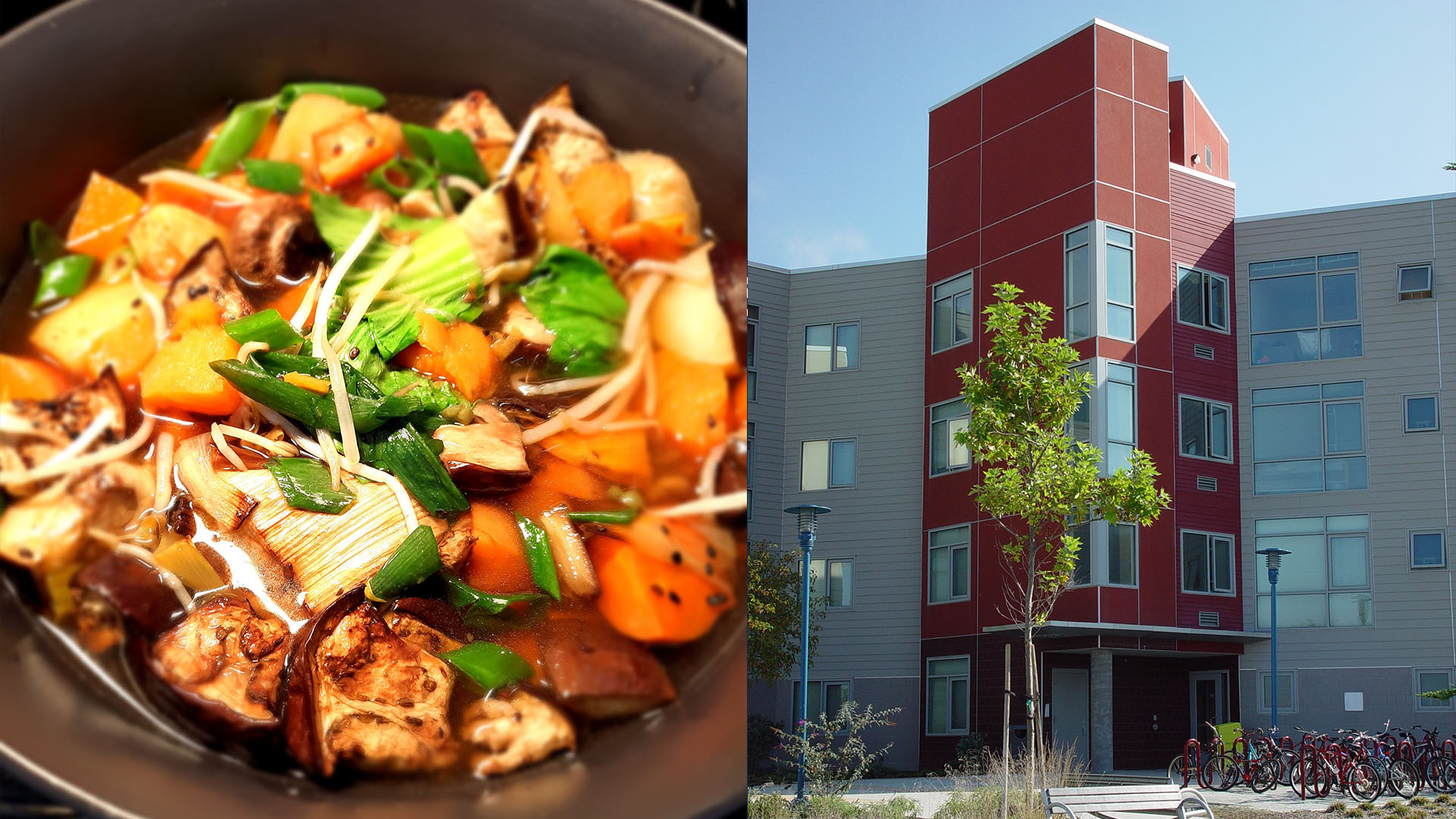 August 5, 2021
By Walter Ryce
After all the stressing and working and waiting, it's finally happening: a return to campus in-person.
How will that happen safely? The first step is for the entire campus community to get vaccinated and then to report their vaccination status on the Otter Vaccination Registry.
And what will return to campus look like? Below are answers to that question in two very important areas: housing and dining.
Housing
The pandemic kept last year's freshman class off campus. So this fall, many in that class, who are sophomores now, and the new freshman class will all be arriving for the first time. It will be the largest class of first-time residential students that universities have welcomed.
But Jeff Cooper, the Director of Student Housing and Residential Life, is not worried.
"We are excited for this challenge," he says, "and the opportunity to rebuild the Otter residential experience."
The university invested in the main campus housing buildings, including new energy-efficient lighting, upgraded fire safety systems in the Pinnacles and Vineyard buildings, and new flooring, better cellular phone connectivity, and heating in the Promontory.
Cooper's team of 16 professionals and 12 student staffers have been working to prepare student housing; and closer to move-in days (Aug. 20-21), that team will grow to 18 professionals, 90 student staffers, and scores of volunteers. They will help with everything from answering questions to helping to carry stuff.
The department has been emailing students throughout the summer about room assignments, move-in appointments, and campus living. And more information can be found on the CSUMB website, including what to bring, move-in information, and videos addressing frequently asked questions.
Once moved in, Resident Advisors (RAs) will host meetings and take residents to fun, engaging events. Otter Days events can orient students to the campus, help them feel welcome, and boost the process of making friends — every day, from day one on Aug. 20 all the way through Sept. 4.
Other initiatives are in place to help with the transition and connections, including the First Six Weeks program that goes through October, Living Learning Programs that match students with similar identities or academic interests, and roommate agreements to facilitate shared living.
There is still space available for students to move into main campus housing, which Cooper recommends highly.
"Living on campus continues to be the best platform for student success, particularly during the freshman and sophomore years," he says. "We are thrilled to reopen main campus housing this fall! We can't wait to see life return to campus, and it begins with our students."
Dining
The campus has a new food and dining provider, Otter Kitchens, provided by Chartwells Higher Education, which services about 300 campuses around the country with customized menus and approaches.
Their CSUMB team is led on the food side by Executive Chef Mary Russo, and on the management side by Michael Rodgers.
"For me it's all about hospitality and the quality of food we prepare daily," Rodgers says about their top priorities at CSUMB.
His personal priority in terms of eating: "I'm a huge foodie so it's hard to say what I like [most]. However, I tend to gravitate toward our Asian cuisine. I love the flavor profiles."
The team is bringing a lot of experience to an array of eating and drinking options for the campus.
That includes the Library Cafe in the lobby of the towering Tanimura and Antle Library; contactless, student and large scale carved and crafted catering for meetings, events and group functions; retail locations in the new Otter Student Union; and the cafeteria formerly known as the Otter Dining Commons.
That last venue is now transformed into "The Eatery," showcasing eight new dining concepts: the Italian style of Cucina, the grilled foods of Flame, Chef's Innovation for chef choice meals, a salad bar called Fresh52, a gluten and top eight allergen-free station called G8, a vegan/vegetarian option called Rooted, the Mexican cuisine of La Mesa, and the desserts of Sweet Shoppe.
In the gleaming new Otter Student Union building, Otter Kitchens oversees a portfolio of eating and snacking establishments. The Sea Store Market is a convenience store that specializes in ready-to-eat sandwiches and wraps, salads, snacks, drinks, protein bars, nuts, and other brain fuel munchies.
The OSU building is also where you will pick up your mobile-only Ghost Kitchen street taco orders and other themes from their rotating menu; Burger831 will be a modern throwback of fresh burgers, fries and shakes; Bok Choy will serve up fast-casual Asian cuisine and ACE Sushi will be providing fresh rolled sushi options daily.
Meal plans will come in many options to fit many different needs and appetites, mobile ordering will be available, and dining specials, teaching kitchen activities, and theme meals will keep things fresh.
A monthly calendar will give students a head's up about what menu items are coming. Starting on Aug. 20 (which is a move-in day) The Eatery will be open and Executive Chef Mary Russo will be on hand to answer questions. In coming months, local farmers who provide ingredients to the various Chartwell kitchens will be showcased throughout the dining hall.
Keep up with this vast, ever-changing menu, as well as dining specials and promotions, by checking the dining website or by following them on social @OtterKitchens.