CSUMB Expertise: Preparing for wildfire and emergencies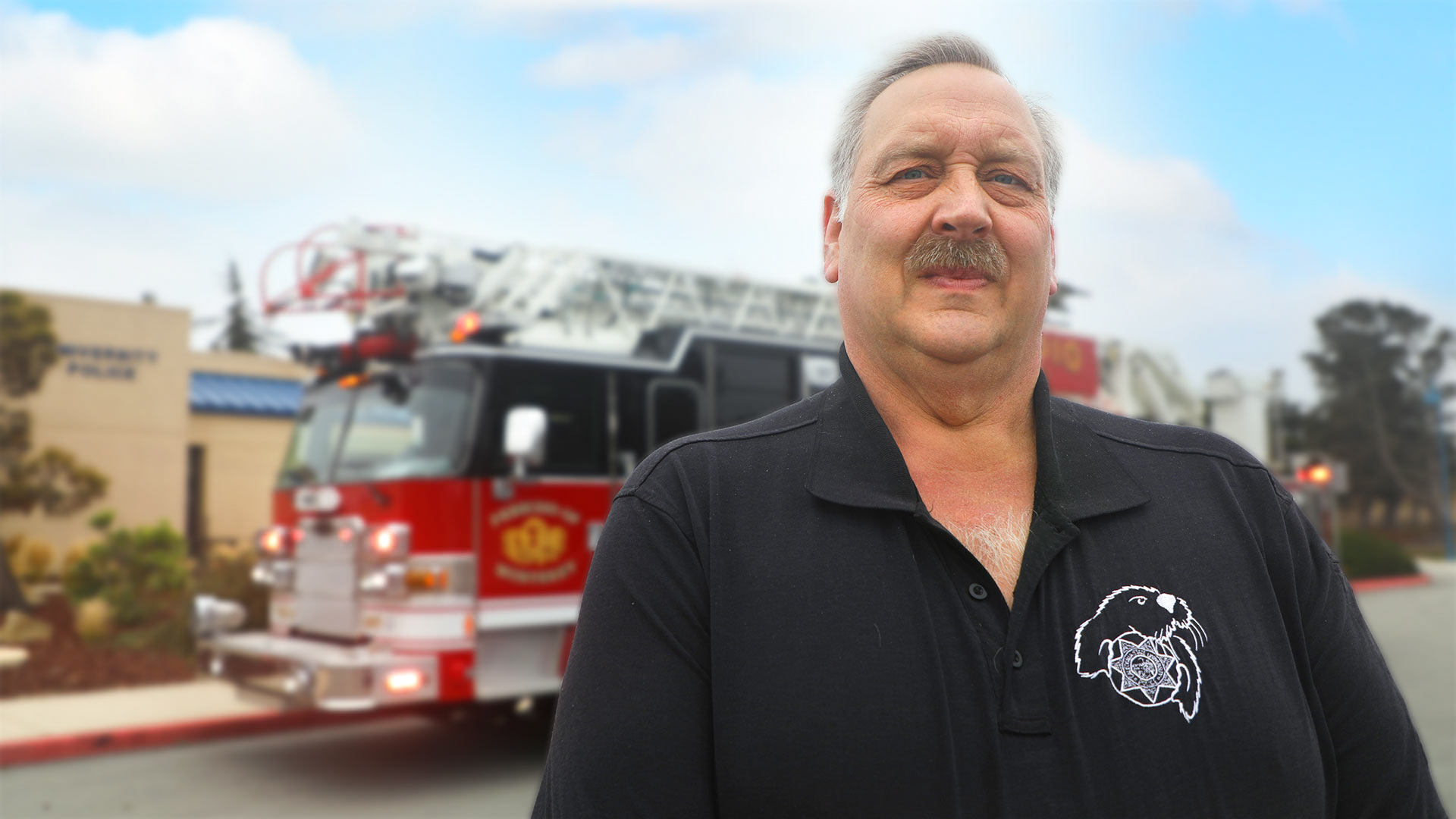 July 14, 2021
By Walter Ryce
Emergencies and disasters don't wait for pandemics to pass, or for people to get ready. Last summer, the CSUMB campus community was affected by multiple wildfires, smoke and power outages. This month the Central Coast has been subjected to wildfire, earthquake and excessive heat.
Ken Folsom, retired firefighter and current Emergency Manager with the University Police Department, answers questions about how to prepare for such emergencies.
Question: What should people on campus know about this fire season?
Folsom: That fire season is already upon us, and we really don't have a fire season anymore. It's fire year. And we've already had a couple of fires already. You need to be aware of your surroundings and what's going on around you. Be prepared, physically and mentally.
Question: What do you mean by be prepared?
The three things we need to be prepared is: have a plan, make a kit and be informed. I carry a kit in my car — emergency supplies, a first aid kit, a fire extinguisher. You go on a camping trip, a rescue squad could be half an hour away in some places. Or you can't get cell phone coverage. If you're traveling, take extra medication, have phone numbers written down. Do you know your family's phone numbers off the top of your head? Be informed. I canceled a couple of vacations a couple of years ago because where I was going, there was a major fire. Know your surroundings. Where's my safe place? Where are the doors? The fire extinguishers? A little fire can become a big fire really quick. No matter what emergency — an earthquake or fire or an active shooter — you need to be prepared.
Question: What can people do now to get ready for wildfire and smoke?
Folsom: Have a plan of what you are going to take if you need to evacuate. Make a list. What do I take? Your pets. Okay. But make sure you take pet food, medications, treats. What's valuable? I have photo albums of my mom when she was a girl in the 1920s. I can't replace those. If we had a fire in a dorm in the middle of the night, what do students take? If we're evacuating a building, we need to do it fast. Make a list.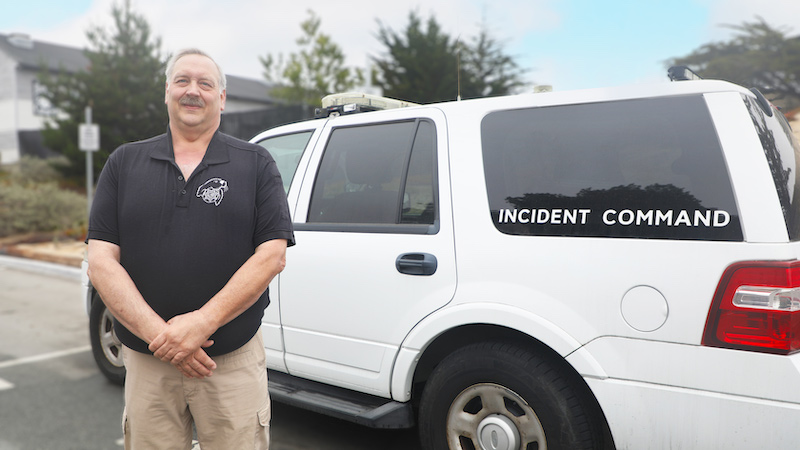 Question: What can people do to prepare for an earthquake?
Folsom: Have a flashlight. Secure [tall furniture] to the walls. The campus does an earthquake drill, the Great Shake Out, every October, and that's when we practice. Remember to drop under a desk or table, cover your head, and hold on. After an earthquake, when the shaking stops, evacuate the building and get outside. If you smell gas, or see damage, report it to 911.
Question: How is CSUMB prepared for emergencies?
Folsom: We have a trailer with mass casualty equipment that supports the fire departments. It has our sheltering supplies with cots and blankets. The Emergency Operation Center is a command center where we can manage an incident. We keep up training. We just did evacuation training with all our law enforcement officers this past week. We constantly look for things to keep improving on and do more training.
Question: What do you have in your emergency kit?
Folsom: I have basically what's on the Ready.gov website. A multi tool, a battery powered radio, emergency blanket, a whistle, a pair of gloves, flashlights and extra batteries. I have one in the house, one in the car, and one in my office. I have 72 hours worth of emergency food in my house.
Question: What if you don't have much income or a car?
Folsom: The university has a contract with Monterey Salinas Transit bus service. If we need buses to get people to an evacuation center, they have one for us. If we need more, or we need a handicap accessible bus, we can call the county. We've got multi-passenger vans here, too. So I wouldn't worry about not having a car and not being able to evacuate. If you don't have a lot of money, you don't have to buy the $30 flashlight. You can buy the $1 flashlight, because it's not going to get every day use. You can buy a $40 backpack or the $10 backpack and they're both going to hold stuff. If you have questions or needs, email me. That's my job. I help people prepare. We'll figure it out.
For more resources:
Bio: Ken Folsom has been the Emergency Manager at CSUMB since 2016, and has served four terms as the chair of the CSU System's Emergency Managers Council. He began working in the fire service in 1976, serving as a firefighter and an officer in various fire departments in Ohio and he served as deputy director of emergency management in Geauga County, Ohio. He has been decorated for outstanding rescue skills with the Russell Fire Department and as Firefighter of the Year for heroism with the Newbury Fire Department. He has been a hazardous materials technician and served as the hazmat team coordinator, attending Hazardous Materials and Terrorism/Weapons of Mass Destruction (WMD) courses across the country. He is a certified Master Exercise Practitioner, an expert in designing and conducting emergency preparedness exercises, and is certified as a General WMD/Terrorism Instructor and an Incident Command Instructor with the U.S. Department of Homeland Security. He is the author of Hooked on Fire and Smoke, about life as a volunteer firefighter.