My Life at CSUMB: Melanie Alvarado got a taste of hospitality and lots of support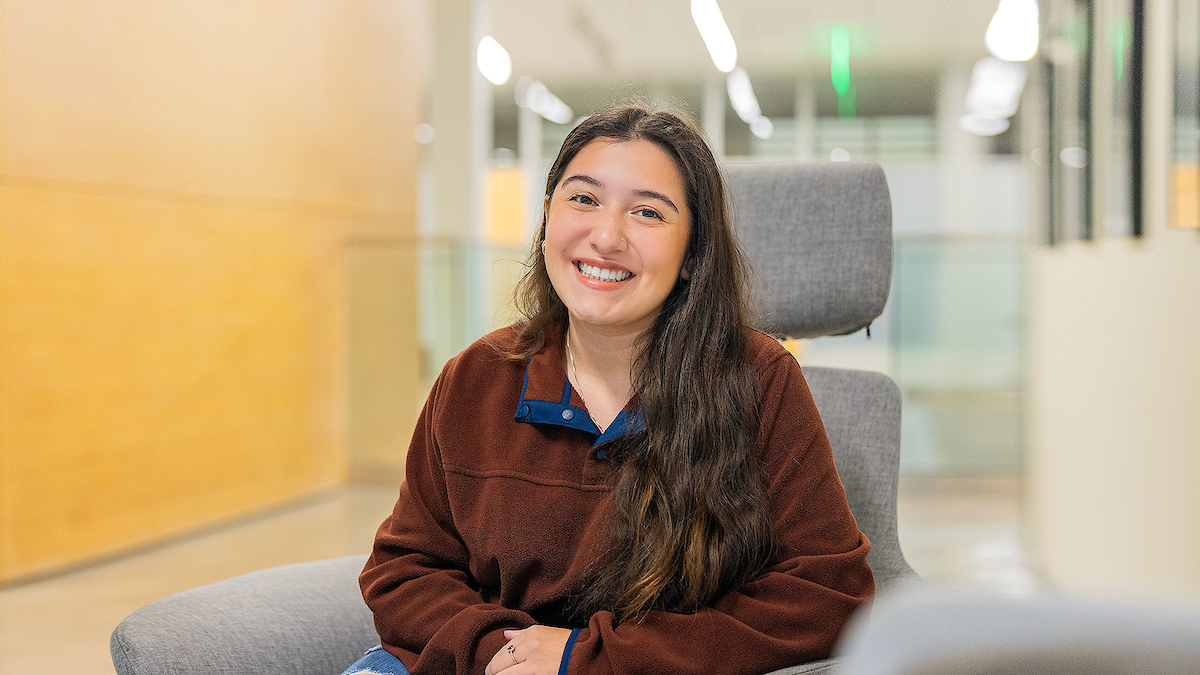 November 16, 2023
By Mark Muckenfuss
Collector cars, gourmet food, glitterati and a stunning ocean view helped convince Melanie Alvarado she is on the right track.
A senior who is graduating in December, Alvarado, of San Jose, came to CSU Monterey Bay for the Sustainable Hospitality Management program. As part of her studies, she participated in an internship with Pebble Beach Company and got to experience working at some of the resort's premier events, such as the Concours d'Elegance, one of the most prestigious auto shows in the world.
"I learned a lot," Alvarado said of the weeks spent preparing for the event. "We started role-playing for what it takes to keep a guest happy, how we have to manage both guest and employee expectations, and how to balance that very delicate issue. You have to watch how you present yourself. The day of was an eye-opening experience as to how much goes into a large event."
It's an experience she doesn't think she would have gotten elsewhere. And Pebble Beach is just one of the high-profile organizations CSUMB partners with to provide students with internships. Others include the iconic Monterey Jazz Festival, the Monterey Bay Aquarium, WeatherTech Raceway Laguna Seca and more.
"When the event ended, I felt proud of myself and what I had accomplished," she said. "It felt like I belonged there."
She feels the same way about CSUMB.
"I don't think you'd find a place as friendly as this," she said of the campus atmosphere. "Everyone is really super open and kind, and that really helped with not being afraid to say hello. I've found some really good friends."
Her experience at CSUMB, she said, proved to be a good fit. The smaller campus and the personal attention students receive were exactly what she was looking for.
"I didn't want to go to a big school where my professors wouldn't know me," she said. "Here, they all remembered my name and knew who I was. I really appreciated that. I had the same professors over and over again and we really got to know each other."
She appreciated those relationships during the times she struggled with her schoolwork.
"My professors knew what I could do," she said. "Even if I thought I couldn't do it, [they] thought I could."
That kind of encouragement, Alvarado said, allowed her confidence to grow.
"I think I've become more responsible for myself and confident with the decisions I make," she said. You can learn so much on a small campus where you can get to know your professors and make connections."
Those connections, she said, include such things as the Pebble Beach internship. Even though that internship has ended, she's thinking her relationship with the resort may only be getting started.
"I'm considering staying in the area and applying for the team management program at Pebble Beach," she said. "I know some of my classmates who are doing that and I want to follow in their footsteps."