After summer break, thousands of students and faculty come to campus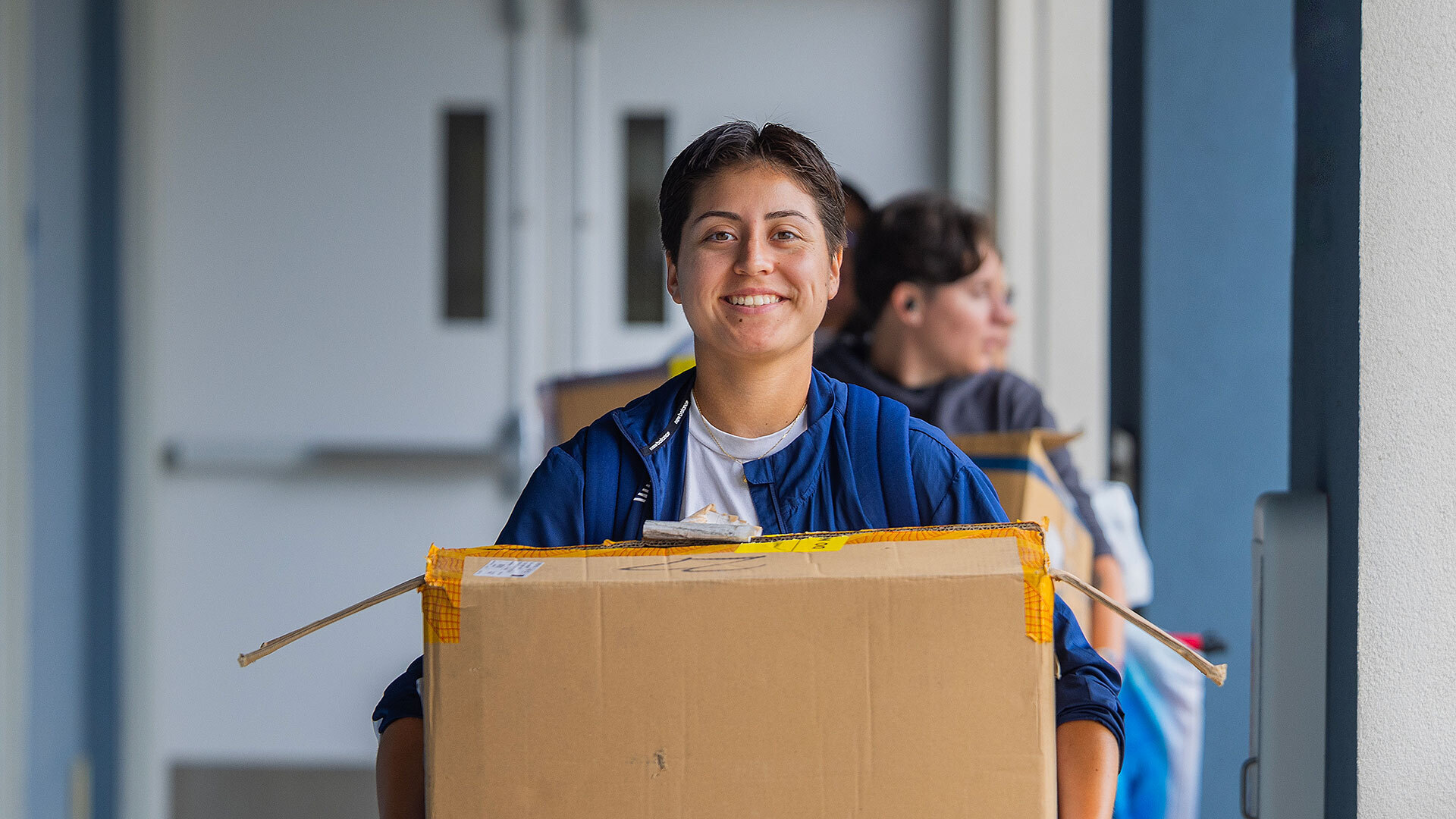 August 14, 2023
By Walter Ryce
After commencement in the spring, when students and faculty are done with the academic year and most vacate the university, CSU Monterey Bay hibernates over the summer. Plenty of work continues in the interim, wrapping up the previous year and getting ready for the new one. But with summer behind us, thousands of new and returning campus community members will soon come and revive campus life.
The first day of instruction for the new 2023-24 academic year begins on Aug. 23. But before that, an abundance of activity will take place, prodding the gears of the university to life.
Jeff Cooper, director of Student Housing and Residential Life, reports that although campus housing is still available, it is expected to reach 98% capacity this fall. About 3,300 students are moving into campus housing in August — 2,800 of them just in the two days of Move-in weekend, Aug. 18-19.
"Living on campus is popular," Cooper said. "We continue to illustrate our identity as a residential campus."
A week before the big Move-in days, some students, including student-athletes and those affiliated with TRIO Student Support Services, had the opportunity to move in early.
Sofia Viramontes from Concord, a freshman TRIO student majoring in marine science, was moving in with help from her grandparents, mom, and boyfriend. She had gone on a campus tour and attended orientation, and decided that CSUMB felt right.
"I wanted a smaller [university], closer to home. The campus looks big but it's not crowded. It's modern, open, the buildings are more spread out," she said. "[Moving here] is overwhelming but a breath of fresh air. It's freedom."
The influx of students like Viramontes, as well as faculty members and those who will live off-campus in nearby communities, will translate to immediate increased economic, social, civic and cultural activity both on and off campus.
A study released by the CSU Chancellor's Office in 2021, "The Impact of the California State University," found that CSUMB tallied $301.8 million in operational expenditures, capital expenditures, auxiliary costs, and student spending in the 2018-19 academic year.
Although the Monterey County Business Council — a group that promotes economic development and business growth in the region — doesn't track data on CSUMB's economic impact to the region, they released the following statement a few months ago:
"The Monterey County Business Council recognizes CSUMB as a major job provider and economic driver in our region. MCBC also celebrates CSUMB's role in uplifting students — as one of the top public schools [in the West] and a top performer of social mobility, particularly for traditionally underserved and low-income populations."
President Vanya Quiñones marks her one-year anniversary at CSUMB in mid-August. One of the signatures of her first year has been to create more opportunities for students to engage in fun social events that help students feel welcome, add joy to their time here, and boost mental health and well-being.
"A vibrant and thriving community is essential for students to find their people and to build a sense of belonging," Quiñones said. "In my first year, I attended so many events with students -- from watching our student-athletes excel in their sports to dancing at Otter Thursday to hanging out with students at Drag Queen Bingo -- I got to know and hear from them what we can do to help them succeed."
This year there are even more such planned events for the beginning of the academic year under the umbrella of Otter Days. These run from Aug. 18-27 and are meant to welcome and foster togetherness among students, faculty and staff.
The first ones geared toward students begin in the evenings of Move-in days, Aug. 18-19, when residential students are invited to first night community meetings to get to know their residential advisors and roommates, learn more about life on campus, get answers to questions, and join in the Otter Raft network.
Then it's an end-of-summer back-to-back lineup of fun, social events, from a dorm-room decorating get-together at the Otter Student Union from 8 to 10:30 p.m. on Aug. 18; to a series of college mixers on Aug. 21 to meet faculty, deans, and cohorts; to the fall sports alumni/student tailgate 11 a.m. to 4 p.m. Saturday, Aug. 26, where current student-athletes compete against alumni in volleyball and soccer.
Go to the Otter Days web page for more information.
The campus community has always engaged in meaningful and mutually rewarding activities and projects with communities near and far. That's expected to continue, and increase, in the coming academic year and beyond. And that will translate into an open invitation for the community to come to campus and explore the many avenues that CSUMB pools resources and talents in amazing ways.
"I want to grow our partnership with the municipalities in our region, with local businesses and with nonprofits," Quiñones said. "California State University, Monterey Bay is a driver of innovation and change, and I know we can strengthen our collaborations."