Welcome Back BBQ first large-scale event after return to campus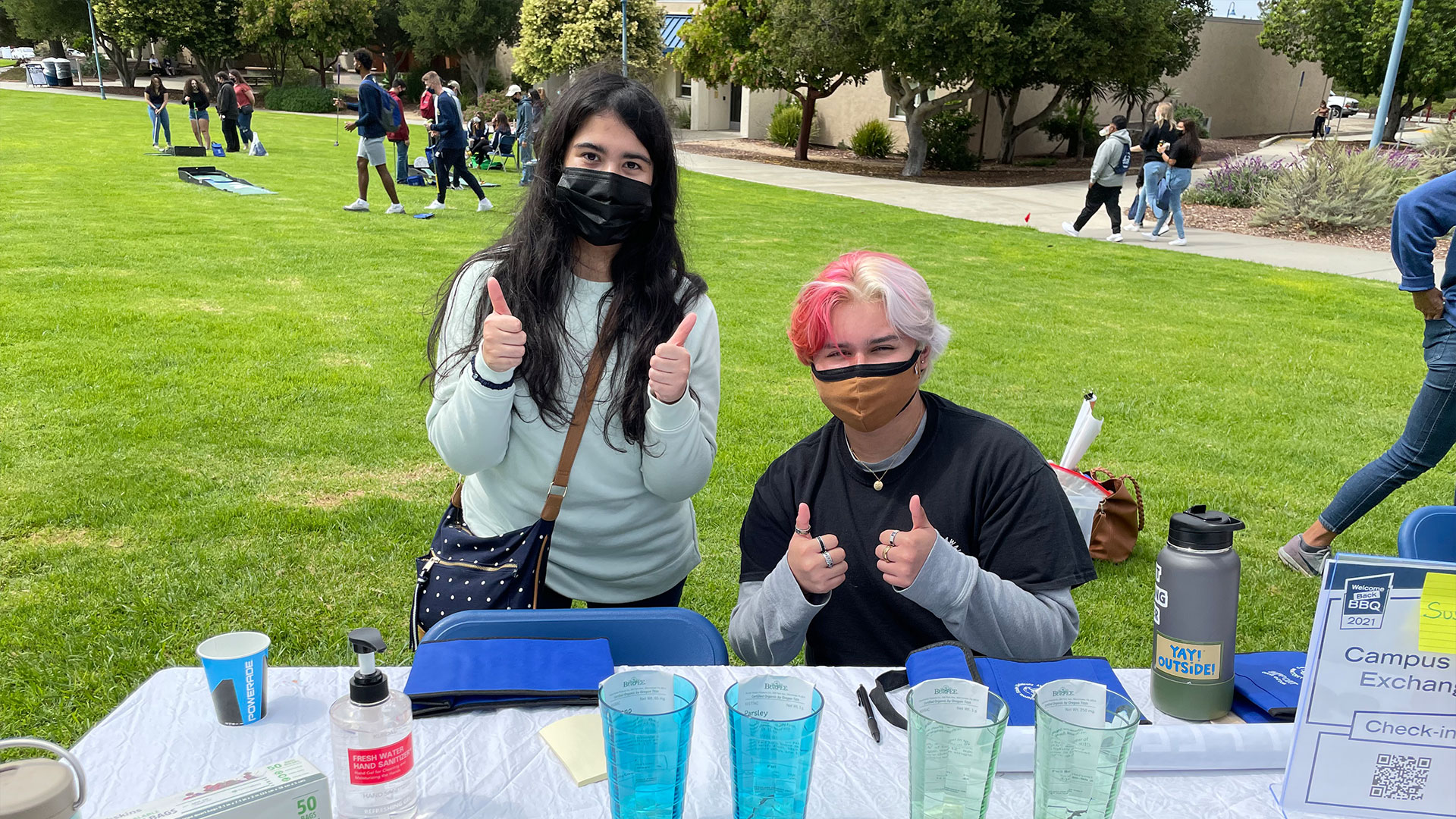 August 25, 2021
By Walter Ryce
The Welcome Back BBQ event on the afternoon Friday, Aug. 22, was CSUMB's first official, university-wide, outdoor, in-person celebration since the campus was vacated due to the pandemic a year-and-a-half ago.
Students were back, employees were back, and families and friends were back too — strolling, talking, eating, dancing, and sitting together at tables.
Also present was the smell of grilled burgers and steaming hot dogs, giant inflatable games, science exhibits, vendors doling out free samples and info, lively laughter, and live music.
A few student organizations were there tabling, and volunteers manned zero-waste sorting stations. The Otter Student Union teemed with activity, and the recreation department set up fun lawn games. Even the sun made occasional appearances.
It felt good.
The overall atmosphere was one of giddiness and relaxation. But it wasn't a complete return to normal. Masks were worn by almost all attendees despite being outside, maybe in deference to the delta variant of COVID-19, or maybe out of ingrained habit.
Nick Zuniga and Kira Cullen were sitting together at one of the round tables on the lawn. Both are freshmen, psychology majors, and taking a hybrid of in-person and online classes.
Zuniga is from Murrietta, and said he chose to attend CSUMB because he has family in the area and loves the region. He felt excited and nervous about the new year.
"The university put in a lot of protocols, like the vaccination registry," Zuniga said. "I think the students here also have the integrity to keep each other safe."
Cullen said she likes the weather and appreciates the smaller campus. And she was enjoying the BBQ.
"It's been fun meeting other students, seeing school clubs here," she said. "It's a good way to connect."
Over at the courtyard of the Otter Student Union, Brianna Dedini, a freshman and business major from Greenfield, was sitting on a curb with her mom, Louise.
"I like the ocean here. I like the campus," Dedini said. Her cousin had attended CSUMB in the past and had liked it, encouraging Dedini to become an Otter as well.
Dedini is taking a hybrid mix of classes as a way to transition to in-person classes. "I'm used to virtual classes now," she said. "I want to get used to in-person classes. For the spring semester, I might try all in-person."
Her mom has been pleased so far.
"I'm happy she chose a local university," Louise Dedini said. "I'm also glad she got into a dorm and doesn't have to commute. Move-in was really smooth."
One of the vendors in attendance was the electric scooter ride-sharing company SPIN, who reported they are in talks to return to campus this semester. The CSUMB Transportation Resources table believes the campus farmer's market may return too. Zack Simmons, Associated Students' programs and communication coordinator, said students are asking how they can get involved in campus life.
Toward the end of the day, Theo Cross, a freshman from Berkeley who is considering studying Marine Science, was sitting on a chair near the inflatable soccer amusement game.
Despite his calm demeanor, he said he's been feeling "jittery" the last two days, not knowing what to expect.
"I'm taking deep breaths," he said. "I'm getting to know people. It's nice to have the option of in-person and virtual classes. I know I can [attend fully virtually] if I need to."
He said it didn't help his nervousness that he had only consumed water and Swedish Fish candy the day before. He was grateful for the food at the BBQ, and he enjoyed walking around the event.
His hope is that as the semester progresses, things will get easier. With the return of fellow students, activities and staff on campus, it seems they already have.