The Investiture ceremony of President Vanya Quiñones was meaningful and fun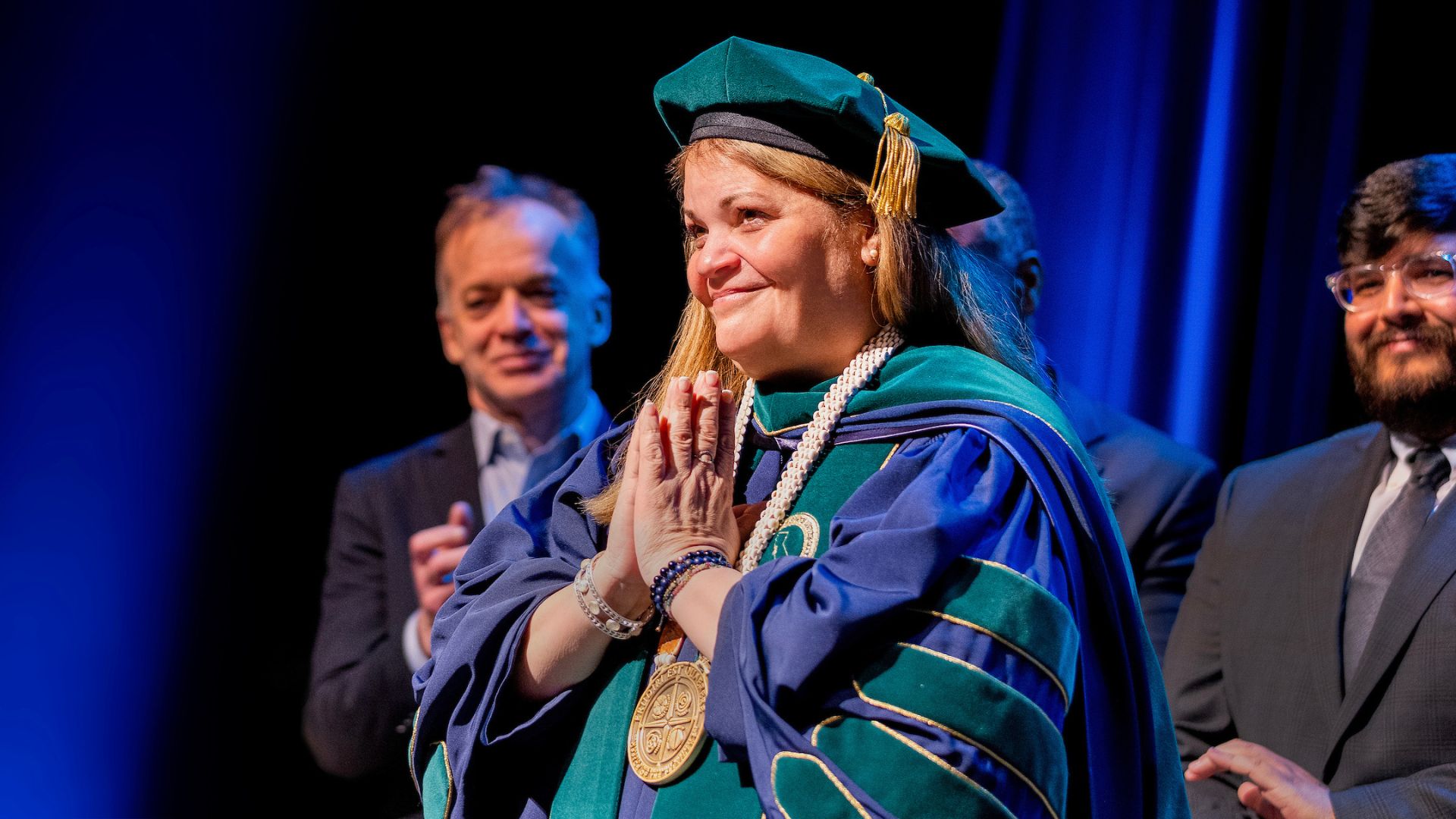 February 10, 2023
By Walter Ryce
California State University Monterey Bay celebrated the presidential investiture of Vanya Quiñones in a ceremony on Friday afternoon, Feb. 10, at CSUMB's World Theater.
It was a blend of tradition and innovation, ceremony and spirit, purpose and celebration. It opened with a procession of academic leaders dressed in robes and regalia walking to the accompaniment of a CSUMB ensemble and chorus performing "One Love" by Bob Marley.
Guest speakers included Interim Chancellor of California State University Jolene Koester; Pace University President Marvin Krislov; presidents and trustees of the CSUs, Hartnell College, and Monterey Peninsula College; CSUMB faculty, leadership, staff, students and alumni. Family members of Quiñones's family also appeared in pre-recorded video messages.
Special invited guests included local elected officials including Marina Mayor Bruce Delgado, Seaside Mayor Ian Oglesby, Monterey County District 5 Supervisor Mary Adams, and Monterey Mayor and CSUMB Alumnus Tyller Williamson.
The event was presided over by Wenda Fong, chair of the CSU Board of Trustees. She introduced Kanyon CoyoteWoman Sayers-Roods who sang a Native American song, the Seaside High School Junior ROTC Color Guard, students who offered greetings in their native languages, remarks from various special guests and music and dance performances.
1 / 3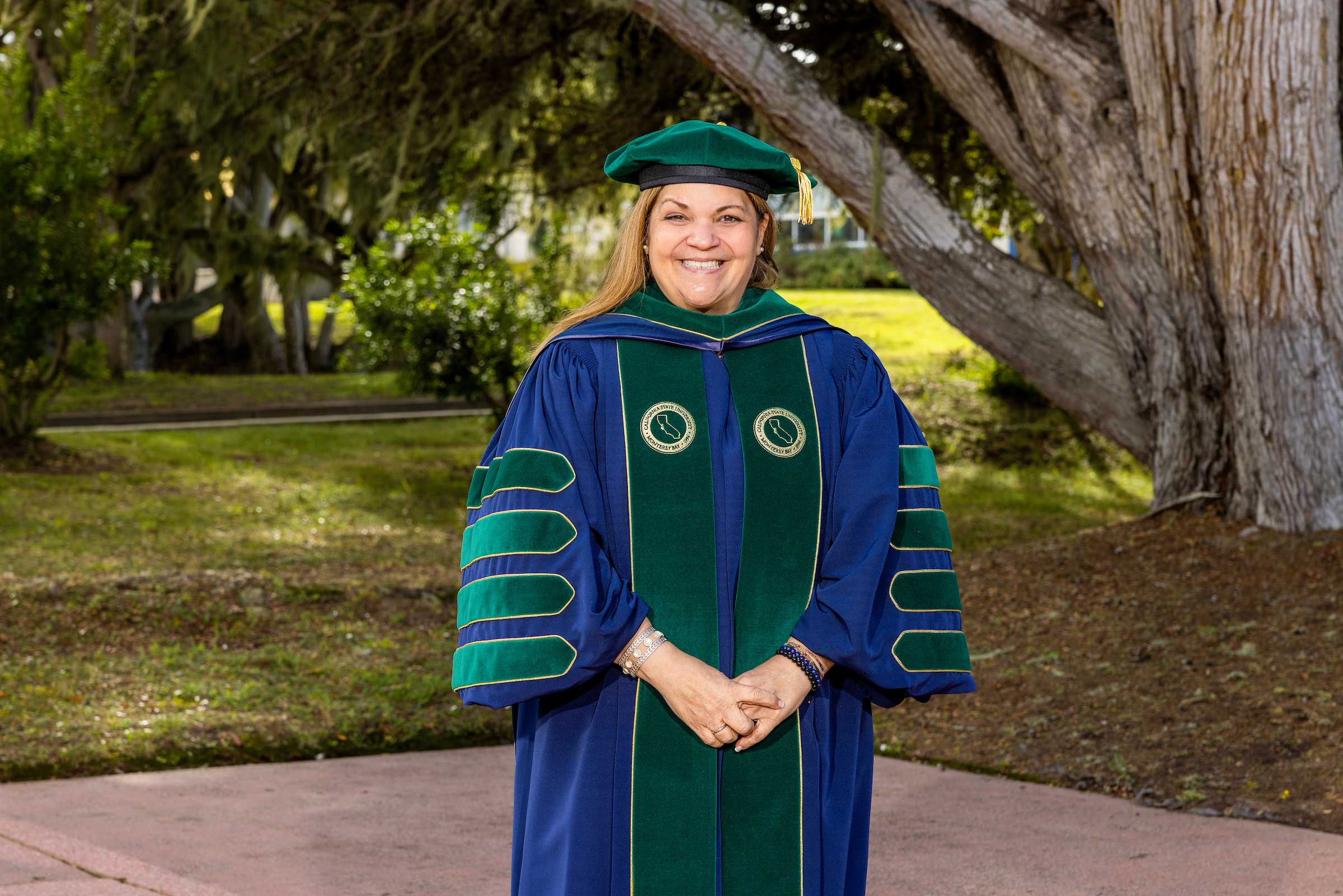 Vanya Quiñones Portrait wearing her regalia
2 / 3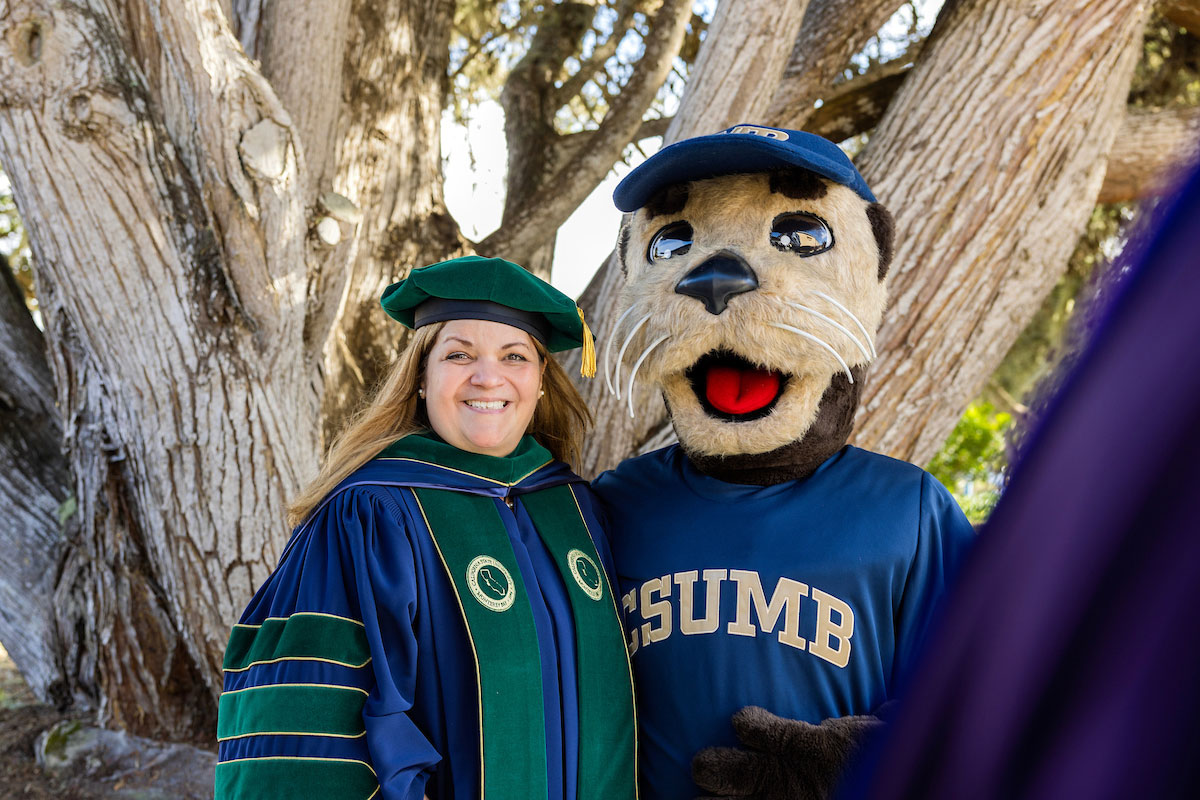 Vanya Quiñones with Monte
3 / 3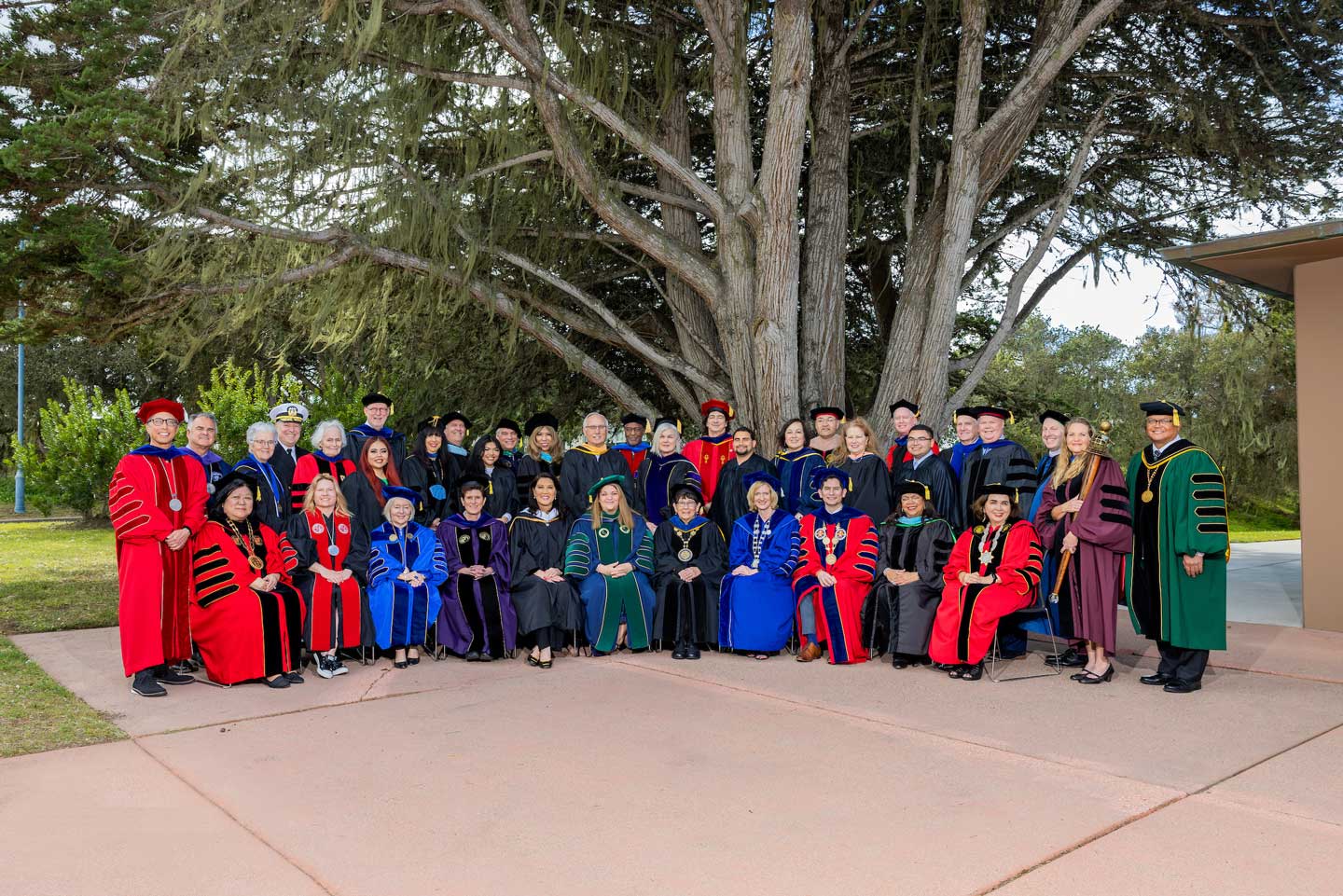 Vanya Quiñones Investiture Platform Party
❮
❯
"As trustees…we are proud of what has been accomplished so far, and we are excited about what this campus will become," said Fong. "We offer Dr. Quiñones our unequivocal endorsement, sincere congratulations and our very best wishes for enduring success."
Pace University President Marvin Krislov said, "I know that Vanya can balance budgets, because I watched her do it. I know that Vanya can manage a crisis, because I relied on her — our entire university relied on her — through the pandemic. And I know that more than anything else Vanya is committed to student success."
"Vanya, congratulations," Krislov continued. "Cal State Monterey Bay, get ready. I know there is a strong future ahead."
For the formal investiture ceremony to be carried out, Quiñones was joined on stage by her family and friends. Then Interim Chancellor Koester placed the presidential medallion around Quiñones' neck and proclaimed, "Ladies and gentlemen, it is indeed an honor to present to you, President Vanya Quiñones!"
The audience cheered. Quiñones thanked the assembled, including donors.
"You are pivotal to helping our students, building our campus, and ensuring we have partnerships in the community," Quiñones said. "Donors and elected officials, you have my sincere gratitude."
She gave credit to influential people in her life, like her family.
"The journey to this moment has been a long time coming and it started with my grandmother Basillisa Torres Maldonado. She knew what she wanted in life, and went for it. She wanted her kids to have different lives, not on the farm but in a big city."
She went on to talk about how education helped various members of her family become professionals, including an engineer, an elected official, a judge, doctors and lawyers and, now, a university president.
"As with my family, one member of a family can change the trajectory for generations to come," she said. "We know from our stories that when one member dreams of a better future via education, it opens doors for the whole family and for future generations."
She spoke about how she was often the only woman of color in some of the spaces she occupied, but many people supported her in her journey, and she wants to ensure that CSUMB does the same for students.
"I have dedicated my professional life to students," Quiñones said.
She repeated her refrain that the work of helping students grow will be more successful by working together, before referring to a phrase her grandmother used to say: "'Lo unico que puedo darles para un buen futuro es una buena educacion!' So that is our mission! To ensure that our students have a strong future, through education."
At the conclusion of the ceremony, the platform party and attendees made their way next door to the University Center for a reception stocked with multicultural food and drink, and music and dancing, to celebrate the new president.
Read about the community reception following the ceremony.
See the Investiture web page for more information and a video recording of the ceremony.