Student workers earn money and life experience as well as degrees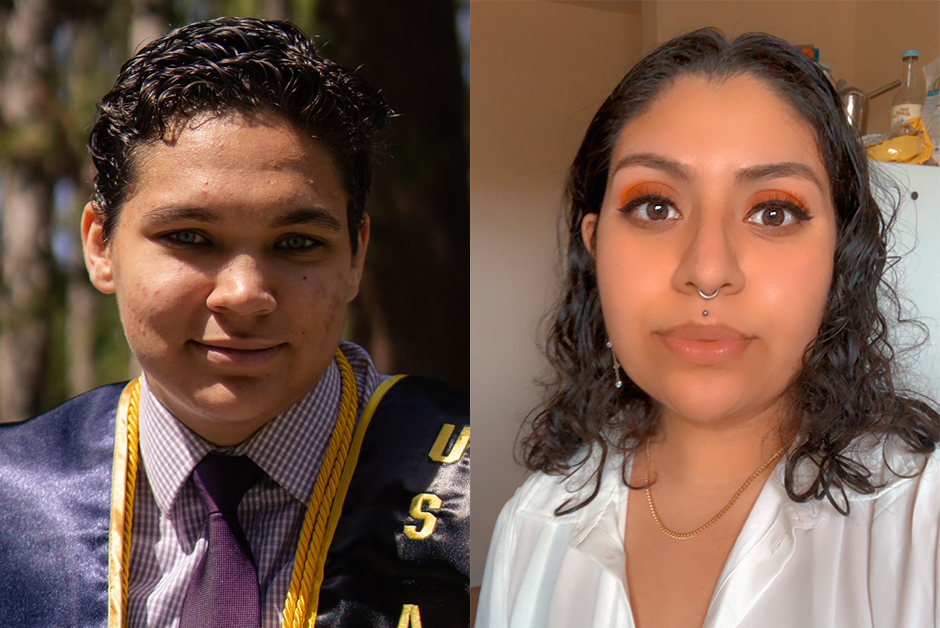 May 13, 2021
By Walter Ryce
Student workers face extra challenges in juggling work duties and responsibilities with everything else that students contend with. It's not easy, but it's not all hardship either. There are multiple rewards to reap from working while studying, including paychecks, networking, expanding job skills, and other benefits that are harder to define but evident and meaningful.
Two graduating student workers may help illuminate the more intangible bounties.
Gloria Kowall
Gloria Kowall has been a peer mentor for the Educational Opportunity Program (EOP), which helps students who are low-income and among the first-generation in their families to attend college.
One of the first ways EOP helps is by providing them a bridge to CSUMB: the summer bridge program provides a transition for high school students before they attend; and the transfer bridge does the same for students transferring from community college.
Once on campus, they are oriented to university life, finding the right departments for their needs, meet with retention advisors and peer mentors, and get answers to their questions.
In three years of working as a peer mentor with EOP, Kowall provided all of that and more.
"My job included meeting with students," she said. "Every meeting was different depending on the needs of the student."
She said that it could be a check-in or mentoring, practicing study techniques or time management, self-care or swapping stories, finding workshops or fun campus activities. She often had the biggest caseloads — up to 150 students per semester.
She applied for the job because she herself went through the EOP program's summer bridge in 2017, and her peer mentors inspired her to apply in 2018.
"The job allowed me to meet many wonderful people," she said. "Every student had a reason why they were on this journey and that 'why' is what kept them going."
She said the job helped her "fully define" her own reason why she was on her education journey, and kept her on the path that has led to her graduating with honors.
A couple of weeks after she graduates, she'll leave for basic combat training in the U.S. Army. After that, she hasn't decided yet between working with the National Park Service or U.S. Forestry Service, or getting her teaching credential and becoming a high school science teacher.
"Who knows, I still may do both in due time," she said.
Sol Rivera
Ever since doing their service learning at the Immigration Task Force (ITF), a non-profit that protects and defends immigrant communities, Sol Rivera (who identifies as they/ them/ theirs) was determined to work there.
"I was very bold and basically told the [Service Learning Institute] 'partner me up with this organization or don't give me anything,'" they said. "They most likely would have given it to me anyway. I just have a lot of nerve."
Rivera was hired by the SLI to be the student volunteer coordinator within ITF. But while there they grew, becoming a steering committee member, coordinating many events, partnering with local organizations.
"At one point, I was also the Interim Director through a short period where the executive director was absent," they said.
Now they focus on leading discussions among students about immigration, race, identify and family. They have learned much from their work, including witnessing the beauty and charisma that comes from immigrants' resilience.
They said their father is a testament to that.
"If you give that man wood, he will build you a home. If you give him plain water, you'll drink agua fresca," they said.
They said that most people don't realize how hard the type of work immigrants do — construction, fieldwork, housekeeping — really is, and thinks if those in the county tried it for one day, those people would gain new levels of understanding and appreciation.
They are steeped in work. In addition to being a full-time student and working part-time with ITF, Rivera also works full-time as a vaccine outreach coordinator with the United Farm Workers. They have assistants who inform communities about the COVID-19 vaccine in various California counties, and Rivera coordinates mass vaccine events locally and helps in other counties.
They will continue that work after graduation.
"I'm very excited to continue to work with these immigrant and farm-working communities," they said. "Life is always busy but my work is fulfilling. I go to bed sleeping great and wake up feeling even better."