Rob Ponce has long been the voice of CSUMB's basketball team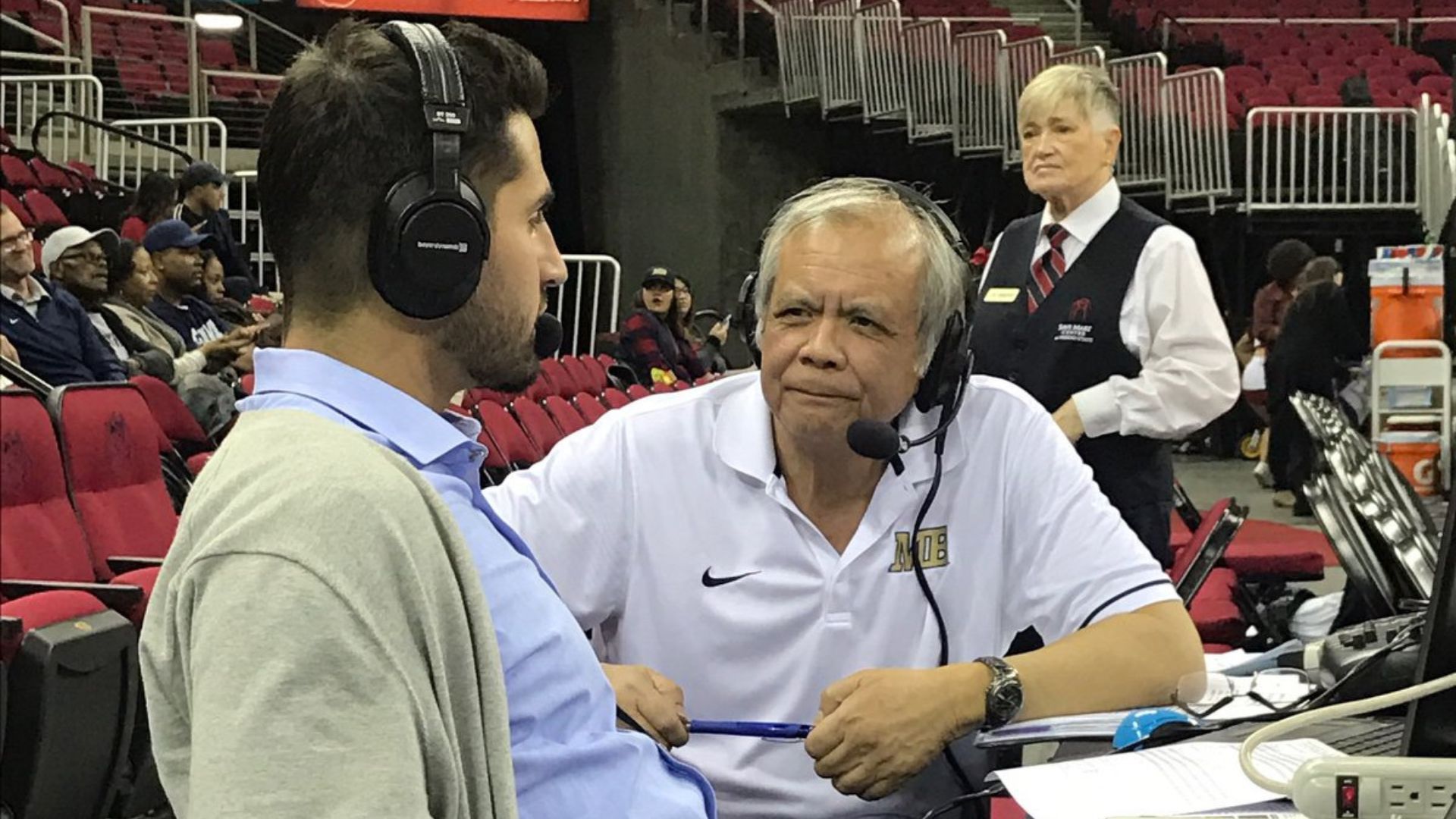 June 23, 2022
By Mark C. Anderson
Rob Ponce, the longtime voice of the CSU Monterey Bay basketball team, can tick off any number of moments he lives for as a broadcaster.
One came against league powerhouse Cal State San Bernardino. With the last seconds of the game evaporating, he took listeners through the play as team assist leader Charlie Tooley came flying down the court and drilled a three-pointer at the buzzer to deliver a stunning upset.
"I was consumed by that [moment], completely consumed," Ponce says. "I found out later his sister was in Montana listening. She became tearful when she heard the call."
Then there are those moments that are just as vivid but less enjoyable to revisit. Those include a game when Fresno State would've fallen to the massive underdog Otters—in Fresno—had the refs not blown a call in the final seconds when a FSU Bulldog steps out of bounds twice before "saving" the ball. Ponce still remembers the offending referee's name.
"Probably the most obnoxious non-call I've ever seen," he adds.
Ponce is full-on invested in game day action. To hear him tell it, though, the moments that mean more come between the big plays. He laughs in recalling traveling with the team to Fairbanks, Alaska, for an invitational. When they landed amid subzero climate conditions, he looked on as an Otter decided to test the temperature outside the terminal without his shirt on.
"And that was one of the most responsible and intelligent players on the team," he says, laughing. "To fly to a remote place and play a tournament with that kind of weather outside, those are great team bonding experiences."
Ponce started in radio as a Top-40 disc jockey at KDON while a high schooler. Later he worked UC Berkeley basketball pregame, halftime and post-game coverage and went on to announce Monterey Bay Area high school football games. By day, he works as an injury attorney based in Monterey.
"It's a great stress reliever from litigation," he says, noting a CSUMB Basketball alum works in his law office. "One of the biggest rewards is getting to know the players and becoming lifelong friends. I can honestly and proudly say they all become fine, fine people, pillars of the community. One of the greatest rewards is to see talented student athletes become successful in their careers. It's a great thing to be part of."
After nearly 20 years calling CSUMB games, Ponce is invested personally in the program, but also financially. When budget cuts meant no money for game broadcasts, he came up with a novel way to finance the radio call at no cost to the university: Put simply, he buys time from KMBY Radio and sells advertising within it.
Assistant Athletic Director Kevin Gilmore marvels at the approach.
"His solution [was] a selfless one: To purchase the airtime himself and sell the ad inventory—again, by himself—to not only pay for the airtime," Gilmore says, "but to have enough left over to donate back to the program."
Part of Ponce's buy-in comes from an abiding affection for the type of pure sport Division II hoops represents, with all the passion for competition but without the pressures to generate big crowds and big revenue.
"At the Division I level, you have different expectations," he says. "Here it's the love of the game. You can see it. You can feel it. You don't have the push for ratings. There's a certain fun element you experience."
After years supporting the program in every way he can, Ponce can revel in another fun element: the evolution of the team into a more competitive squad under Head Coach Isaac Williams.
"You stick it out because you love doing it and love being around the student athletes," Ponce says. "To see the team develop and slowly change into a winning program, it's as good as it gets."