Patrick Belanger studied message credibility for the sake of condors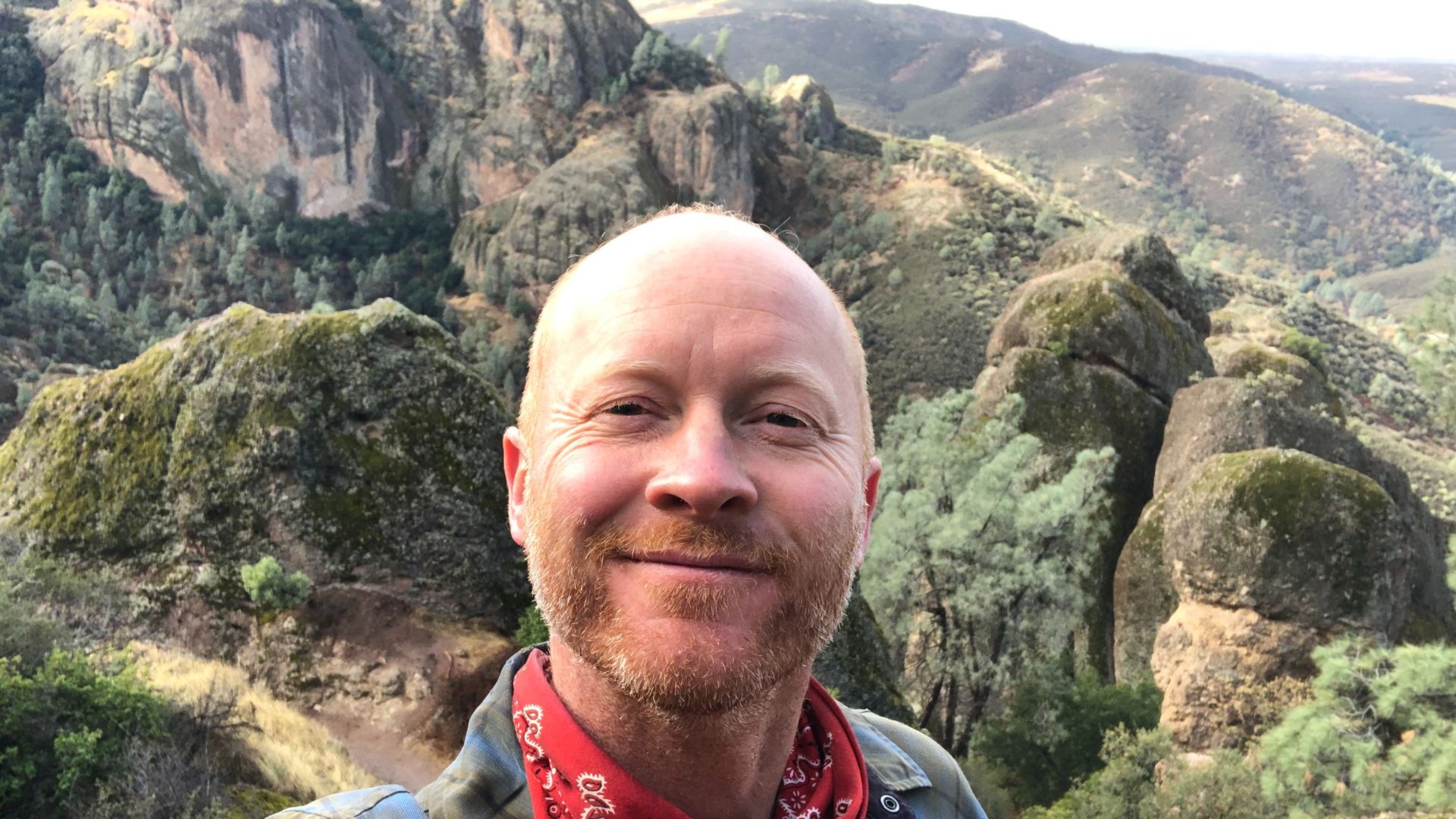 August 30, 2022
By Walter Ryce
Patrick Belanger is a professor of environmental communications and rhetorical studies in the Humanities and Communication Department at CSUMB. Originally from Vancouver, Canada, he's lived in Monterey and worked at CSUMB since 2013.
"I love the natural environmental beauty of the area including the local wildlife," he said.
One of his favorite places in the region is Pinnacles National Park, where he's witnessed adult condors soaring on thermals above the rocky spires.
That inspired him to apply his field of persuasive communication to their cause. Although condor populations are slowly recovering from near extinction, they still face many threats including wildfires, power lines, vehicular traffic, and rodent poisons. But the most lethal is lead residue from spent ammunition in carrion that condors feed on.
Belanger wanted to find out the most effective ways to communicate a science-based conservation message to people who may be skeptical of it.
"Hunters and ranchers might not be fluent in contemporary environmental science, but they have deep-seated relationships with the land," he said. "How do you engage with them on terms they will take to? Speak to them eye to eye?"
He spoke to representatives from four organizations — Ventana Wildlife Society, the Institute for Wildlife Studies, The Peregrine Fund, and Pinnacles National Park — and studied their approaches.
Daniel Ryan, an invasive-wildlife biologist and non-lead ammunition specialist at Pinnacles National Park, started with hogs.
Belanger said that when wild hogs were damaging the ecosystem around the park, Ryan approached neighboring ranchers to solve the problem together, ultimately building fences to control the hog population. That work toward mutual goals formed the basis of trust and relationship-building.
"So when you want to hold a shooting demo about how non-lead ammunition works, instead of sending a postcard from the government that says 'come to this workshop,' it's neighbors saying, 'Hey come to my property and see this'," Belanger said. "Neighbors persuading neighbors."
Despite California's state-wide ban on the use of lead ammunition, the need for continued outreach suggests the limits of a purely regulatory approach. It also suggests that when it comes to cultural and behavioral shifts, it's a long game.
Belanger calls it a voluntary community-lead campaign. And that approach is working. The conservation and government groups built up positive relationships with hunters, ranchers and wildlife managers, and the VWS has even given out free non-lead ammunition to individuals in the condor range.
He's published an article about his findings in the open access science journal Journalism and Media. He sees other applications for this peer-to-peer communication approach in other areas, including climate change, public health, and freshwater conservation.
"Just providing information isn't enough to change deep seated cultural traditions," he said. "You have to empower by laying out options, and making clear the real world changes that come from small changes of behavior."
One real-world change in the campaign to protect and proliferate California condors happened this past spring, he said, when they were reintroduced into coastal redwood forests in Northern California for the first time in 100 years.