New dean discusses leadership, community outreach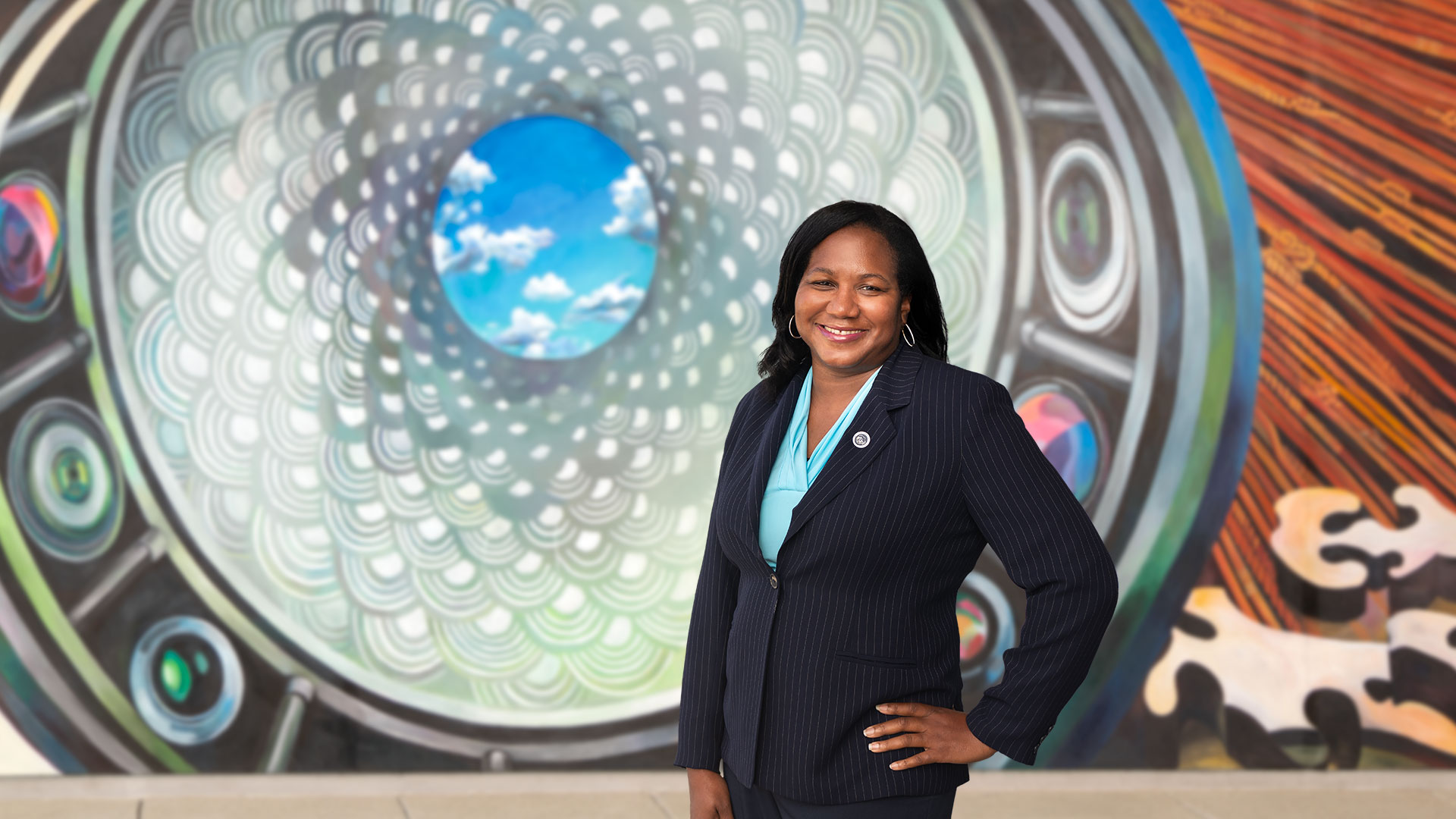 September 15, 2021
By Walter Ryce
Juanita Cole went to the Monterey County Fair in early September.
"It had music bands, rides, and all the bad food that you can eat," she said.
But even in the midst of the fun and noise, she was thinking about the job she had occupied for less than three months. She noted that while Monterey Peninsula College had an information booth there, CSUMB did not.
"I recognize the importance of the relationship to and from a city and university, and how it spills over on and off the campus," Cole said. "Being visible in the community enables the university to serve as both encourager and economic driver."
She also knows that a successful academic and career path is often lined with the encouragement of many people.
In 2019-20 Cole completed a year-long fellowship with the American Council on Education, in which participants immerse themselves in the study and practice of leadership.
She spent a year at the University of Maryland shadowing President Wallace Loh in meetings with government and elected officials, board of trustees, cabinet members, and student leaders. She accompanied him to community events and, of course, those famous football games.
"It was amazing to observe, up close, the complexities of higher education leadership. I was completely immersed in the decision-making processes of another institution," Cole said.
That experience solidified her decision to pursue a career in senior administration. Loh became her mentor. They talked about her background — she graduated from San Diego State University — her experience, and passion for higher education. He asked where, exactly, she wanted to end up.
"And I said 'I want to land in the CSU system'. I started out there and it was transformative, critical to my foundation," she said. "That's where I want to go back and serve."
When she saw the position open up for the dean of the College of Arts, Humanities and Social Sciences, home to the Department of Psychology — Cole's discipline, and one of the largest majors at CSUMB — and that the university served many first-generation and Hispanic students, she thought to herself "this is the dream job."
Cole's most recent professional experience was on the East Coast. She was an assistant/associate dean and deputy provost at National Defense University, and associate provost at Trinity Washington University (where about 80% of the student body is Pell-eligible). Both institutions are in Washington, DC.
But she's originally from California. She grew up in Canoga Park in the San Fernando Valley.
"I always tell people 'Yes, I'm a valley girl.' I can do the whole valley girl accent if you asked me to."
There, she attended Catholic schools, was the middle child of five close siblings, and her family was the only Black family on their block.
Her father immigrated from Panama, her mother was raised in a rural Alabama town, and both came from poverty. Her father spoke Spanish in the home, they listened to the syncopated music of Celia Cruz, and there was no shortage of arroz con pollo on any given Sunday afternoon. Cole grew up in Latina/Latino culture.
But as she and her siblings got older, her father wanted them to assimilate, and spoke less Spanish to them. Their cousins in New York teased them for not being as fluent, while in their predominantly white suburban community, Cole was singled out for being Black and Latina, and for her Spanish name, Juanita Graciela.
"Growing up, it was tough trying to figure out where I fit in," she said. "Colorism and racism is real in both communities. As a child I never saw myself represented in pop culture or Hollywood magazines which tended to focus on lighter skin. It was even more confusing to identify with Latina media because I wasn't reflected there either.
"College is where I really solidified my ethnic identity, which I am very proud of now."
Both parents believed in the American Dream and emphasized hard work and education as a means to attain it despite the fact that they themselves did not know how to help her navigate the college world.
A high school counselor told Cole about San Diego State University. She was accepted into the Educational Opportunity Program and Summer Bridge, both of which helped her have an "amazing" college experience that she still cherishes.
She majored in psychology and learned for the first time about graduate school. She applied to and was accepted into the Ronald E. McNair Scholars program, partnered up with a faculty member who mentored her, and presented research at conferences.
"And that lit the fire. Right there," she said.
She went to graduate school at Howard University, completed her postdoctoral work at the University of California at San Diego, and worked through tenure track to full professor at Azusa Pacific University. Cole continues her research affiliation in the Laboratory of Comparative Human Cognition (LCHC) at UCSD where her research explores best practices for student success. Her contributions to research on culture, cognition, and child development have been sponsored by the American Educational Research Association, National Science Foundation, and National Institutes for Health.
"That laid the foundation for my formative administrative experiences," she said.
Looking back at her 20 year career, from department chair to deputy provost and now to dean, she continued, "I've always been a leader and a person of influence, regardless of title."
She said she loves inspiring others, collaborating and problem solving. And sees the arts and psychology going hand-in-hand: "Psychology is the study of human behavior, and the arts are the expression of the human experience. All the departments in our college really tap into what it means to be human."
Cole said she is also excited about the college faculty's commitment to diversity, equity and inclusion, the innovative and interdisciplinary degrees, and the various ongoing scholarship.
Cole may describe herself as a bit of a joker — but she is serious about expanding the college's academic program offerings. On the horizon will be a new major in Ethnic and Gender Studies. She wants to expand the college's performing arts into theater and dance, and grow pathways to CSUMB for local community colleges.
"I am thrilled about our strategic partnership with the Monterey Jazz Festival. It has become a signature event in the college and I hope to leverage the combined power of the performing arts, education, and community and replicate this type of partnership with other organizations."
Cole looks forward to engaging with external stakeholders including alumni, donors, employers of graduates, and interested community organizations. She is seeking to develop and implement new fundraising strategies to obtain needed philanthropic support for the college.
"We should look at Philanthropy, as defined by Robert Payton and Michael Moody, as a voluntary action for the public good. By this definition, almost everyone has engaged in philanthropy," she said.
Open dialogue is important too. As part of her transition into the dean role, Cole plans to create a leadership advisory council for a series of listening sessions to hear what's good — and areas to improve — within the college. She said she is working with the AS Student Rep to explore some digital platforms to enable students to give feedback anonymously.
"Not just problems, but solutions," she said. "If folks have solutions, I want to hear them. If the community has big ideas, I want to hear them."
As to her administrative role, Cole is eager to collaborate with the other new college deans across campus and believes new leadership will fuel fresh ideas.
Cole said that she understood early on that her place was not on the stage, that it was her responsibility to supply funding and technical support, then to "get out of the way and let other people perform."
"During times of volatility, uncertainty, and complexity — dealing with the pandemic, with systemic racism — it requires good leadership. It requires patience and emotional intelligence, it requires people to be a little bit more forgiving. I have the courage and insight to make data-informed decisions, and students will always be at the center of those decisions.
"That you can count on."
Mural detail: "Skylight: Transmission of Knowledge/Windows to Justice" by VPA Faculty Emerita, Johanna Poethig with participation by VPA students