National briefing on 25 years of Hispanic Serving Institutions highlights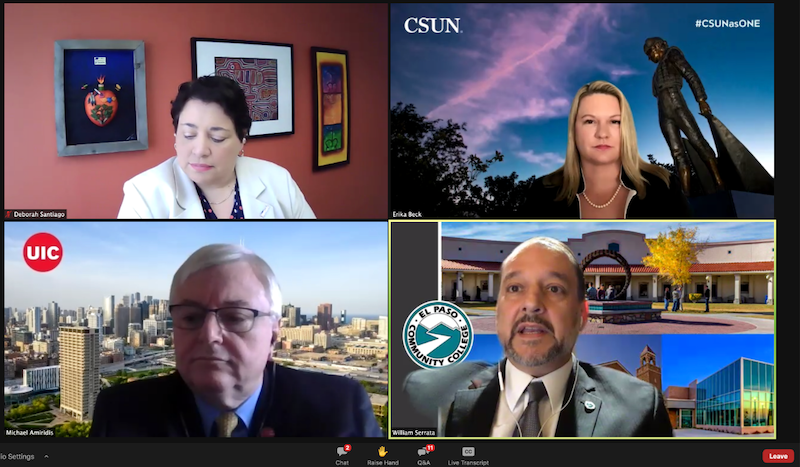 April 23, 2021
By Walter Ryce
Excelencia in Education held its virtual national briefing on April 20, looking at the 25-year history of federal funding of Hispanic-Serving Institutions.
That history tracks almost parallel with the founding and growth of CSUMB, which is an HSI and opened its doors 25 years ago.
"As an institution of higher learning, CSUMB is committed to the type of research and analysis that Excelencia has provided educators since 2004," said CSUMB President Eduardo M. Ochoa. "And as a Hispanic Serving Institution, CSUMB is in alignment with its mission of closing equity gaps and fostering success among traditionally underserved students, contributing to a stronger citizenry and a more equitable nation."
Attendees registered from 37 states. One of the themes that recurred was that of "common cause" or "common purpose."
Featured speakers included Sarita E. Brown, president of Excelencia; Deborah A. Santiago, chief executive officer of Excelencia; Michael Amiridis, chancellor of University of Illinois, Chicago; Erika Beck, president of California State University, Northridge; and William Serrata, president of El Paso County Community College District.
True to its mission, Santiago (who described herself as a "data nerd") shared research and statistics in slides of graphs, spreadsheets and infographics, adding empirical data to the calls for support of HSIs.
In 2019, Excelencia launched its Seal of Excelencia, an independent national certification for institutions serving Latino students and all students. The hosts and panel talked about that designation, as well as the yield on federal investment and the follow-through on serving Latino students.
Serrata, of El Paso County Community College District, said he's worried about the effect of the pandemic on his students, but that "we've been very intentional in not only enrolling Latino students, but we're serving them, assisting them in getting to the finish line and graduation."
Beck (president of CSU Northridge, recently of CSU Channel Islands) said equity has been her north star.
"Unlike [Historically Black Colleges and Universities] and Tribal Colleges and Universities, we're not founded in service of equity," she said. "In fact, most [CSUs] were middle-class, white-serving institutions that transformed into HSIs. So achieving that HSI designation isn't a reflection of an institution's success in advancing equity. But receiving the [Excelencia] seal is."
Amiridis agreed, saying that the Excelensia seal is a "recognition of the efforts that staff members, faculty and students have put together here for decades in building the infrastructure and support network. It's encouragement and a sense of responsibility with the award, a commitment to be strategic, intentional and focused."
He said the University of Chicago has been the largest producer of Latino physicians in the continental U.S. for the last 30 years.
The program included a pre-recorded segment in which students from various campuses talked about the importance of the extra support in helping overcome economic hardships or personal doubts. "To me, my degree is much more than a piece of paper," said one University of Texas grad. "My degree is my 'yes' when everyone has told me 'no.' To my family, my degree is much more than financial need, math and physics; my degree is a legacy of hope and inspiration."
"Education is a critical foundation that many Latino children do not have the opportunity to gain," said California Rep. Raul Ruiz, chairman of the Congressional Hispanic Caucus, who is also a physician and public health expert. "Hispanic students must have access to an education system that serves their needs and considers the structural inequities that have historically held our students back."
He emphasized education for a well trained workforce to ensure the nation's competitive economic edge.
In a pre-recorded message from Washington, D.C., U.S. Secretary of Education Miguel Cardona said, "We know equity is a big focus for us going forward. When we're talking about recovery as a country, we need to acknowledge HSIs and the important work they do to promote equity and access for all students. Thank you, HSIs."
Rep. Teresa Leger Fernandez, of New Mexico, relayed the message that "We invest in the things we believe in. We believe in our students. We believe in the value of education. Nowhere is that investment more needed than for Latino students."
She emphasized how education is key to transforming inequities in society, and pledged to push in Congress for support for HSIs.
Brown thanked the 27 higher education institutions and organizations that are members of Excelencia in Education.
"We look forward to staying in touch and staying together," she said, signing off with "Y asta la proxima."
Which means "…and until next time."
Watch the National Briefing on 25 Years of Hispanic-Serving Institutions.