Move-In was a big day for students, families, campus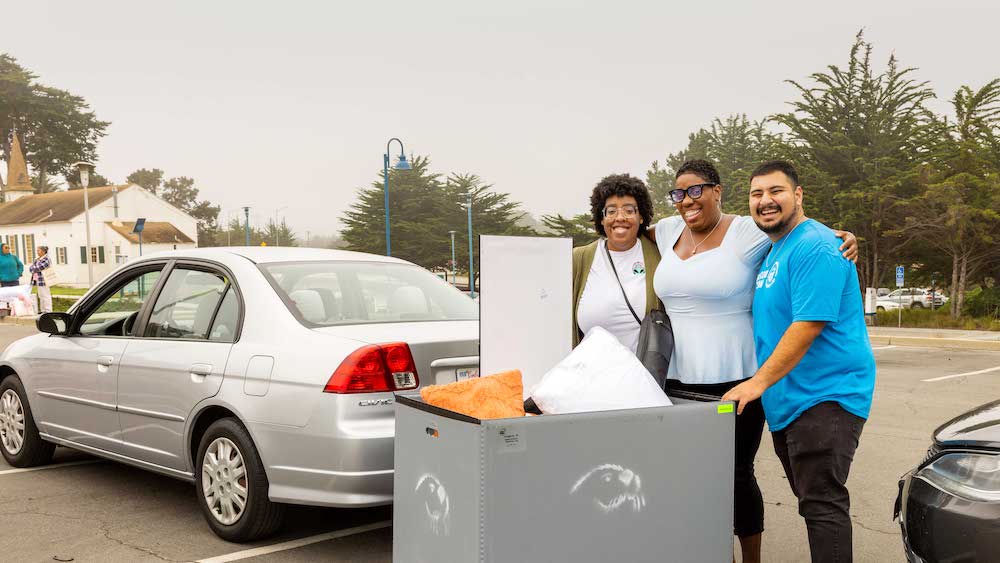 August 23, 2022
By Walter Ryce
During the summer, the CSUMB campus is mostly in hibernation mode. Services and events are scaled down or suspended, the library and dining hours are curtailed, and the few students still living on campus are consolidated into a few residence halls.
That all changed on the weekend of Aug. 19 and 20 as students arrived to move into on-campus housing for thew start of the new academic year.
Student Housing and Residential Life were prepared with staff and volunteers to assist with traffic control, rolling bins and helping hands. The move-in times were staggered to avoid debilitating bottlenecks.
Volunteers were even encouraged to play music on bluetooth speakers at different locations to add energy and buoyancy to the atmosphere and overcast skies. (One woman in line for a cart said it had been 104 degrees in Bakersfield where they had come from.)
CSUMB's new president, Vanya Quiñones, and members of her cabinet showed up to greet, welcome and reassure students and their families.
Like the Diaz family. Albert Diaz is the father of incoming freshman Alycia Diaz, and was standing and waiting with about seven other members of their family while she retrieved the key to her dorm. He said they live in Fresno, are originally from Mexico, and do migrant work in the fields.
"I'm excited and happy for her," Albert said. "And proud."
He said the family plays mariachi music and she plays flute. She's a first-generation college student.
"It's hard to explain, but this is big," said Maurilio Pascual, Alycia's cousin. "I told her she's going to shine. She's quiet, but I told her to push out of her comfort zone. I'm excited to see what she's going to do."
Elsewhere, Jude Kumler, a freshman Business major from San Diego, had just dropped off his college gear in his new dorm with the help from his father Adam Kumler. They had driven up the night before.
"Move-in has been stressful, but dropping everything off was easy," Jude said. "I didn't have to wait long to get the key."
His father Adam agreed, saying that the concurrent Car Week events compelled them to get a hotel outside of town, but it didn't affect their travel to campus: "It's been a smooth process. We might make a Target run to get whatever else he needs."
"I'm excited," Jude said. "And scared."
"So you're normal," his dad replied.
Student Housing and Residential Life volunteers worked like oil in the machinery of the day, escorting students and families, helping carry items, talking and joking and uplifting spirits.
One such volunteer was Julian Lomely, a second-year student athlete on the men's soccer team. He described CSUMB as a friendly campus with the feel of a community. He had received help when he first moved in, and now wanted to reciprocate by helping incoming students.
"We're working as a team," Lomely said.
The new residents carried in their belongings in carts provided by the university, rolling luggage, backpacks, dollies, milk crates, and garbage bags. And they walked back to the parking lots to either go to the store and stock up, or to say goodbye.
One group of four young women were saying tearful goodbyes to their friend, accompanied by long hugs.
One man, about in his 50s, walked by a move-in volunteer after dropping off their college student and half joked to them: "I just need someone to hold my hand."
Jeff Cooper, director of Student Housing and Residential Life, reported the move-in days were a success.
"We have checked in about 3,100 students. This is the most we've seen in over five years," he said. "This shows just how many Otters are excited to return to campus."
Occupancy was at 99%, with a waitlist of students anticipating housing. But Cooper's department intends to work with any students who still need support, subject to availability.