Men of color discuss working in education, creating change
April 27, 2022
CSU Monterey Bay's Department of Education and Leadership hosted a discussion titled "Making a Difference: Men of Color in Education" on Wednesday, April 20. The event featured five panelists from diverse backgrounds and positions within the K-12 and higher education systems.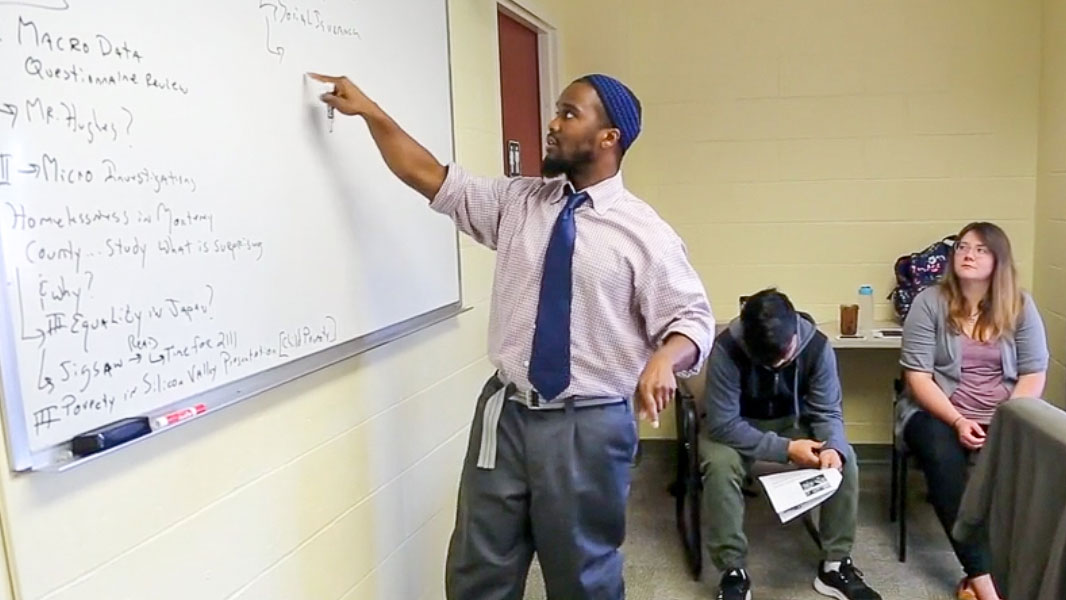 The event was organized to highlight the fact that there is a dearth of men of color in education and to discuss how to change that. According to the California Department of Education, only 6% of male teachers in Monterey County identify as Hispanic or Latino and only 1% identify as African American.
The panelists described the many barriers they had to overcome to become teachers and administrators in education.
"When I was in the tenth grade, my math teacher pulled me aside. I was getting a C, and he told me, 'I think you should quit. You don't have what it takes,'" said Ibrahim Shelton, CSUMB professor of liberal studies. "At the time, I didn't have the courage to speak back. And I believed him. So I quit the class."
Luis Poza, assistant professor of teacher education at San José State University, faced a barrier that made him realize he wanted to teach in higher education instead of K-12.
"Once you get into schools as a man of color, they say 'You're the one who can clean up the mess. You're the discipline expert,'" he said. "I was expected to be authoritarian."
But he wanted to approach teaching from a lens of collaboration.
"I wanted people to be open to different kinds of teaching, getting folks to be the kinds of teachers that our kids need," Poza said.
The panelists also spoke about Critical Race Theory and educating in a country that is divided regarding race and culture.
"A lot of times there's noise at the national and global level, and then it comes into your neighborhood and you have to address it," said Antonio Garcia, director of educational services for the Salinas Union High School District.
"People are talking about CRT. If you don't know what it is, you can't explain it well to people. You need to know your work and build your community so you're not tackling it alone," he said.
An audience member asked if the panelists have strategies for saying no to avoid being stretched too thin, especially as a new teacher.
"When you say no the first time, you have to hold it," said Dwayne Aikens, executive director of a hands-on learning child enrichment program in Oakland called We Lead Ours.
"Some kids say some mean things that get under your skin, but you have to say, 'No. The expectation is this, so the answer is no.' It doesn't have to mean indefinitely, but the moment you give in to it, you take away a lot of your power in that space. You have to set boundaries."
Mark Gomez, curriculum specialist and former teacher in the Salinas Union High School District, answered from the perspective of responding to an administrator.
"I'd flip it back and say, 'What do you want or need me to do effectively? You have to be transparent and say, 'I need more time, and this is taking up my bandwidth,'" he said. "A lot of educators are fearful of losing their jobs. I encourage veteran educators to back up our younger teachers and protect them. And learn how to say no graciously."
The panelists also defined what opportunity in education meant to them.
"Opportunity in the education system means the chance for students to engage meaningfully as agents of their learning and to have a curriculum that gives them the skills, knowledge, and self beliefs to address issues in their lives and their communities," Poza said.
Some had more personal definitions.
"I grew up in East Oakland," Aikens said. "My mom and dad were on drugs. Even though I graduated high school with a 3.5 GPA, I didn't even know what organic chemistry was. Coming back, working in that school district, I realized high school students weren't taught anything new since the eighth grade. That's why I'm in this work. I feel like our kids are left out of the conversation of being great. They're taught to be basic. If you show up to one of my programs, you get to participate. I want to produce leaders both on and off the field, athletes as well as scholars."