Latinx grads discuss love, trauma, familia at CSUMB affinity celebration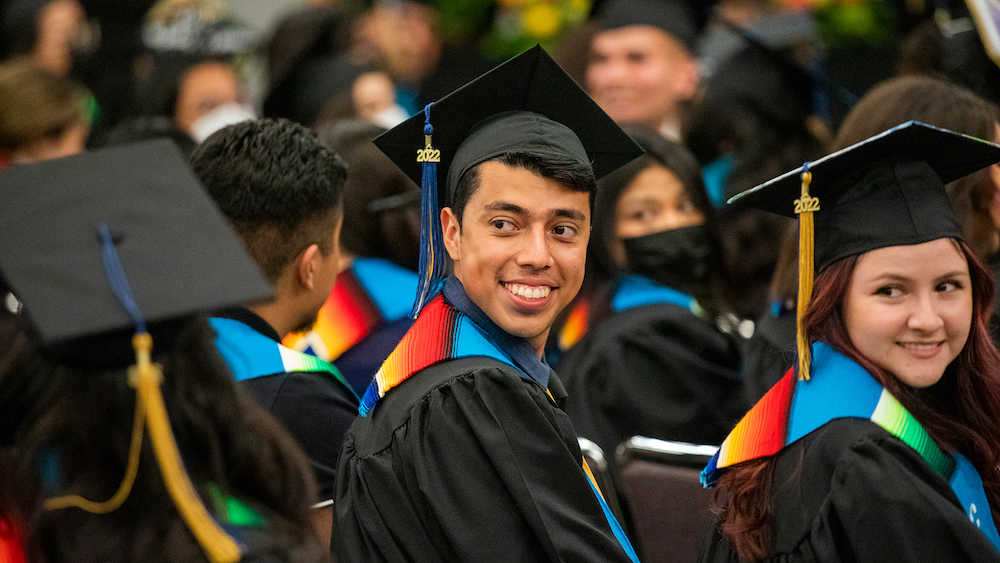 May 25, 2022
By Tatiana Muñiz
CSUMB's "Strength Through Diversity" awareness campaign aims to build on our ongoing commitment to inclusive excellence. Stories, social media posts, and special events throughout the academic year will celebrate diversity and highlight the many identity groups represented by the students, faculty, staff, and alumni that make up the CSUMB community.
As a Hispanic-Serving Institution and advocate of celebrating diversity, CSU Monterey Bay was proud to host its 26th annual Latinx/Chicanx Affinity Graduation Celebration on May 19.
Over 45% of CSUMB students identify as Latino/Latina. (The Otter Cross Cultural Center, which hosts CSUMB's affinity graduations, prefers to use the gender-neutral term Latinx.) So it is no surprise that the Latinx/Chicanx graduation has the largest attendance of the nine affinity group celebrations.
This year's celebration was held in the Monterey Conference Center and featured keynote speaker Omar Murillo and student speaker Berenice Morales-Garza.
Murillo began with a quote from author and activist bell hooks, who passed away late last year.
"When we are taught that safety always lies in sameness, then difference, of any kind, will appear as a threat," he quoted. "When we choose to love, we choose to move against fear — against alienation and separation. The choice to love is the choice to connect — to find ourselves in the other."
Alternating between Spanish and English, Murillo reflected on the difficulty and necessity of choosing love in dire circumstances — like the pandemic.
"I'd be foolish to not acknowledge the trauma, the realities, the challenges we've all faced in the — what is it now, 26 months or so? — of the pandemic," he said. "Now, more than ever, it's important to reestablish that strength and that connection with community, with familia."
For those who have never felt a sense of familia within their own families, Murillo encouraged them to seek out connections with those around them and recognize they have a CSUMB familia consisting of all the graduates there that night. He stressed the importance of mental health, finding a community that promotes love and healing rather than toxicity, and breaking the cycle of intergenerational trauma.
Morales-Garza, graduating with a Bachelor of Arts in social and behavioral sciences with a concentration in sociology, could relate. Starting her speech bursting with bubbly energy and enthusiasm, Morales-Garza's voice then cracked midway through.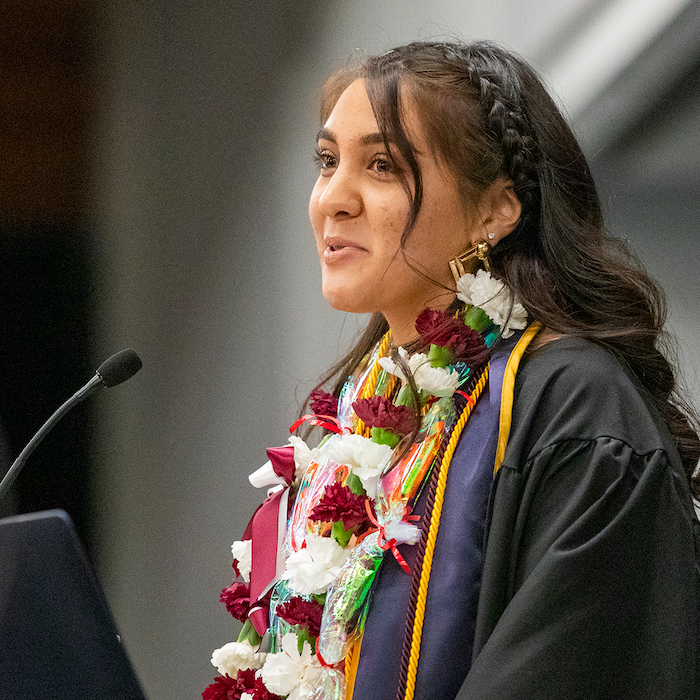 "This very moment itself is a turning point for our families and communities," she said, encouraged by cheers and applause from the audience. "For my siblings and I, attending school meant more than just a classroom. It meant escaping the realities around us that shaped the violence, the trauma, and the poverty."
In her words, Morales-Garza grew up in a low-income, single-parent household in a neighborhood surrounded by violence and crime. She watched her mother and immigrant family work tirelessly to provide for her and her five siblings. From an early age, she knew pursuing education would be her ticket out of poverty and oppression.
"Obtaining a higher education means opening the plethora of closed doors that generations before myself found locked with a chain and key," she said.
But the journey to pursue that education as a first-generation student was not easy.
"As first generation students, our educational careers have been a challenging and daunting task with feelings of pressure to finish and stay strong and high expectations set upon by ourselves to do it all y mas," she said, "constantly overworking, overwhelming, and overstressing to prove to ourselves we are worthy and belong here. Nonetheless, we persisted and did not lose motivation to do the things we are all so passionate about."
Alma y Tradición, a group of young baile folklórico dancers who learned how to dance at the Alisal Center for the Fine Arts in Salinas, performed mid-ceremony. Their flowing yellow skirts seemed to blend with the bright sunflower decorations lining the stage.
Before the graduates received their marigold-themed certificates, there was a moment of silence for Karina Chavez Vargas, who was murdered along with her boyfriend earlier this year and would have walked the stage with her fellow graduates.
"The time has now come to honor our graduates, but before we begin, we must acknowledge a student who is not here with us today," said Professor Christine Rosales, a mistress of ceremonies for the event. "Karina Chavez Vargas passed away in February. She would have been here with all of us celebrating with us today. We want to have a moment of silence in her honor."
Jonathan Ordiano, who graduated with a degree in computer science and a concentration in software engineering, was grateful for the commemoration of Chavez Vargas and her boyfriend.
"The moment of silence means a lot because Karina's boyfriend was a very good friend of mine, so it was a heartfelt thing for me to hear her name," he said. "It meant a lot to me, and I'm sure it meant a lot to the people who knew her."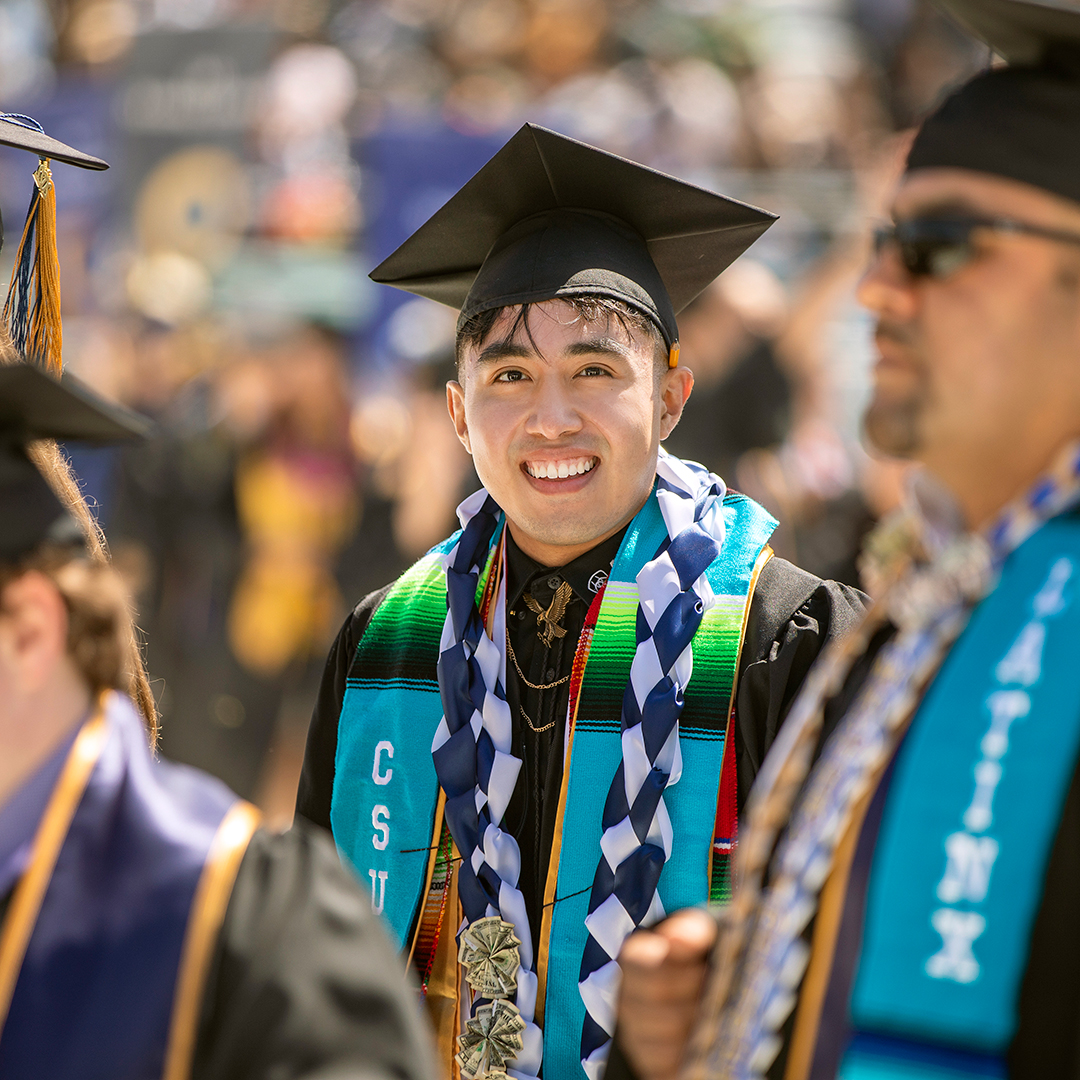 Ordiano went to Alisal High School in Salinas. He felt intimidated by topics like math, but the leadership at his high school encouraged him to enter the STEM field.
"I don't really know anyone in my neighborhood who has a computer," he said.
He explained that finding friends in the computer science program was difficult because very few of his classmates were Latinos. Instead, he found his long-lasting friend group in CSUMB's College Assistance Migrant Program. CAMP is a federally funded program that helps students from migrant and seasonal farmworker backgrounds successfully transition from high school to college through fun activities and a family-like atmosphere.
"This ceremony means a lot to me because all my friends and everyone I know is here compared to my graduation on Saturday," Ordiano said. "So I feel like today was my real ceremony."
View the 2022 Latinx Affinity Celebration Program.