A Diverse Campus Community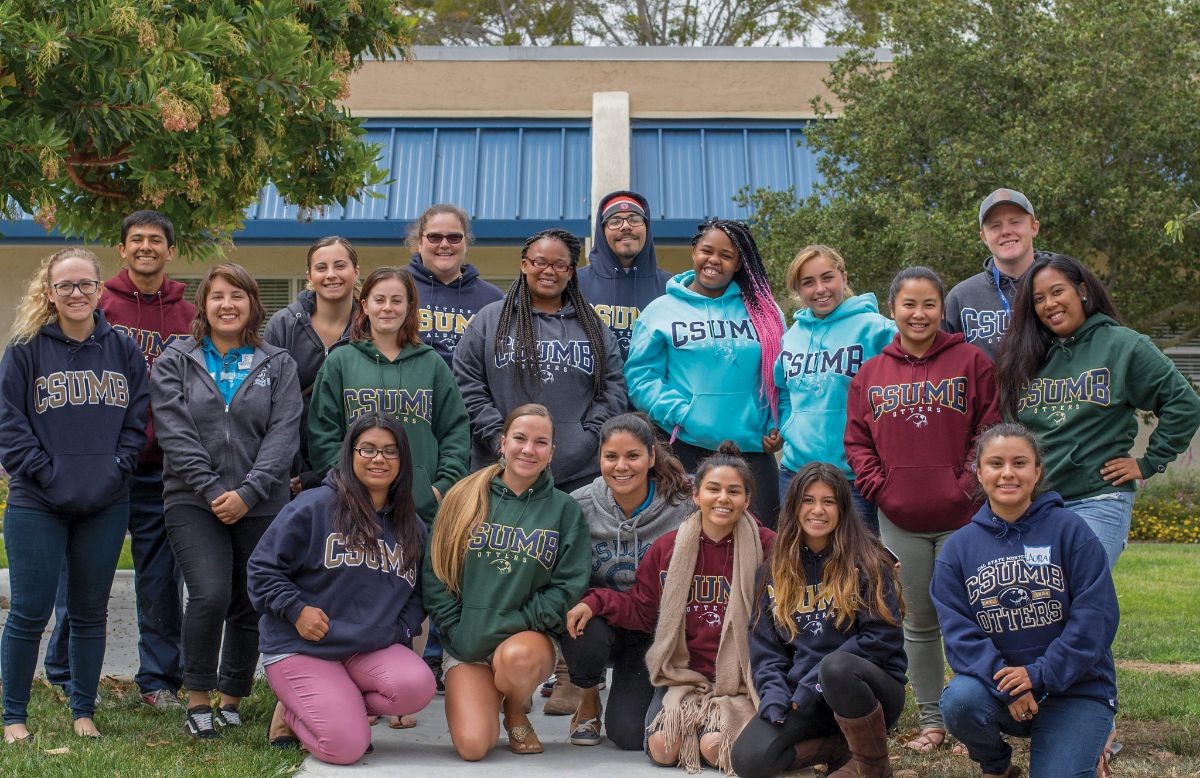 April 14, 2021
CSUMB committed to equity, inclusion to ensure student success
By Sophia Huang McKenzie
Since our founding in 1994, CSU Monterey Bay has remained committed to creating a diverse and inclusive community dedicated to the success of all students, faculty and staff. In fact, U.S. News & World Report has ranked CSUMB as one of the most diverse universities in the country.
"The commitment to create a community of diverse learners and scholars is an expression of caring, valuing and support for all the individuals who are part of this community. We all share a responsibility to ensure that we live, study, and work in an environment that fosters care, respect, and belonging," President Eduardo M. Ochoa said when announcing the formation of the President's Committee on Equity and Inclusion in September 2018.
With representatives from all university divisions, the committee serves as an advisory body to the president and provides leadership and accountability. CSUMB's Office of Inclusive Excellence and Sustainability leads our efforts to create an equitable and inclusive campus community. The goal is to create an environment where all students, faculty, and staff feel a sense of belonging, fully engage in campus life, and achieve their academic or professional goals.
"We are fortunate at CSUMB to have a community of individuals with diverse journeys, perspectives, beliefs, cultures, abilities, and identities who are able to interact with and learn from each other every day. Ensuring that everyone in our community is respected and receives equal access and opportunity is critical to fulfilling the promise of Cal State Monterey Bay," Ochoa said.
Otter Cross Cultural Center
CSUMB advocates for social justice by building bridges across communities and identities. The Otter Cross Cultural Center (known as OC3) cultivates active agents of change through the use of storytelling, intersectionality, and inter-generational pipelines of knowledge.
Grounded in this triad, the OC3 fosters opportunities for continued knowledge, civic engagement, and social justice activism. The OC3 actively builds strong relationships within and beyond campus communities to inspire individuals to reclaim their stories, identities, and community wealth by offering social justice trainings, programs, events, and services that are open to all.
In addition, OC3 hosts Affinity Graduation Celebrations each year to honor the accomplishments of historically underrepresented communities of graduating students including: Asian & Pacific Islander, Black, Chicanx/Latinx, Native American, students with disabilities, Rainbow (LGBTQ+), Undocu-Otter (undocumented) and student veterans.
Center for Black Student Success
CSUMB opened its Center for Black Student Success (CBSS) in Fall 2020 to serve as the central hub and campus home for Black student life, working with campus and local community members to ensure Black collegiate success at CSUMB. It operates under faculty director Umi Vaughn, an associate professor in the School of Humanities and Communication. Vaughn teaches Africana studies, anthropology, music and performance, and visual and public art.
The center has an advisory body to Ochoa and Brian Corpening, associate vice president for inclusive excellence composed of representatives across campus strategically aligned with the CBSS goal of increasing the number of Black students enrolled at and graduating from CSUMB. The primary responsibility of the committee is to align the on-going programs and initiatives across campus and provide campus leadership and feedback on how to support Black student success at CSUMB.
The center partners directly with the Africana Heritage Scholars Living-Learning Program, African American Faculty & Staff Alliance, African Heritage Research Collaborative, Men of Color Alliance, Harambee African Heritage Men's Community Gathering, the Otter Cross Cultural Center, as well as the varied student organizations that support Black students.