CSUMB celebrated Juneteenth with food, music and fellowship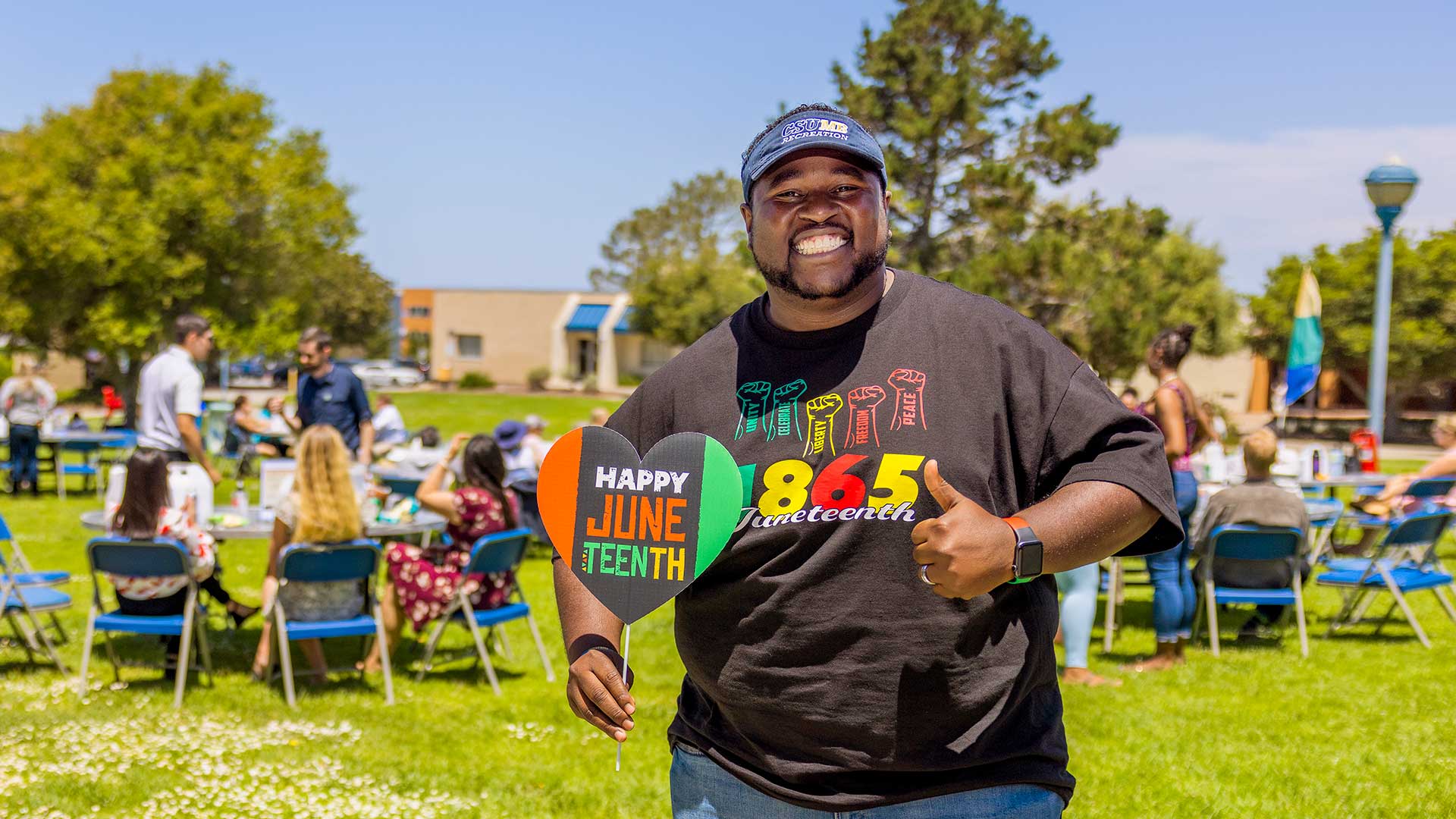 June 23, 2022
By Walter Ryce
CSUMB joined local communities, including Seaside and Salinas, in celebrating the new federal holiday of Juneteenth. It took the form of an outdoor gathering the afternoon of June 22, appointed with box lunches, music, lawn games, chalk drawings and socializing under a bright afternoon sun.
The event was emceed by Timothy "T.C." Collins, senior coordinator of recreation.
"Juneteenth is a holiday with profound power," he said before attendees. "The goal here is fellowship, and a call to action"
That call to action originated with the California State University, which planned a concerted effort through its CSU Acts campaign to encourage all 23 campuses to celebrate the Juneteenth holiday in mid June.
They also encouraged each campus to "develop a preliminary set of goals, measurable objectives and action steps to advance African American student access and success."
Part of that for CSUMB was to promote the African American/Black diaspora resource guide web page, listing student organizations, Black-owned businesses, and community and allied groups.
But the main manifestation at CSUMB was the Celebrate Juneteenth event on the grassy quad in front of Avocet Hall. It was organized by University Personnel in partnership with the University Corporation, Recreation, University Affairs, Ceremonies and Events, Chartwells, and UG2.
The warm clear day was punctuated by a playlist of music including "Everyday People" by Sly and the Family Stone, "Black Parade" by Beyonce and "Lovely Day" by Bill Withers.
At one point everyone stood for a beautiful recorded rendition of the so-called Black national anthem, "Lift Every Voice and Sing."
Collins, the event emcee, said "Juneteenth marks both the long, hard fight of slavery and subjugation, and the promise of a brighter morning to come."
He talked to the audience about Chief Diversity Officer Brian Corpening naming the Helen Rucker Center for Black Excellence after someone who stood for courage, resilience, dedication and education.
One of the 80-something people in attendance included Juanita Cole, dean of the College of Arts, Humanities, and Social Sciences.
"This day reaffirms how far we've come," Cole said. "My role is to continue to make change because education and voting is so critical, as we can see, especially for African Americans. We can't get too comfortable. We have to keep pushing."
Another attendee was Judah Young, a transplant from Los Angeles who works in Student Services.
"It's been a good day," Young said. "I like the musical selections. I missed the other local Juneteenth celebrations, so I'm glad there's this one."
Paige Mason, an artist, illustrator and arts teacher, was brought in to run chalk drawings on the nearby sidewalk. She was there with her two young kids, who were riding kick-scooters.
"My art is usually joyful, whimsical," Mason said. "This is me giving back, as a Black female artist, saying 'we're out there, we create.'"
The centerpiece of her own chalk drawing was two fists donning two four-finger rings bearing the letters "freedom" in homage to Radio Raheem of Spike Lee's film "Do the Right Thing."
But the main message of the day, the one that most attendees likely left with, was one of coming together — in-person in a physical space, as well as in core values and goals.
The CSU Chancellor's Office assembled a timeline of Black milestones in CSU history and held a CSU Juneteenth Symposium, which was attended by representatives from different CSUs including CSUMB's Vanessa Lopez-Littleton and Brian Corpening.