Extraordinary Location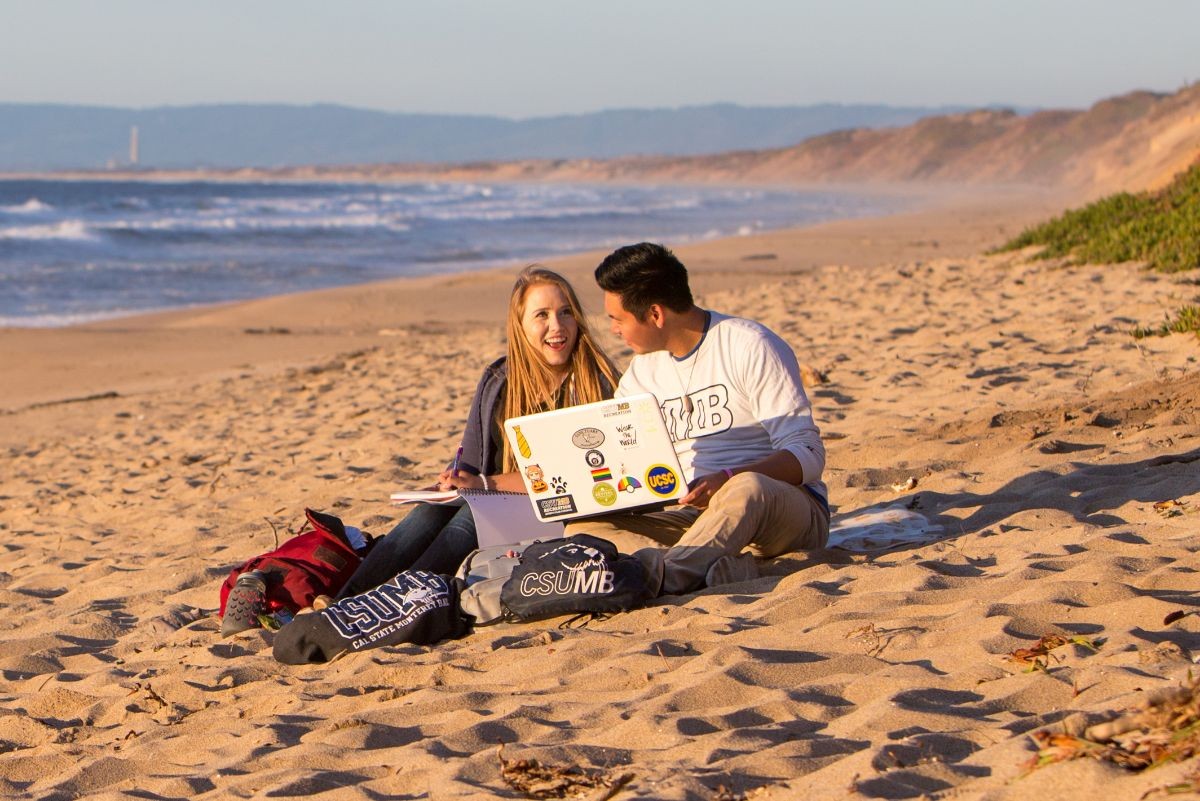 March 17, 2021
CSUMB campus just one mile from beach, near world-famous destinations
By Sophia Huang McKenzie
Beautiful beaches. Amazing wildlife. Natural wonders. World-famous attractions.
CSU Monterey Bay students take full advantage of our fantastic location on the California Central Coast, whether its for relaxation, recreation or research.
Minutes from the Beach
Just one mile from the Pacific Ocean and its pristine coastline, CSUMB is the closest California State University campus to the beach. That means students can have a beach day, every day with seaside study sessions and sunset bonfires. Easy ocean access makes the area a haven for outdoor activities including surfing, kayaking, exploring tidepools and even hang gliding.
Adjacent to campus, Fort Ord National Monument encompasses 14,000 protected acres located on the former Fort Ord military base. The land includes more than 80 miles of trails for hiking, horseback riding, mountain biking, and watching wildlife in their natural habitat. It's home to 44 species of rare plants and animals. Trails are open daily from dawn to dusk and run through a range of environments, from grassy hills to coastal shrubland.
Amazing Natural Wonders
CSUMB is just minutes away from some of the most beautiful scenic areas and amazing natural wonders in the world. The Monterey Bay National Marine Sanctuary, the largest of its kind in the United States, includes 276 miles of shoreline and protects one of the world's most diverse marine ecosystems. Inhabitants include deep sea anglerfish, dolphins, whales and CSUMB's mascot, the sea otter.
College of Science students have opportunities like none other because of our proximity to the extraordinary living laboratory of Monterey Bay. The university offers one of the only diving programs in the country with entry through leadership-level diving certifications, as well as scientific research operations.
About 30 miles south of campus, just off Highway 1, lies the majestic stretch of land known as Big Sur. Bordered by the Santa Lucia Mountains and the Pacific Ocean, Big Sur "offers unmatched scenic beauty and is famous for its breathtaking coastline, towering redwoods and epic hiking trails," according to the Monterey County Convention and Vistors Bureau.
World-Famous Destinations
CSUMB sits halfway between the Monterey Peninsula, with the coastal communities of Pacific Grove, Monterey, Seaside and Carmel, and the Salinas Valley, known as the "Salad Bowl of the World" for its abundant agricultural production.
Less than 10 miles from campus, the city of Monterey dazzles with iconic attractions and famous landmarks. Places like Cannery Row and Old Fisherman's Wharf, which inspired John Steinbeck's novels, and the Monterey Bay Aquarium draw visitors from around the world.
Take a two-hour drive north to reach San Francisco, one of the most visited cities in the world. San Francisco brims with history, museums, famous attractions and landmarks including the Golden Gate Bridge, Alcatraz Island, Chinatown, and historic cable cars.