Courtney Materazzi comes full circle as head volleyball coach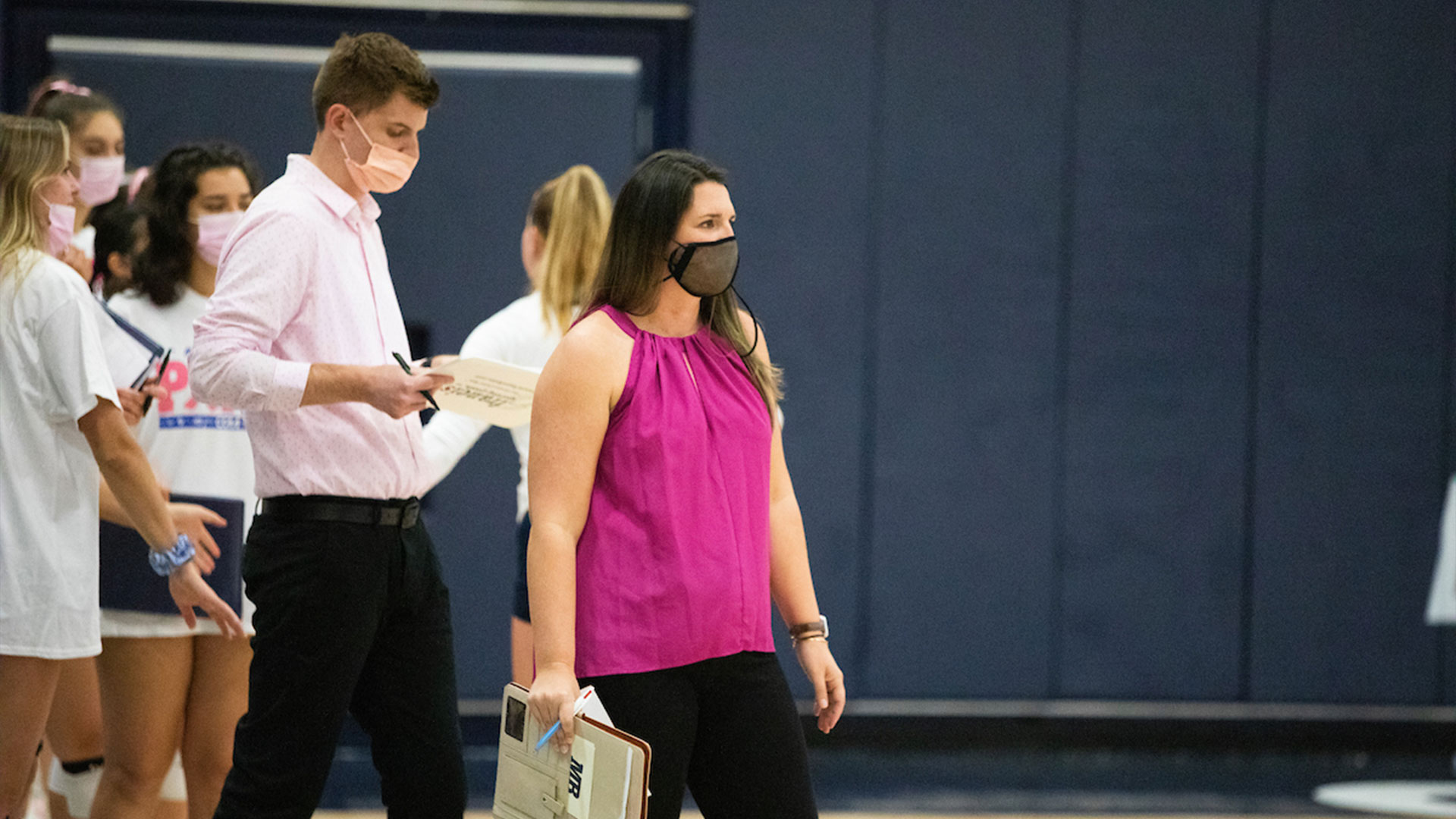 December 1, 2021
By Walter Ryce
When Courtney Materazzi became the head coach of CSUMB's volleyball team last August, it was not her first go at being an Otter.
Some 14 year earlier, she was one of the top athletes on CSUMB's women's volleyball team as the program transitioned from NAIA to NCAA Division II. She ended her career ranked No. 2 on the CSUMB career kills list, No. 2 in digs, No. 3 in points, and No. 4 in service aces.
"The athletic community was very tight back then, and it always felt like we were attending each others games and matches," Materazzi said.
Her student athlete experience informs and deepens her coaching.
"I think understanding the mission of this university, having lived it, will only aid in my connection and understanding of what they have to manage day in and day out," she said. "Being an Otter was special for me then and I know it's special for them now."
Prior to returning to CSUMb, Materazzi spent 7 years coaching the NCAA Division II Fighting Falcons at Fairmont State in West Virginia, and in 2021 was named Mountain East Conference Coach of the Year.
But it was easy for her to return.
She says that the campus has changed a lot, but that it's "just as beautiful as always."
Her husband Cristian was also an Otter with her, and she fondly recalls how much there was to see and do in the area, including hiking, kayaking, sightseeing.
"Cristian and I have traveled a lot, and Monterey has always felt like home," she said "People care about the area and are proud of it. The University meant a lot to both of us, and we felt valued as students."
She says she's still processing everything and doesn't think she'll ever be done learning. Case in point: Covid-19.
"We're dealing with it day by day, just working to be as accountable as possible and keep things in motion," she said. "We had some big hurdles with games and Covid this year, so focusing on our mental health and connection within those pieces has been important."
One of her favorite parts about being a coach is writing letters of recommendation because it compels her to revisit her students' journeys and growth.
She has racked up some CSUMB highlights already: "Our first win together, sweeping Sonoma, and the epic comeback win on Senior Night, to name a few."
Looking to the future she says, "I look forward to just preparing to battle with them and then enjoying the work."
See Courtney Materazzi's career highlights on the Athletics staff directory.