Black lives illuminate America's past during Black History Month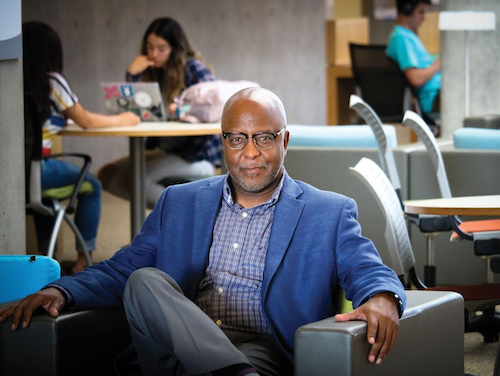 February 1, 2021
By Walter Ryce
History is alive and present.
A woman whose father was part of the secret Tuskegee Syphilis Study encourages Black Americans to get the COVID-19 vaccine. An insurrectionist bears the Confederate flag through the halls of the Capitol building, though statues and monuments of people who upheld slavery are being removed from public spaces. The campaign to put Harriet Tubman on the $20 bill moves forward as Kamala Harris becomes the first Black woman to be vice president of the United States. History is not only alive and present, it is contentious and progressing.
Brian Corpening, CSUMB's associate vice president for Inclusive Excellence and chief diversity officer, finds more evidence to support that observation.
"The uproar over the 1619 Project is from this ethnocentric mindset that only a particular version of history matters," he said. "That mindset is anachronistic. Americans need to understand all of the histories that make up our American story. Black History Month is an important vehicle to understand it."
He calls the 400-year history of Black people in America a struggle of courage, sacrifice and resilience.
"If you understand the struggle then you would know why Black lives matter," he said. "If you understand the struggle then you understand why there is natural suspicion in the Black community over vaccinations. If you understand the struggle then you understand the energy that has been unleashed in the wake of the George Floyd murder. Understanding the struggle reveals everything."
CSUMB joins in this endeavor by hosting Black History Month events, most open to everyone, many of them listed here.
COVID-19 & Monterey County's Black Community
6 p.m. - 7:30 p.m. Monday, Feb 1
A panel—from Salinas Valley Memorial Hospital, Community Hospital of the Monterey Peninsula, Monterey County Health Department and Monterey City Council—talks about the intersection of the disease in Monterey County's Black community. The free community event is moderated by associate professor and chair of CSUMB's Health, Human Services and Policy, Dr. Vanessa Lopez-Littleton.
We Want to Do More than Just Survive
12 p.m. - 1:15 p.m. Wednesday, Feb. 3
Dr. Bettina Love was a Nasir Jones [aka Nas] Hiphop Fellow at Harvard, and was part of President Obama's White House Research Conference on Girls. She's a professor at the University of Georgia and author of the book We Want to Do More Than Just Survive: Abolitionist Teaching and the Pursuit of Educational Freedom. On Feb. 3 she will give the keynote and Q&A about educational justice inspired by abolitionists.
Chef/Educator/Author: Bryant Terry
6 p.m. Thursday, Feb. 4
James Beard Award-winner Bryant Terry has been the chef-in-residence at San Francisco's Museum of the African Diaspora since 2015. That's where he creates programming around food, farming, health, activism, art, culture and the African diaspora. The Center for Black Student Success invites you to his sustainable soul food cooking workshop.
Spring 2021 Historically Black Virtual Church Tour
10:45 a.m. - 1 p.m. Sunday, Feb. 7
Church has been at or near the center of many Black communities for solace and organizing, fellowship and support, music and food, tradition and culture. Join CSUMB community members—every Sunday from Feb. 7 to May 2—for a free virtual tour of local historically Black churches.
Visual Artist: Eesuu Orundide
6 p.m. Thursday, Feb. 11
The newly formed Center for Black Student Success presents Eesuu Orundide, an artist who works in painting, sculpture, apparel and other materials to "draw attention to the social imbalances inherent to the contemporary world socio-economic construct."
CSUMB Super Saturday
10 a.m. Saturday, Feb. 13
For more than 10 years, the CSUs have partnered with faith-based leaders in February to deliver to young people the message of a college education in an effort to boost African American enrollment.
Fighting White Supremacy through Building BIPOC Coalitions
12 p.m. - 1:30 p.m. Monday, Feb. 22
A workshop co-facilitated by Sofia Leung, a first-generation Chinese American librarian, facilitator, educator and the principal of Do Better, Be Better LLC; and Jennifer A. Ferretti, a first-generation American Latina/Mestiza artist and Digital Initiatives Librarian at the Maryland Institute College of Art.
CSUMB / NAACP Black History Month Program
7 p.m. - 8:30 p.m. Thursday, Feb. 25
An annual tradition (this year virtual) in which the campus hosts the NAACP Monterey County Chapter for their Black History Month meeting and program. This year's honorees include Ben Jealous (former president and CEO of the national NAACP), Fred Jealous, Ann Jealous, Darchelle Burnett, Rhonda Mercadal Evans, and Dr. Vivian Waldrup Patterson.
Music is Power: A Concert with MADlines
12 p.m. - 1:30 p.m. Thursday, Feb. 25
The Otter Student Union isn't letting the pandemic stop folks from gathering around music. MADlines (aka Maddy Cliff) is a musician, poet, writer, feminist, activist, rapper and teacher currently based in Oakland. She'll bring revealing and uplifting lyricism to this afternoon concert: "Sell your soul to be the flyest?/ What's the use?/ I don't undress like burlesque/ I just spit that naked truth."
All Black Gala with Dr. Brittney Cooper
6 p.m. - 7:30 p.m. Sunday, Feb. 28
The annual All Black Gala has been an affirmative and joyous in-person affair in the past. This year it will be an affirmative and joyous virtual affair, with a keynote speaker from Rutgers University, Dr. Brittney Cooper, a scholar and public intellectual who specializes in Black feminism.