Athletic Director Kirby Garry wins recognition for CSUMB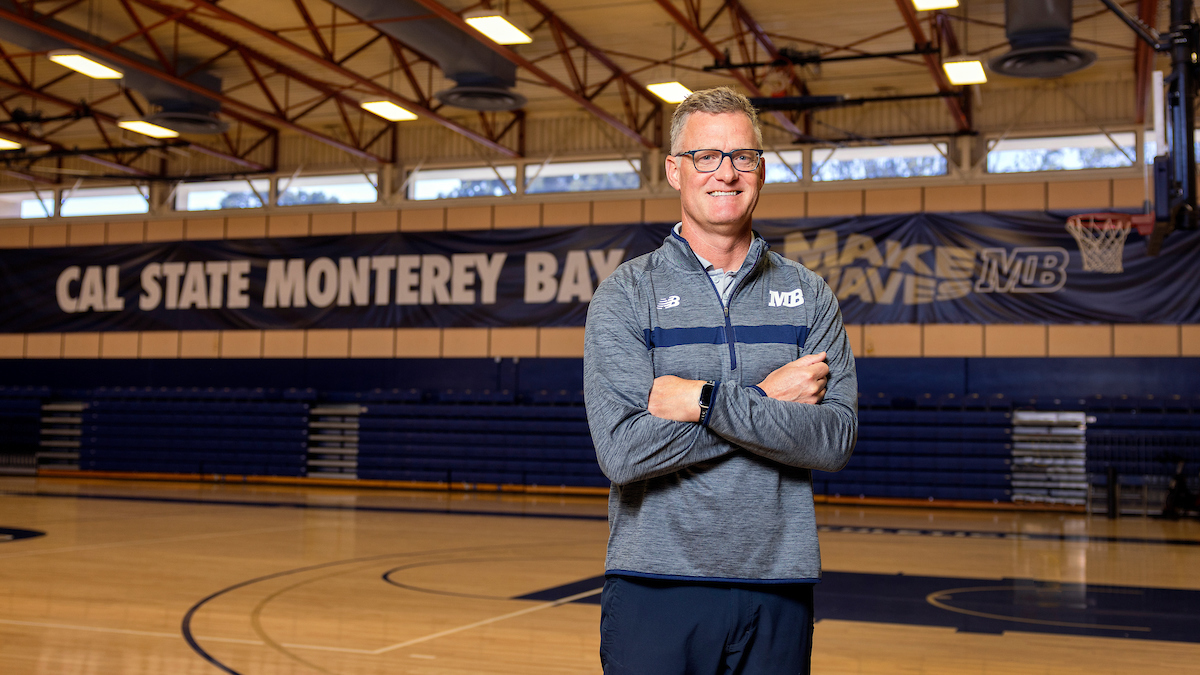 August 30, 2022
By Mark C. Anderson
There are two types of people in the world: Those who know what athletic directors do and those who don't.
At different times in his life, Kirby Garry fit into both categories.
When he was a football player at University of North Dakota and a coach at University of South Dakota, he was mostly oblivious to what the job involved. Now that he's entering his ninth year as A.D. for CSU Monterey Bay and his 16th year in the department, however, he knows it involves all sorts of elements.
His duties include fundraising to improve facilities, meeting with CSUMB's executive cabinet to work out things like communications and budget, and…shagging balls at a volleyball game.
"You really get to be a part of everything," he says.
Within that his priorities are clear.
"The people are number one, starting with the 11 head coaches I work with and the student-athletes," he says.
His favorite task within his wide swath of responsibilities, meanwhile, is easy to identify: cheerleading.
"There's a lot of work that gets us to gameday, and gameday is the ultimate celebration, win or lose, just providing that opportunity to compete," he says. "The broader thing is trying to keep building and noticing where we need to improve. I like to be focused on the longer term, year to year, season to season."
Last year demonstrated the proof of progress, as the Otters posted their winningest year yet.
Otter men's soccer, women's soccer, and women's volleyball hit the highest winning percentage in Otter fall sports history; men's basketball notched its top California Collegiate Athletic Association finish; Otter baseball earned its third CCAA Championship and reached the NCAA West Regional championship; Otter softball hosted the CCAA Championship Tournament and also advanced to the championship game, while founding Coach Andrea Kenney lso won her 500th game; the men's and women's golf teams advanced to NCAA Regional Championships; and the women's track and field team scored a school record 38 points at the CCAA Championship Meet.
Garry sounds proudest of how coaches and players stayed focused despite 18 months without games amid peak COVID.
"They really hit the ground running," he says.
While Garry has no shortage of responsibilities on campus, he volunteers for additional leadership roles with two nationwide governing boards. This year he'll serve as the first vice president of the Division II Athletics Directors Association (D2ADA) and the chair of the NCAA Division II Membership Committee.
With the D2ADA he meets with other directors from across the country to share strategies, evolve best practices, conduct surveys and generally maximize their ability to provide Division II student athletes with the best opportunity to thrive.
The membership committee he helps administrate leads universities through the requirements to be considered for Division-II status, like staffing, recruiting and financial aid.
In both roles, he treasures the chance to elevate CSUMB's visibility and to learn from peers who have been at the craft for a lot longer.
"More than anything, I get involved in this stuff to make our department better and gain recognition for our institution," he says. "I want [CSUMB] to have a say. I don't want to sit back. That's why I raise my hand to participate."
He has his student-athletes' cumulative GPA memorized. For those scoring at home, it's 3.36 for around 260 student-athletes across 13 sports.
For Garry, sports are fundamental to a robust campus culture.
"I believe strongly that our Division II program is part of us being a comprehensive state institution," he says. "It brings a level of prestige the student population is looking for. Our competitive success is part of our whole story. We value where sports fit."
So yes, while he understands all that goes into being an athletic director, much like the student-athlete Otters he empowers, he's hustling to understand more.
"It's phenomenal how far we've come," he says. "And there's a lot further we're going to go."
Learn more on the Otter Athletics website.