Armando Arias imagines Cesar Chavez in the fields of science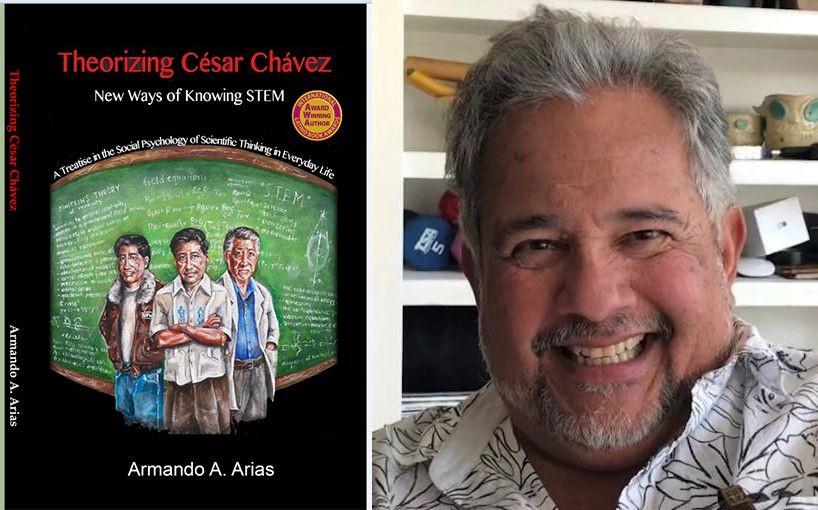 March 31, 2021
Armando Arias, a professor in the School of Social, Behavioral & Global Studies, has written a book titled Theorizing Cesar Chavez: New Ways of Knowing STEM. It received an honorable mention at the 2020 International Latino Book Awards.
He writes that he wants to think about how Chavez "ordered his mind, recognizable by his indexical expressions as found in his superlative logic, his philosophy and continuous ability to think outside the box."
He imagines how Chavez might have reacted to or engaged with modern scientific discoveries. How he might have navigated the world had he earned a doctorate degree in the sciences. He references Carl Jung and Albert Einstein, UFW marches and academia, personal anecdotes and historical accounts of Chavez.
"The book is and is not about Cesar Chavez," Arias said. "It is more about how Cesar continues to inspire one's scientific imagination, in this sense it is both broad and deep, and challenging."
He says he's had a number of encounters with Chavez over several decades.
"Historians are more about facts," he says. "I'm more about flow."
On a March 30 Facebook Live lecture he said, "I've been channeling him the better part of my career. He gets me to think differently…I try to get into his mind. At the same time I try to articulate the scientific method and try to illuminate Cesar's quest for the truth."
He says that Chavez had an 8th grade education, but that his inquisitiveness went "far beyond" most scientists he knows.
"Every time he saw me he would ask me about scientific projects that were going on," Arias said in the livestreamed lecture. "He would look around the side of me to see what projects I had in my hip pocket. 'What projects do you have in your hip pocket now?'"
Arias wants to use Cesar's views and values as the focal lens to reach out to Mexican American and Latino students to excel in whatever field of study they choose, whether it's STEM, or art, or social and behavioral sciences (which is Arias' background), or literature.
"I take relatively simple ideas, suggested by Cesar, and work with them until they turn into a paradigm for looking at re-engineering cross-cultural pedagogical approaches to re-engineering higher education."
Next, Arias says he is working on ways to "infuse Cesar's values and beliefs into 'deep tech' IT applications of systems engineering through the use of Enterprise Architecture for building brand new universities and for transforming existing universities as well as community planning, and deepening the sense of virtual reality."
Like the title of his book, he is theorizing Cesar Chavez.