A preview of the technology and safety measures in store for Fall 2021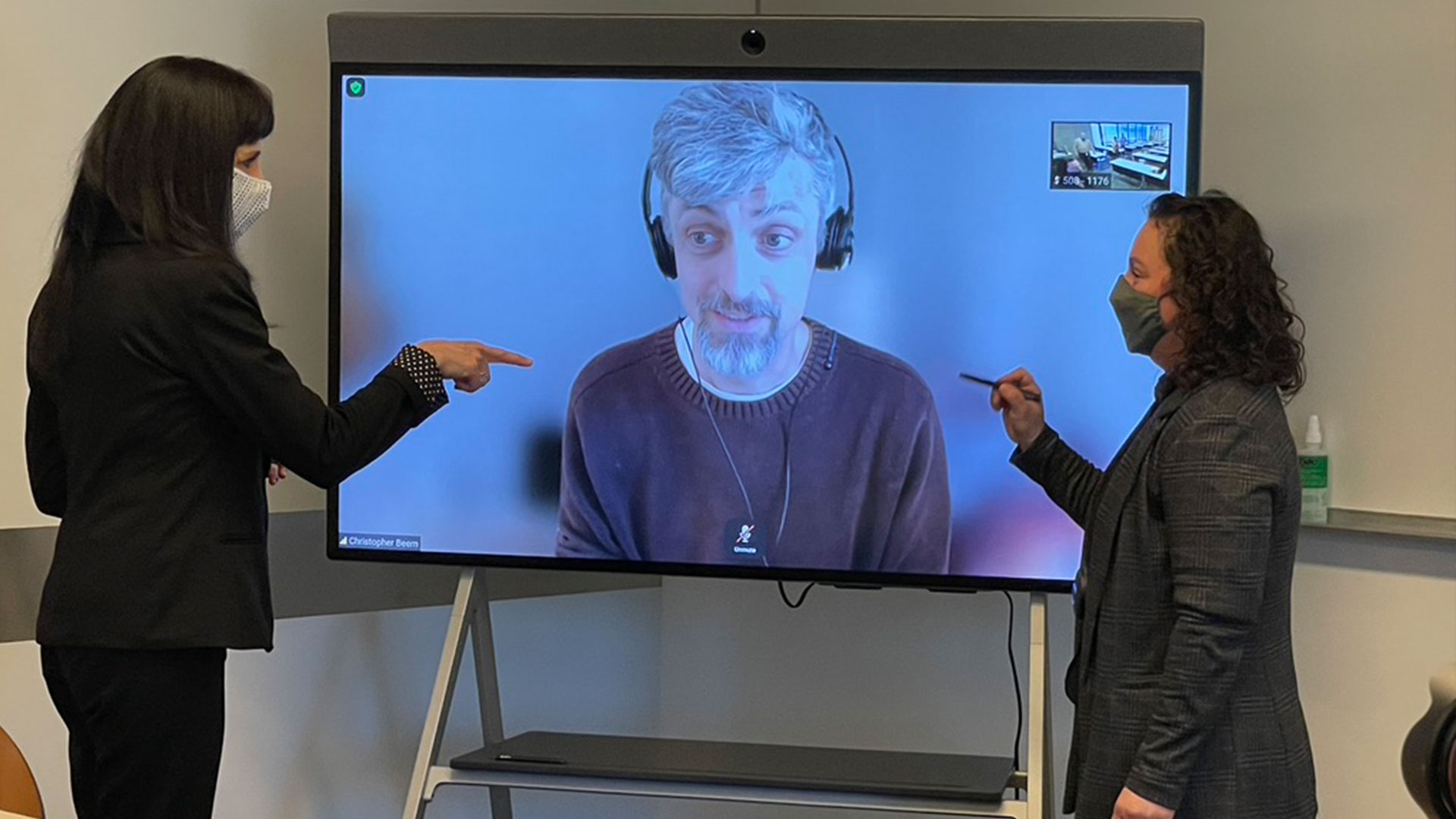 May 28, 2021
By Walter Ryce


On Monday, May 24, there was a demo held at Tanimura and Antle Library that previewed what classroom teaching and safety protocol might look like this fall. The audience for the demo was Katherine Kantardjieff, Provost and Vice President for Academic Affairs.
Jeff McCall and his team from the Center for Academic Technologies have outfitted three classrooms in the library building with devices that transform them into interactive "concurrent teaching rooms," able to deliver lessons to an in-person audience and online audience separately or at the same time.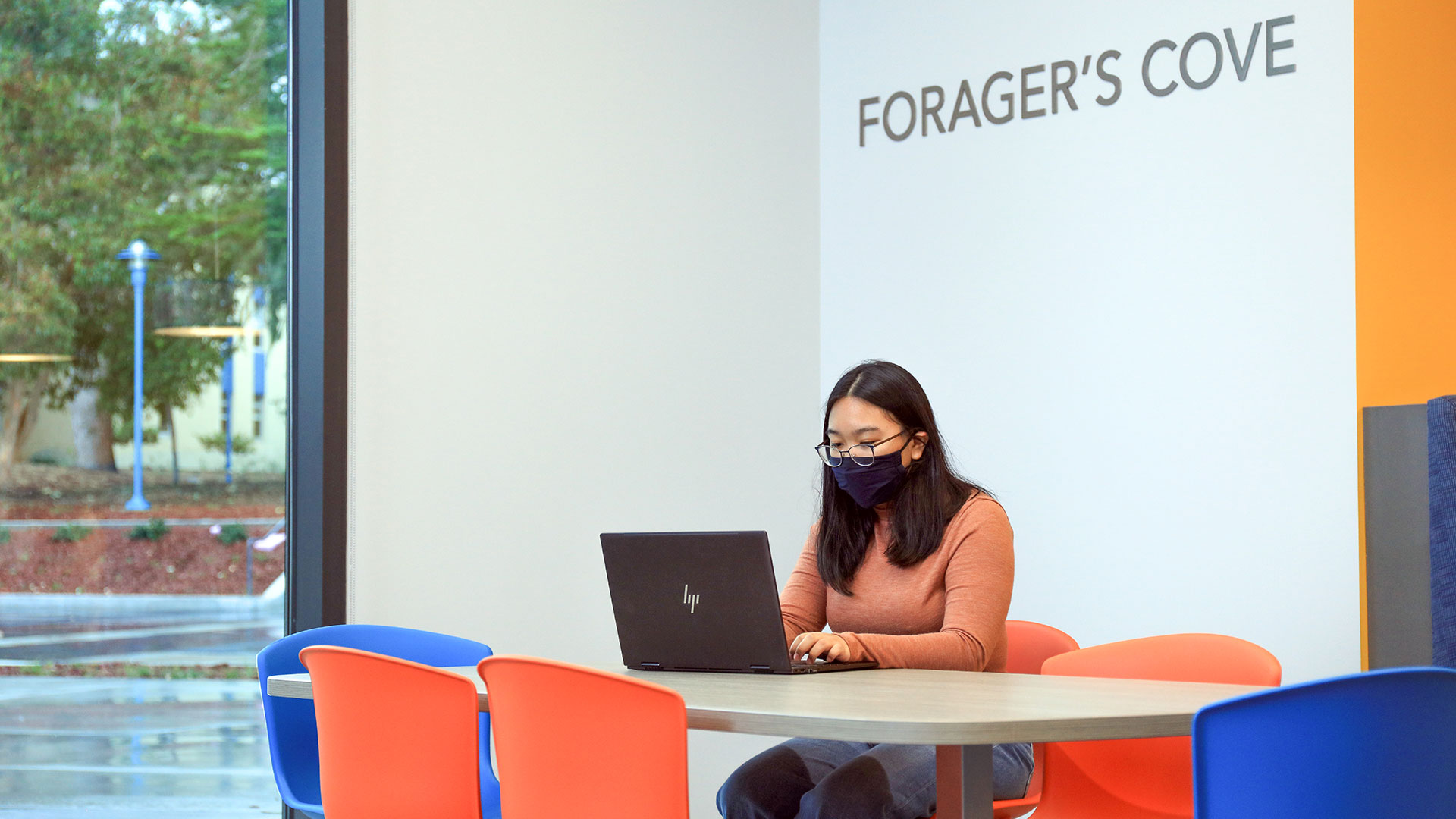 "Let's say I want to use the Zoom board," Espanola said.
Then she walked over to a large Zoom board, a touch-screen digital monitor that incorporates Zoom software and has a webcam and speakers. CAT colleagues Troy Challenger and Christopher Beem were already there in gallery view, standing in as students. Espanola began gently touching different icons and buttons (like CNN's John King with the "magic wall" during election coverage), and opened a digital whiteboard.
She used a stylus to write: "5 + 5 ="
To which Challenger wrote below that: "10"
Remote students and in-person students can see the same thing and write on the board as if they were all together. Espanola pressed a button and all the Zoom participant email addresses and photos appeared, ready to have the contents of the whiteboard sent to them.
"Can you load images ahead of time, like some sort of a graphic that you can write on?" Kantardjieff asked. "For math colleagues, and chemists like me, we like to put up partial equations we can write on."
McCall interjected that something like a Jamboard would allow that.
The front of the classroom still had large physical whiteboards (the kind written on with markers) attached to the wall. There was a mic affixed to the ceiling near the front of the classroom to capture the instructor's voice for the remote audience. Espanola pulled up a Google slide presentation to show that Challenger or Beem can annotate on it from their screens at home.
There were three cameras at work: one on the desktop monitor, one on the Zoom board, and another mounted on the ceiling near the back of the classroom. That last one was a camera that followed an electronic beacon that Espanola wore like a lanyard around her neck, compelling the camera to track her movements.
"We have the best seat in the house" Challenger said. "We can see the instructor, we can see the whiteboard, and we can also see the classroom. So it has the feel of that physical space."
"You can still engage the student," Kantardjieff said. "You're not asking the faculty to do something they're not already accustomed to doing."

The group walked to the next classroom, a smaller one called Level 2, which was set up with a Zoom board that had a separate camera mounted on top, a desktop computer with a webcam, a physical whiteboard, and screen projector. Here, Richie demonstrated how these could all be integrated into the teaching delivery.
"Some people are going to use this [physical] whiteboard," Cobb said.
They moved on to a final classroom, Level 1, to show Kantardjieff the third configuration. It didn't have the Zoom board, but instead it had a mounted 4k camera on the instructor's desk that can be moved about, while a projector screen mirrored the Zoom session from a desktop computer. This was the simplest form of concurrent classroom.
"This isn't scary," Kantardjieff said.
McCall said these enhanced classrooms will give instructors freedom to use different teaching strategies, including "a live guest, a remote group of students at another teaching facility, students at their homes, or to simply record their lecture for later viewing."
The demonstration rooms were built by AV staff Kurt Henne and Travis Rippee; during the summer they will work with contractors to build out similar technology in more than 110 classrooms across the campus. The instructional designers will attend professional development and build curriculum around the classrooms, as well as supporting individual faculty and summer courses.
McCall said there will be 100 of the Level 1 classrooms, 10 of the Level 2, and eight of the high-end Level 3 rooms. Money for the hardware came out of the Higher Education Emergency Relief Fund (HEERF) authorized by the 2021 Coronavirus Response and Relief Supplemental Appropriations Act (CRRSAA).
"We don't want technology for tech's sake," Kantardjieff said. "It has to help the student learn better, in their preferred learning style. There are students who need to see, to hear, to think or reflect, to do or talk."
McCall added, "Some students feel more comfortable with their camera off. And they can engage more."
CAT is also conducting training with Teaching, Learning and Assessment (TLA) during their joint Summer Institute, covering technical aspects, best practices, Canvas, and more. For instructors who run into technical problems, CAT will have student assistants on call 8 a.m. to 10 p.m. on weekdays at 831-582-3755.
"This is impressive what you all have been able to put together in a short amount of time," Kantardjieff said. "This is the future."
After the classroom demos, Amy Thomas, director of Enterprise Risk Management and Environmental Health and Safety, showed Kantardjieff a line of masks and shields that balance varying levels of protection and accessibility features.
"The latest in fashion attire," Kantardjieff playfully said, striking a pose.
There were four options, and Thomas explained each feature and its appropriate setting.
The first option was a cloth mask or non-surgical face cover, which the university will provide to every instructor. Both Thomas and Kantardjieff were already wearing their own variation of this.
Option 2 was a face shield that is worn in addition to a face mask, which Thomas handed to Kantardjieff who slipped it over her head.
"Useful if someone is teaching a lab and has to be close to another person," Kantardjieff said. "It's comfortable."
"Good," said Thomas. "I'm glad to hear that."
Option 3 was a face shield with a cloth drape underneath that seals off the wearer's face from the surrounding atmosphere. And option 4 was a clear face mask, provided by Student Disability Services, for students who need to read lips.
"These are supposed to be anti-fog," Thomas said.
Kantardjieff gamely sported each novel PPE, relaying observations and general approval to Thomas.
And thus ended the day's preview of what teaching might look like at CSUMB in the Fall 2021 semester — a future scenario still in the making.