3M donates $25,000 to CSUMB students during AT&T Pro-Am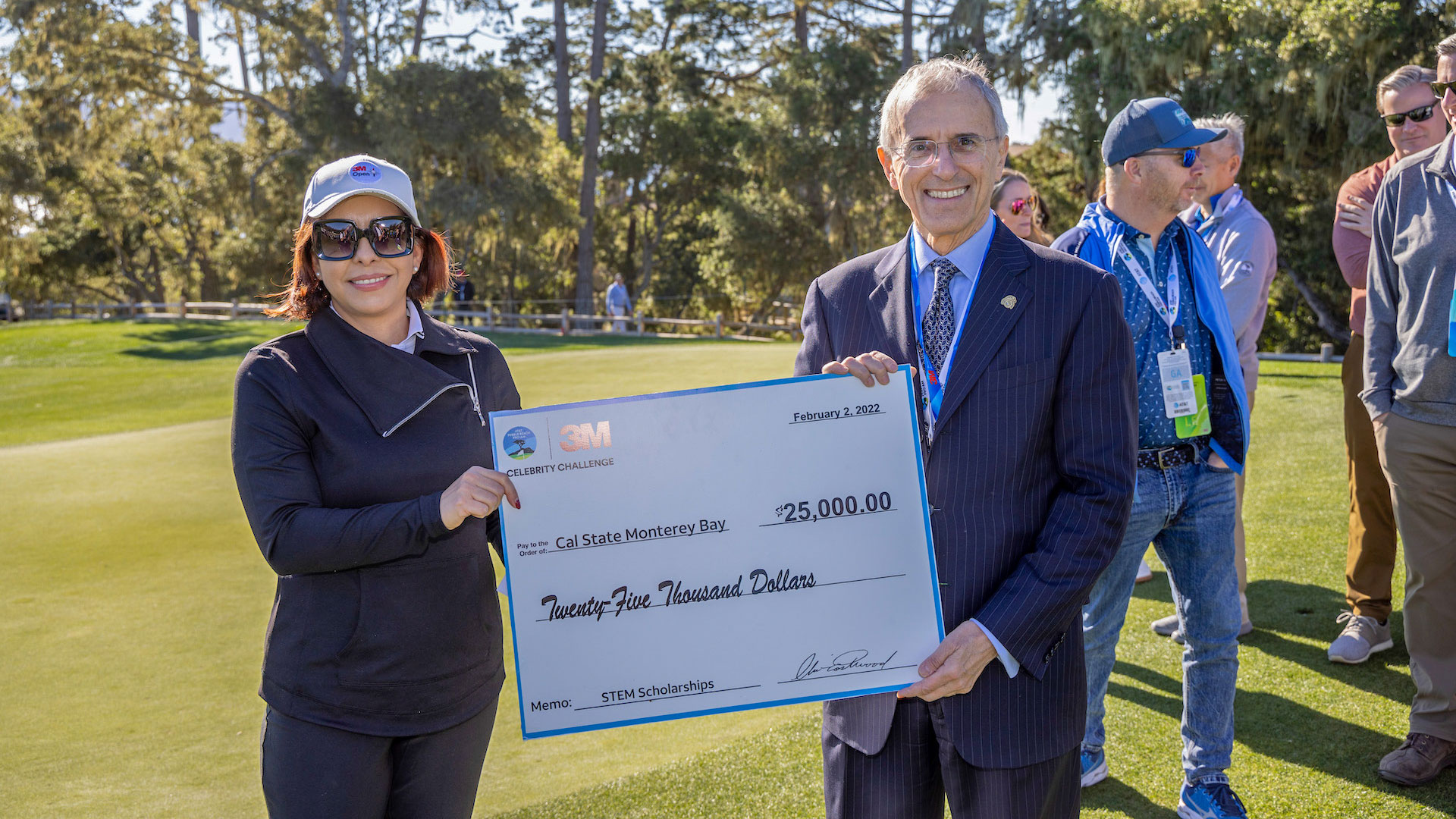 February 9, 2022
Among the throngs of spectators and parade of celebrities at the AT&T Pebble Beach Pro-Am last week, corporate partner 3M furnished a generous donation that will go far in furthering positive CSUMB Otter outcomes.
Karina Chavez, 3M's senior vice president and chief strategy officer, presented $25,000 to Cal State Monterey Bay to underwrite STEM Scholarships at the conclusion of the celebrity showdown. CSUMB President Eduardo Ochoa attended the challenge to accept the scholarship check.
Monterey Peninsula Foundation's vice president of philanthropy, Nancy Enterline, feels the community connection and ongoing charitable work is at the heart of the mission of the storied event.
"Monterey Peninsula Foundation is proud to partner with 3M in supporting STEM study at CSUMB," said Nancy Enterline, MPF's Vice President of Philanthropy. "We are grateful for 3M's longstanding commitment to helping young people gain the skills they need to tackle the most pressing problems of our time and are delighted that CSUMB students will benefit from the company's dedication to advancing STEM education in our region."
That principal should serve CSUMB students and the wider community for generations to come, while entertaining golf enthusiasts and boosting the local economy.
The AT&T Pebble Beach Pro-Am marshals thousands of volunteer hours from the community, businesses, celebrities and professional golfers to raise millions of dollars for local charities distributed through Monterey Peninsula Foundation.
The 3M Celebrity Challenge, which took place Wednesday, Feb. 2, at the revamped par-3 pitch-and-putt The Hay (formerly Peter Hay Golf Course) featured celebrity actors Don Cheadle, Josh Duhamel, Michael Pena, Alfonso Ribeiro, music icons Darius Rucker and Colt Ford, LPGA pro Morgan Pressel, and national golf personality Hally Leadbetter.
In addition to 3M's donation to CSUMB student scholarship, the Celebrity Challenge raised a combined $100,000 for Central Coast YMCA's Excel Beyond the Bell Program and Monterey Bay Aquarium's education programs.
Andrew Lawson, the dean of CSUMB's College of Science, said, "We deeply appreciate the generosity of 3M and their support for our students. This is an investment not only in our deserving students but in the future vitality of our region."