CSUMB researchers seek to cut harmful off-gassing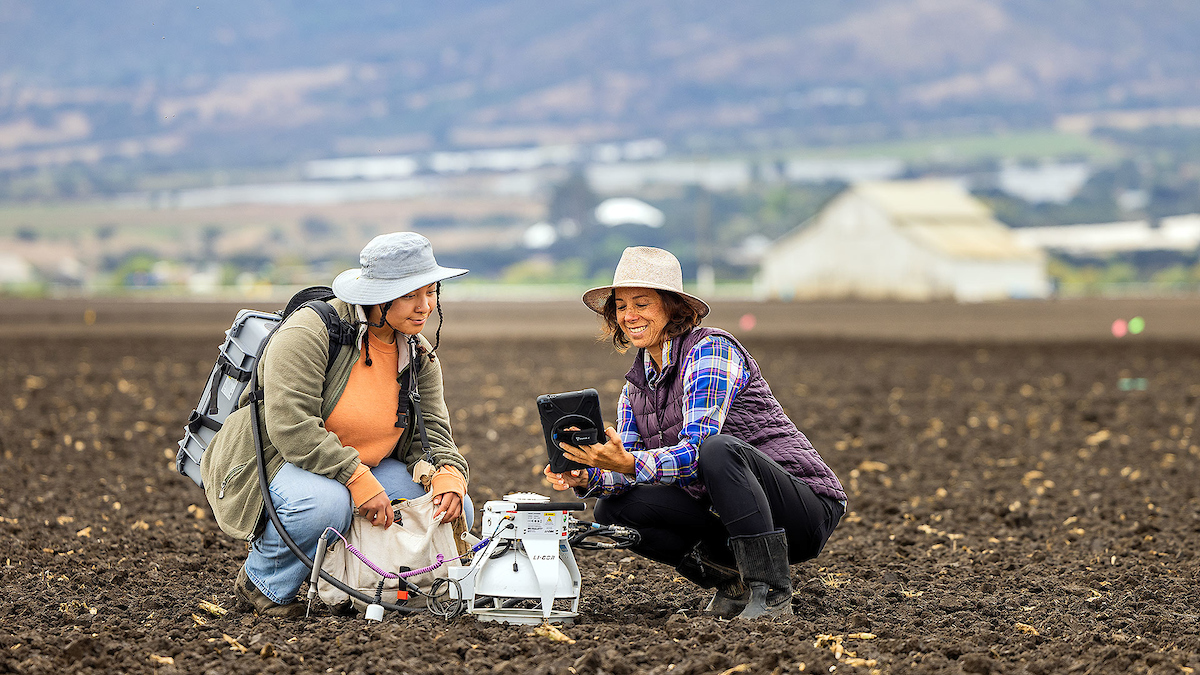 November 16, 2023
By Mark Muckenfuss
When it comes to the warming planet, nitrous oxide – that happy gas your dentist may give you when you have a cavity that needs filling – is no laughing matter. Stefanie Kortman would like to snuff it out, at least when it comes to agriculture.
Carbon dioxide gets most of the greenhouse gas attention but nitrous oxide, often connected to the use of agricultural fertilizers, is 300 times more potent when it comes to trapping the planet's heat. And, given that agriculture operations account for 11% of greenhouse gas emissions, they play a significant role in climate change.
Kortman is overseeing the off-gassing component of a five-year, $5 million U.S. Department of Agriculture grant to support CSUMB's research into climate-smart practices for Central Coast specialty crops, such as broccoli, lettuce and strawberries. Part of the study will also determine if those practices can be adapted to the marketplace.
The data being collected may be important not only in reducing nitrous-oxide emissions, but it may also aid local growers by helping to develop practices that will meet state and federal emissions reduction targets.
"The big picture is to promote management practices that are going to protect natural resources," Kortman said of the work she and professor Arlene Haffa are collaborating on, along with dozens of student volunteers and interns and a UC Davis researcher.
Kortman said CSUMB is the only institution measuring off-gassing in local fields growing specialty crops. State-mandated reductions in nitrogen applications – which increase incrementally until 2051 – are based largely on data derived from corn, wheat and other large-production crops. She's hoping her data may lead to more tailored guidelines for growers in the Central Coast region.
Regardless of what those reduction guidelines may end up being, the long-term goal is to lower the amount of nitrous oxide escaping from the agricultural fields. Kortman suspects – and preliminary data support this – that using organic nitrogen, in the form of compost, to offset the application of commercial fertilizers that contain inorganic nitrogen, is one route toward reaching the goal.
Much of the difference between the two fertilizers boils down to the role played by microbes in the soil. Certain microbes convert nitrogen into nitrous oxide. The inorganic nitrogen in commercial fertilizers is much easier to convert. Using compost essentially forces the microbes to feed on organic nitrogen. It's a bit like getting them to eat their vegetables instead of binging on candy. The process is slower and, perhaps, leads to less off-gassing.
To study this, Kortman is working with local growers to collect real-time data throughout the year on how much nitrous oxide is escaping from their fields. She is studying six different growing models using various amounts of compost and commercial fertilizer. Each test field is randomly peppered with 12-inch sections of 8-inch-diameter PVC pipe. The pipe sections isolate a footprint of soil from which the researchers can measure and analyze air. The researchers measure carbon dioxide, nitrous oxide, water vapor, soil moisture and temperature using a high-tech spectrometer and about 30 pounds of analyzers and computer equipment carried in a backpack and a shoulder bag. A single person can take the readings in a field, but it takes time.
"None of this would happen without dozens and dozens of undergrads," Kortman said. "It's very labor intensive."
One of those students, Elise Vasquez, of Salinas, is a first-year master's student in environmental science. She said she's hoping to make a difference in future farm practices near her hometown.
"If we can see the things we're doing are working, if it can be done on a larger scale, and if it's successful in mitigating nitrous oxide, it would really be good for the farmers," Vasquez said.
She began working with Kortman a year and a half ago and plans to continue with the field study until she graduates. She said she feels fortunate to have the research accessibility CSUMB offers due to the campus' small size.
"I've heard that at bigger universities you're having to fight for a position in a lab," she said.
Besides the student force they muster, Kortman and Haffa are collaborating with Cole Smith, a UC Davis doctoral student who works for UC Agriculture and Natural Resources. The partnership agencies are USDA's Partnership for Climate-Smart Commodities, the Resource Conservation District of Monterey County, and the Western Growers Association.
They're also working with a number of growers. CSUMB does not yet have its own field for conducting agricultural research. Most of the partner growers are large companies and the grant is aimed at benefiting underserved and minority growers. Smaller operators can't afford to sacrifice part of their land and, potentially, their crops for science.
"The bigger growers are generous and let us try things on their land that the smaller farms can't," Haffa said.
Kortman said many would do more if they could.
"Most of them really do care about the land," she said. "But they don't always have the resources to do more. In our experience, they really appreciate the support we provide to help them access knowledge and access the materials to do the work."
In the end, she said, the study may reveal more effective ways to fertilize crops while reducing the amount of nitrous oxide escaping into the atmosphere. Some preliminary results have shown that a 15% reduction in nitrogen fertilizer has reduced off-gassing without affecting crop growth.
Recently, a coalition of environmental organizations filed suit against the State Water Resources Control Board and the Central Coast Regional Water Quality Control Board alleging the agencies have failed to properly protect the waterways of the Central Coast from the effects of overfertilization. The kind of reduction Kortman is looking at could also have the benefit of reducing nitrate runoff.
"The impact can be really significant," she said. "What we have is only 15% less nitrogen applied than the norm. But if you apply that across the Salinas Valley, it's millions of pounds. It would be a significant impact.
"What we have observed is the practices with reduced nitrogen and compost are mitigating nitrous oxide emissions," she said. "That's hopeful."