CSUMB duo sowing the seeds of accounting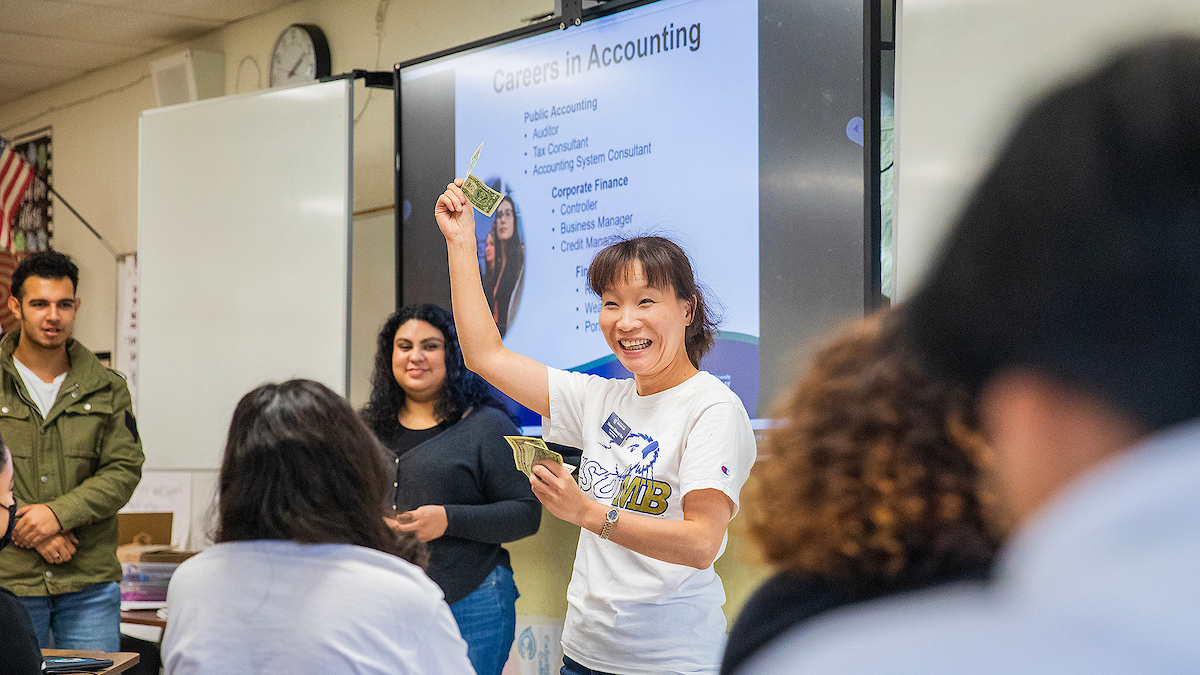 October 23, 2023
By Mark Muckenfuss
The business world is crying for accountants and a pair of CSU Monterey Bay professors is taking action.
A year ago, Gary Schneider and Shaowen "Sharon" Hua began visiting high school math and economics classes, pitching the profession of accounting – many times to students who knew little or nothing about such work.
Financial publications have been reporting on the critical shortage of accountants regularly in recent years. In the last several months, such stories have appeared in the Wall Street Journal and in Forbes and Fortune magazines.
A year ago, the Wall Street Journal reported that 300,000 accountants had left their jobs between 2019 and 2021, representing 17% of the profession. The Bureau of Labor Statistics has predicted a 6% increase in job openings for accountants between 2021 and 2031.
At the same time, enrollment in most university accounting programs is declining.
Already the impact is being felt. The Wall Street Journal recently reported that prominent companies, including Advanced Auto Parts, Evotec and the locally based Joby Aviation, are filing financial reports that disclose "efforts to address material weaknesses due at least in part to a lack of accounting staff," the Journal said.
On a recent morning, students in a college-prep math class at North Salinas High got a break from looking at formulas and instead listened to Hua tell them what a great career being an accountant can be.
"Accounting jobs pay well," she told them. "Accounting jobs are fun."
Probably sensing that some students needed convincing, Hua told them the traditional image of someone poring over ledgers late at night with a calculator in hand is long outdated. Most accountants today don't do actual accounting – as in adding columns of numbers – since computers now do most of that work. Many accountants, she said, work as analysts and advisors, using the spreadsheets those computers produce.
"I have a [former] student who works for Driscoll," Hua said of the Watsonville-based berry grower. "She travels to England, Singapore and Japan because Driscoll has businesses all over the world."
If that didn't sound exciting enough, she threw the rich-and-famous aspect of the field at them, talking about how lucrative such accounting careers as financial planning can be.
"You might work with clients from Pebble Beach, the NBA and Hollywood," she said. "They have so much money, they don't know where to put it and you get to service them."
Hua told the group that her CSUMB's accounting professors are directly connected with dozens of companies looking for accountants. Many of them offer summer internships, which can pay $20 to $40 an hour.
"After two months of working with you, and they like you, what happens?" she asked.
One student suggested they might receive a job offer.
"That's right," Hua said. "They might offer you a job."
Many students, she said, get offered positions that are delayed until they graduate. They can enjoy their senior years knowing they have a job waiting for them when they receive their diplomas.
During her presentation, she involved the students in a short skit to illustrate the transfer of money in a business transaction and where an accountant might come in. She discussed the importance of knowing tax and banking regulations.
Oscar Espinoza, one of the students who participated in the skit, said he found Hua's presentation interesting and helpful. He plans to attend CSUMB next year and accounting is something he will now consider studying, he said.
"It gave me an interest," Espinoza said of Hua's presentation. "The only thing I knew was [accountants] have to handle money. It was really informative. What struck me the most was going to the powerful people and being their consultant."
Senior Alondra Reyes said she was already halfway there before hearing Hua's pitch. She's been planning a math-oriented career since she was in eighth grade and accounting has been in the mix of jobs she's considering. What impressed her most was the connections to industry Hua said CSUMB could offer.
"A lot of these students get job offers, so that really stands out for me," Reyes said.
North Salinas High was just the latest stop for Hua. In the past year, she said she and Schneider have visited over 75 classrooms and talked to more than 1,700 students, mostly juniors. While there has been a 20% increase in enrollment in Hua's Accounting 1 class this fall, it's really too early to determine how effective the outreach efforts have been. The students the two spoke with in the spring won't be freshmen until next year and the accounting courses are upper-division classes that students don't typically take until their third year in college.
But Schneider believes they are on the right track.
"In the past, we would visit community college classes and career fairs to talk about accounting careers," Schneider said, noting they began that outreach last year. "We realized we were getting to these students too late; they had already made career decisions. That's when Sharon and I decided we'd need to get into the high schools."
Not only are they informing students about a potential career path, he said, they are also debunking cliches.
"If they have any concept of accounting at all, it's Bob Cratchit in 'A Christmas Carol.' he said. "We're opening eyes to a great career about which students know very little. We're trying to find young people who have the potential to do this and wouldn't consider it other than the fact [that] two people walked into their class one day and talked to them about it."
The College of Business offers an accounting concentration within its business major and is developing an accounting major that will include additional accounting courses that many other schools teach in a master's program.
"We want to give them all the accounting knowledge they'll need in our bachelor's degree program in order to pass the new CPA exam," he said.
Companies are waiting, he added. "National accounting firm CliftonLarsonAllen – with several area offices – would like to see 15-20 students coming out of the program each year," he said.
Schneider and Hua plan to continue their outreach, telling high school students that accounting careers are interesting and lucrative. In doing so, they hope to make a dent in the market's needs.
"We're not just selling CSUMB," said Hua. "We're selling careers."