Hispanic Serving Institutions Week highlighted by opening of El Centro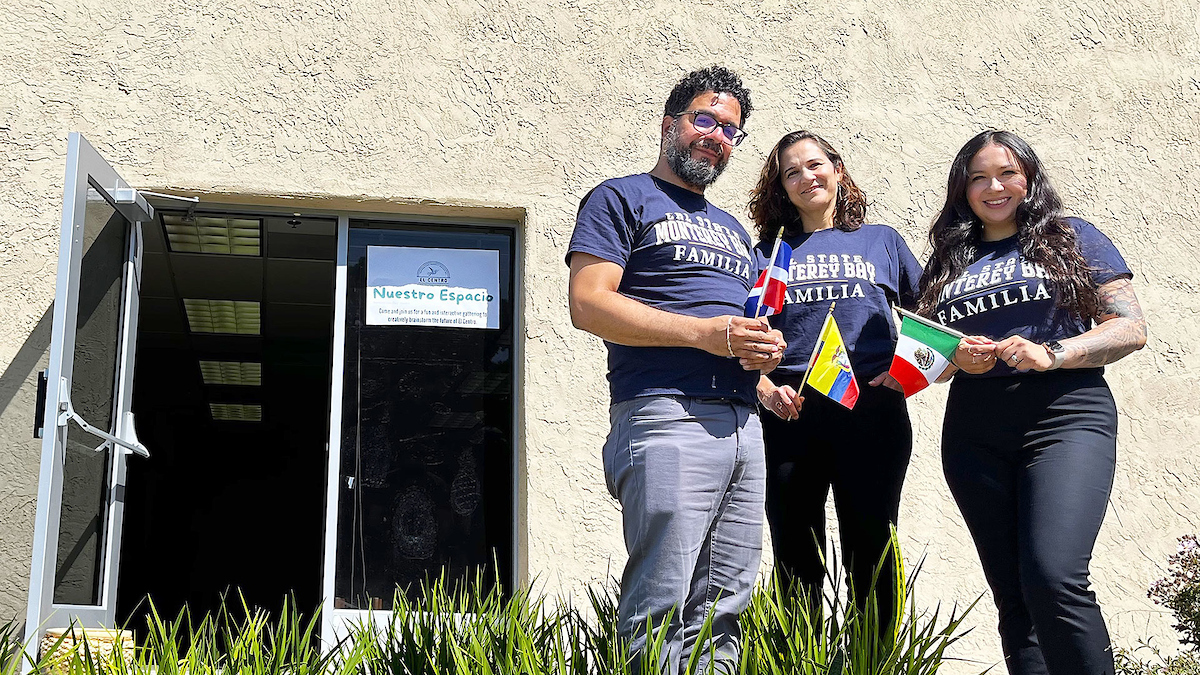 September 8, 2023
By Mark Muckenfuss
As the Hispanic population in the United States continues to grow, the work of Hispanic Serving Institutions becomes ever more important. At CSU Monterey Bay, which is ranked 49th among HSI universities in the West, HSI Week begins Monday, Sept. 11, spotlighting and celebrating that role with a series of campus events that run through Sept. 21.
One of the most notable events for the week is the ribbon cutting for the new El Centro, a space in the Student Center (Bldg. 12) dedicated to supporting Latine students by connecting them with existing resources, providing educational support and offering workshops to address such things as financial literacy and mental health. The co-directors of El Centro are Kenny García, associate librarian, Betsi Solis, MAESTROs project outreach, engagement, and student transition coordinator and Suzanne García, assistant professor of bilingual education.
"This will be a support services drop-in center," said co-director Betsi Solis, adding that the space will be open 9 a.m. to 5 p.m. starting Sept. 13. "Students will be encouraged to come in and hang out, attend our 'platicas,' or chats, and our workshops. "We want to foster authentic connections between Latinx students, faculty and staff to increase the use of campus resources."
Solis said mentoring and tutoring will also be available and students will receive support on applying for scholarships and graduate programs, and career guidance.
Garcia said a recent student survey of Latine students showed that a primary student concern was the need for community.
"Students really want a sense of belonging," Garcia said. "The other thing, which we weren't expecting, is students want dances and cultural representation in their university."
Students will certainly have plenty of opportunities to dance during HSI week, where several events will feature music and dancing.
The week kicks off with the celebration of Heritage Day. Students are encouraged to express their heritage, nationality, values, traditions and culture for the day.
From noon to 2 p.m., there will be a pachanga, or party, on the Main Quad Plaza of the Otter Student Union. Music, food, dancing, soccer demonstrations and other festivities will be part of the action.
Social networking and refreshments are part of a mixer at 3:30 p.m. at El Centro. The event precedes a moderated Q&A panel, "Oiganos: Nuestras Voces Importan | Hear Us: Our Voices Matter," that begins at 5 p.m. The panel will engage in dialogue that validates and uplifts the Latine identity, intersectionality and addresses the complex challenges that come with navigating multiple cultures.
Other events for the week include lectures by notable scholars Jose Aguilar-Hernandez and Farima Pour-Khorshid, a folklorico workshop, an independence celebration, the screening of "La Bamba" and more. Visit the HSI Week page for details and to register.