Winners named in annual CSUMB Startup Challenge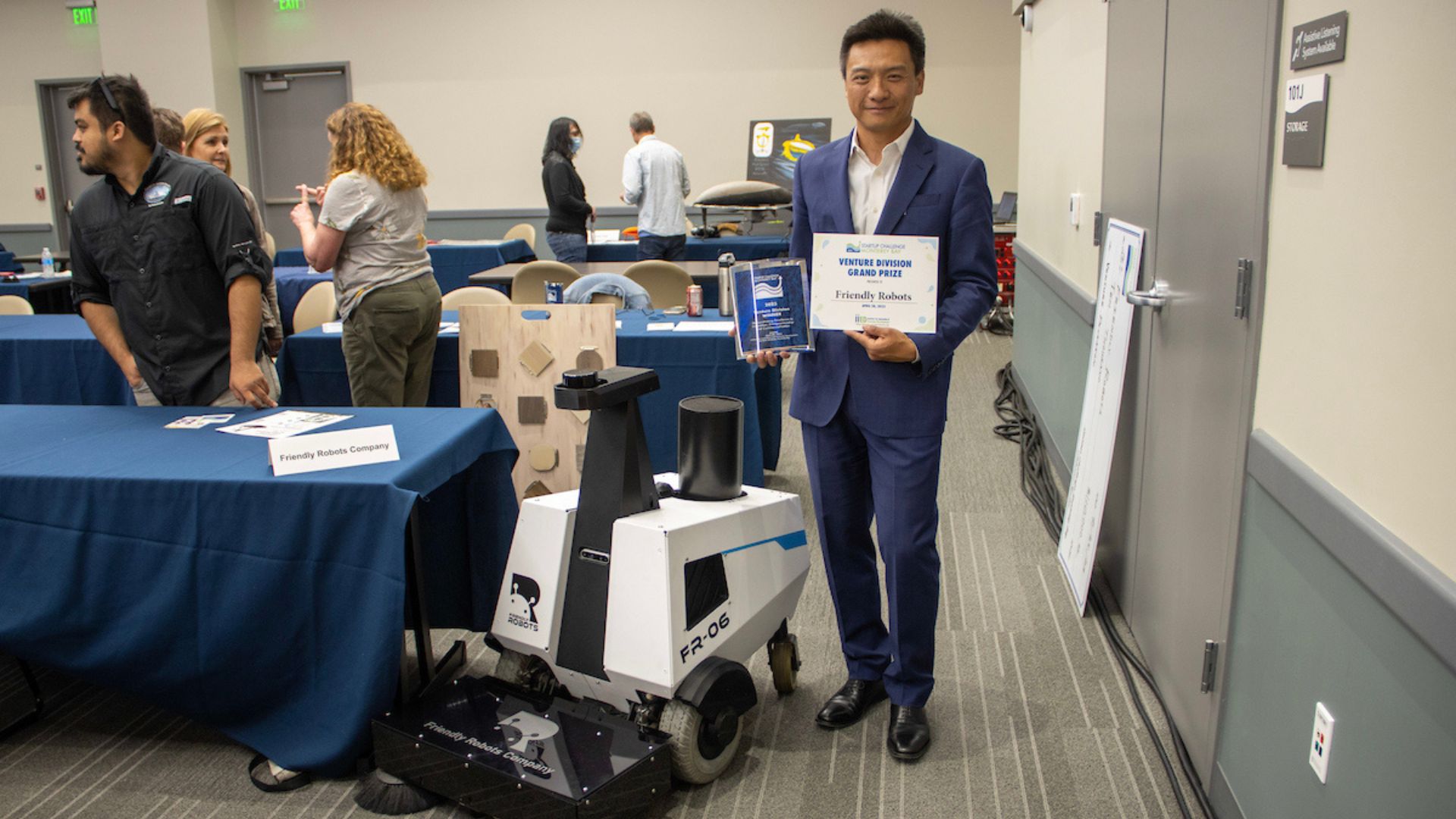 May 1, 2023
Friendly Robot won the $10,000 grand prize at the CSUMB-based Institute for Innovation and Economic Development's (iiED) annual Startup Challenge on Friday, April 28, at CSUMB's Otter Student Union grand ballroom.
Xiao Xiao, owner and founder of the small company, which produces automated commercial vacuum cleaners (think, giant Roomba), said he was excited to be chosen among the other seven startups in the Venture Division of the competition.
"It's a validation," Xiao said of the prize. "I have a grain of gold, and it can become a nugget."
He's hopeful the acknowledgment will draw investors. That's what happened when he won a similar competition with the Silicon Valley-based Alchemist Accelerator. He said his company had attracted $960,000 from investors within a few months of that.
That kind of boost is a big part of what the Startup Challenge is about, said Brad Barbeau, executive director of iiED.
"These are the businesses that are going to bring in new energy and revitalize the local economy," Barbeau said. "I think these folks are going to launch and do great things."
Speaking to the crowd, he said, "The real challenge is to get these businesses started and move them forward."
Produced by the iiED, the Startup Challenge began in 2010 as the Monterey Bay Regional Business Plan Competition. The Challenge was created by the Marina Tech Cluster, a business incubator at the MBEST Center in Marina. The Marina Tech Cluster closed in 2013, and the Challenge was moved to its current home at the iiED in CSUMB's College of Business.
Other winners at the Friday event included Ritika Kumar's Art Abilities, a company that provides art classes for disabled children and adults. Kumar won the $5,000 first prize in the Social Venture division.
"This is just what I was looking for," Kumar said. "I don't even know how many windows it's going to open up. It's huge."
Best of all, she said, it would allow her to secure a permanent studio space.
"My students will have a home," she said.
Cheeza Jewelry – which makes handmade, minimalist accessories – won the $5,000 top prize in the Main Street division. Bubbly Hill Wines, which uses AI technology to produce wine, won $1,000 for best student startup.