CSUMB divers find opportunities beneath the water's surface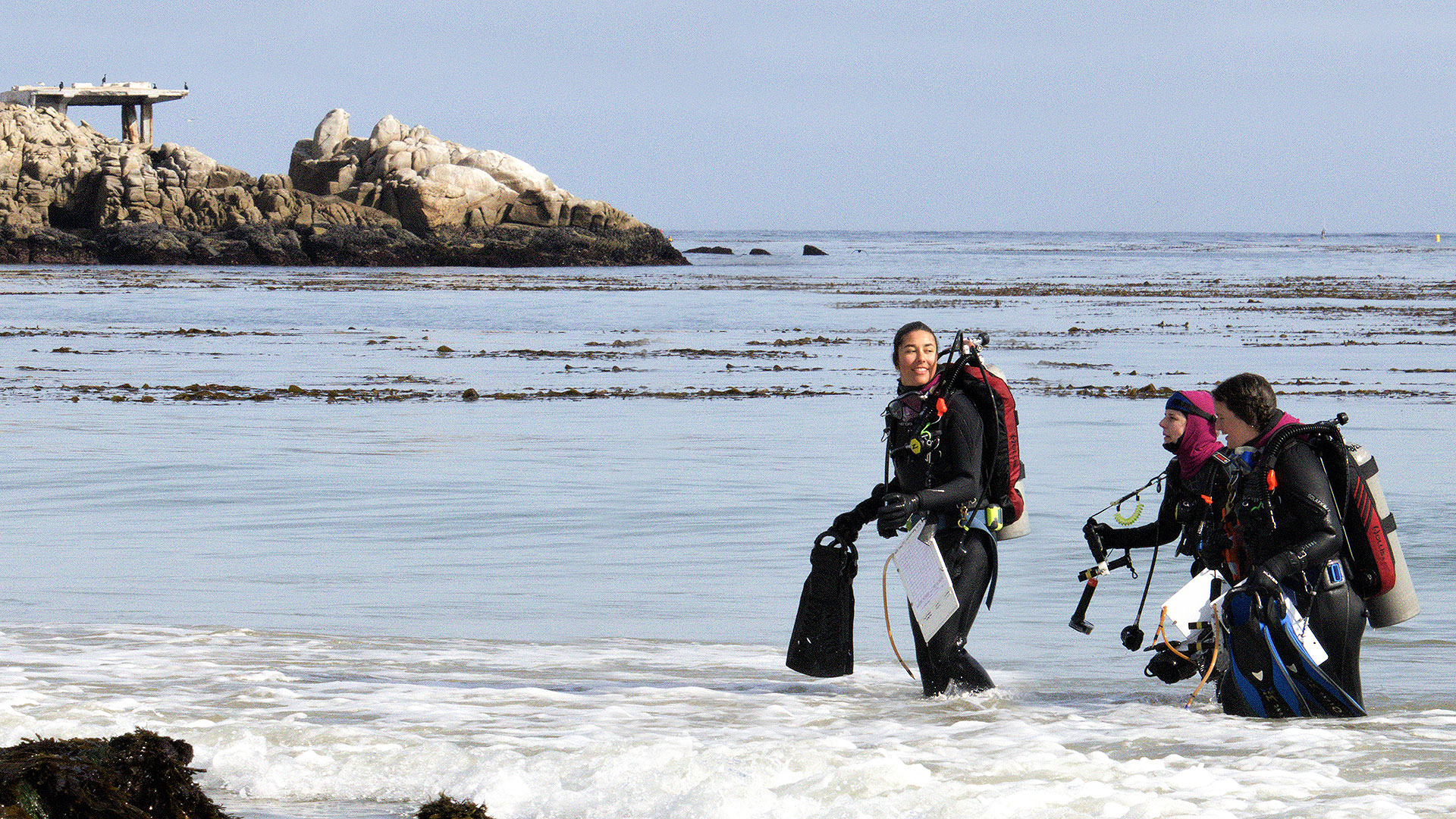 June 26, 2023
By Mark Muckenfuss
Cassidy Thompson counts the stars. Just not the ones in the sky.
As a marine science major at CSU Monterey Bay, Thompson, a junior from Temecula, has been counting sea stars as part of her science diving course. It's one of only a few such courses offered by California universities.
"We are examining the species richness and density of sea stars and we're doing that from the middle reef to the wall," Thompson said on a recent Tuesday morning before entering the quiet surf at San Carlos Beach in Monterey.
The wall Thompson was referring to is the breakwater for the adjacent marina. And, just offshore, is a natural formation referred to as the middle reef.
"We're expecting to see a greater density on the wall because that's where there's more food and more nooks and crannies they can hide in," Thompson said.
But, as often happens in science, that's not how it turned out.
"From the data I did collect, I would say mid-reef had greater species density," she said.
Thompson's work was part of the final project for the course. Students, in groups of two or three, were engaged in a variety of investigations: examining the correlation between the size of kelp stalks and the size of the rocks to which the stalks were attached; counting snails on kelp; and surveying fish populations.
James Lindholm, chair of the Department of Marine Science and the course instructor, said students were putting into practice what they had studied all semester.
"We spent the last 13 weeks teaching them techniques for collecting data underwater," Lindholm said. "They had to come up with a scientific proposal involving scuba that they could solve."
Marine science is one of CSUMB's distinguishing programs and the science diving course, which was added to the curriculum in 2008, is a relatively unique offering. It's part of a broader program that trains 300 divers per year, more than any university in the country.
While several California campuses offer some form of scientific diver training, the comprehensive four-course progression at CSUMB that culminates with scientific training is more involved than most, preparing students for diving in the most challenging of conditions.
"Students come from all over the world to come to class here," Lindholm said. "We've had students from Saudi Arabia, Ireland, Scotland and Germany. We had a woman who had 1,400 dives in Iceland. Her family owns a dive company there. She came here to do a year of training because she hadn't done any science diver training."
Students who have that experience have an advantage when they go looking for work, he said.
"They're able to market themselves as science divers," he said. "We have divers go work at the aquarium here in Monterey and other aquariums around the country."
Kalikonani Dailey is a graduate of the program who was on hand to help with the class outing.
"As a marine science person, that's the reason I came to CSUMB," Dailey said. "The dive program and accessibility to the ocean is what really drew me in. I even got a job."
She currently works in the marine science diving program at UC Santa Cruz.
Karla Buitrago-Yepes, a second-year marine science student from Irvine, said she too hopes to go into a career involving diving. She said her diving buddies in Southern California encouraged her to come to CSUMB.
"They said it was great," Buitrago-Yepes said. "They were right. The diving here is amazing. It's challenging but it's a surprise wherever you go."
She's been happy to see a variety of sea life, including sharks. And she's pleased with what she's gained so far through the program.
"I've become a way better diver," she said. "It taught me that I need to get out of my comfort zone. In scientific diving, they push you to the limit."
The program draws many experienced divers such as Buitrago-Yepes. Thompson was a dive instructor for two years in Thailand before starting her studies at Cuesta College in San Luis Obispo and then transferring to CSUMB.
But some students had never strapped on a tank before arriving in Monterey Bay.
Daran Towns, a senior marine science student from Bakersfield, said she hadn't planned on going underwater when she enrolled at CSUMB.
"I wanted to do marine science, but I didn't know of the program until orientation," Towns said. "I heard there were dive classes and I said, 'I've got to get into that right away.'
"Coming from Bakersfield, this was a completely different avenue for me," she added. "I couldn't believe that you could just do this."
She hopes to enlighten others who live far from the beach and where marine conservation may not be a priority.
"We have to work together to help the ocean," she said, "but a lot of people don't have the awareness. I want to move into education. I'd like to bring this back home."
Others, such as Thompson, hope to become full-time researchers.
"Science diving is my end goal," Thompson said. "I know I want my master's. I want to do that in Australia. I'm hoping to get into conservation and restoration."
Before that, she would have to consider why the sea stars were not where she anticipated they would be. She speculated that recent conditions might have resulted in an increased nutrient supply on the reef. Those kinds of questions are ones she said she looks forward to exploring as she continues her studies.
"When I came to CSUMB, I knew a lot about the fundamentals of diving," she said. "I didn't know about scientific diving. That wasn't something I'd been able to do before.
"I would say I've learned more in the past two years than I ever have."