Academic Assembly celebrates its own with Faculty Awards Ceremony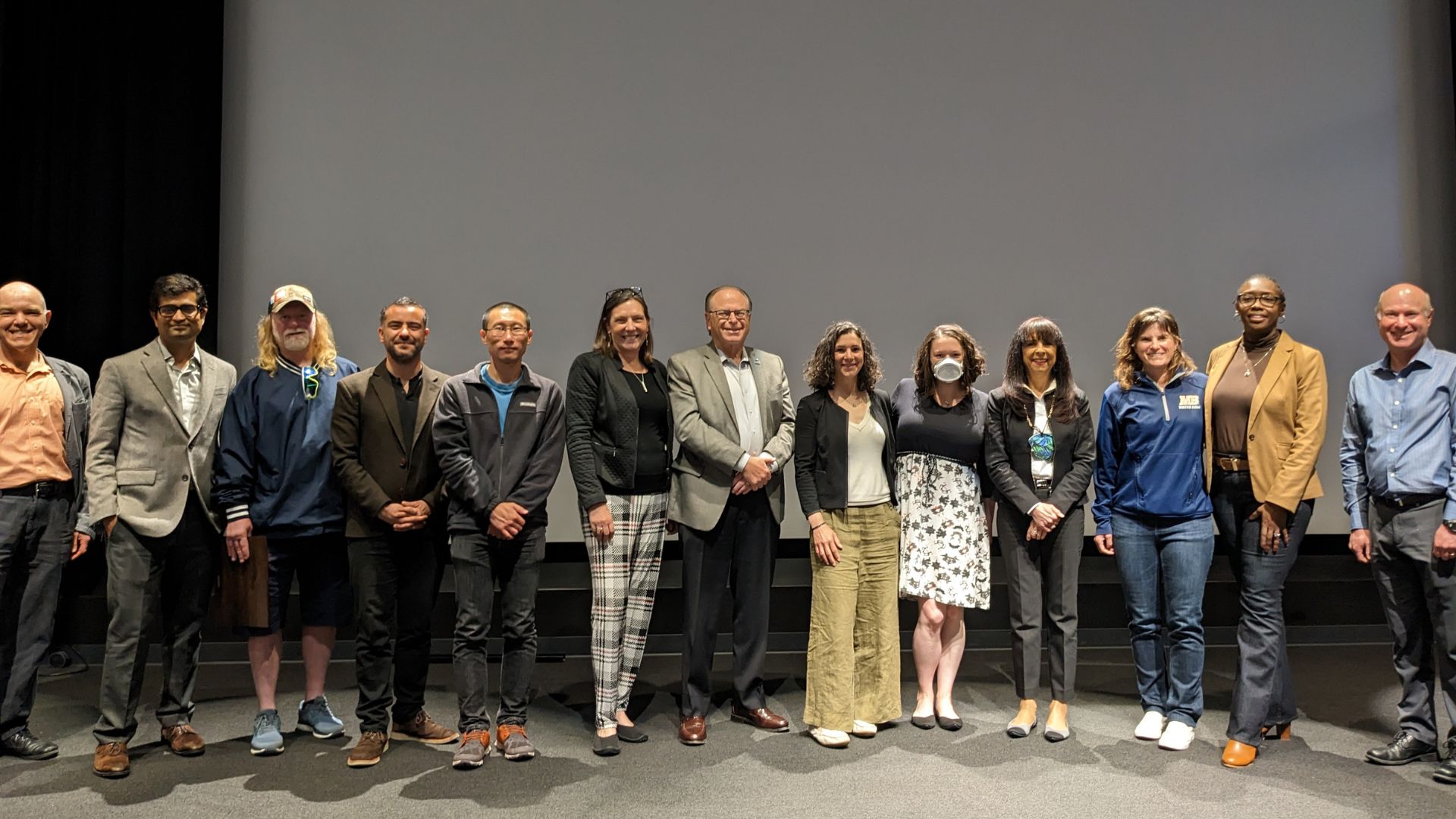 May 3, 2023
By Adrienn Mendonça-Jones
The spring meeting of the Academic Assembly provided an opportunity to commemorate employees whose activities, according to the nomination form, "are often not widely known and not directly and publicly recognized."
"The awards ceremony gave us a moment to pause and reflect on the work we are doing and all we have accomplished this year, and to express gratitude," said Sam Robinson, chair of the Academic Senate.
This year's awards were revised to allow not only faculty, but students, administrators, staff, and local community members to nominate tenure-line faculty, lecturers, coaches, librarians, and counselors for the awards.
Newly expanded categories allow the university to "recognize and celebrate" faculty accomplishments as well as others, said Katherine Kantardjieff, provost and vice president for Academic Affairs.
Rob Weisskirch chair of the Faculty Affairs Committee, said, "These awards are more reflective of our peers, who work across many categories for things both big and small, not only on scholarship but also in advocacy, mentorship, and the like."
President Vanya Quiñones thanked the faculty and awardees, and reflected on accomplishments from the past year, including launching task forces, working groups and a budget committee to move forward on priorities, and taking steps to increase enrollment in the short term and long term.
"I want to take a moment to say that I appreciate all of the faculty here at CSUMB," Quiñones said, "for your dedication to innovation and research in your areas of interest, for your encouragement of students in pursuing their goals, and for your commitment to our greater community and region."
Overall, 13 awards were made in six categories, including outstanding mentoring, teaching, department chair, community service and professional application, research, and creative activity, and the Joe Larkin Award for University Service.
Awardees received a recognition plaque, a cash award of up to $500, and recognition at the local, regional, and state level.
"It's an honor to be recognized," said Vanessa Lopez-Littleton, who was awarded the Larkin Award. Lopez-Littleton is an associate professor of public administration and nonprofit management, and the chair of the Health, Human Services, and Public Policy Department.
"I'm like the Susan Lucci of award shows," said Lopez-Littleton, who joked she's often been nominated for awards but has infrequently received them.
"Everyone wants an environment where people feel like they're valued and respected," said Lopez-Littleton. She found her footing in community service by working in hospitals, human resources, and the military before coming to CSUMB, where she helped establish the Helen Rucker Center for Black Excellence and the Committee for Inclusiveness and Social Equity in the College of Health Sciences and Human Services.
"You do the work not for recognition, but for service," she continued.
The award recipients were as follows:
Outstanding Mentoring Award
The Outstanding Mentoring Award recognizes outstanding achievement in mentoring students, faculty, and others to support an individual's development in their academic, personal, professional, and community endeavors.
Dr. Danielle Burchett, Associate Professor, Psychology Department (*S)
Susan Harker, Lecturer, College of Business (S)
Emily Schmitt, Coach (Water Polo), Intercollegiate Athletics Department (S)
Outstanding Community Service and Professional Application Award
The Outstanding Community Service and Professional Application Award recognizes the outstanding achievement of faculty who apply their expertise and experience in the service of a broader community.
Dr. Alyssa Erikson, Professor, Nursing Department (**I)
Dr. Jeff Froshman, Lecturer, College of Business (S)
Outstanding Teaching Award
The Outstanding Teaching Award recognizes outstanding and meritorious teaching and learning. Teaching is central to faculty work, and faculty members often create outstanding learning experiences for students that may not come to the attention of others beyond the students in the classroom.
Dr. Drew Clickenbeard, Lecturer, School of Computing and Design (S)
Dr. Arun Sharma, Assistant Professor, Biology and Chemistry Department (I)
Dr. Tolga Tezcan, Assistant Professor, School of Social, Behavioral, and Global Studies (S)
Outstanding Research and Creative Activity (ORCA) Award
The ORCA Award recognizes excellence in scholarship and significant contributions in the areas of research and creative activity.
Dr. Steven Kim, Associate Professor, Mathematics and Statistics Department (S)
Dr. Zurine De Miguel, Assistant Professor, Psychology Department (I)
Outstanding Department Chair Award
The Outstanding Department Chair Award recognizes the outstanding achievement of a Department Chair beyond the designated expectations of a chair to a department or college within their elected term.
Dr. Kent Adams, Professor, Kinesiology Department (S)
Dr. Leslie Boni, Professor, College of Business (I)
The Joe Larkin Award for University Service
The Joe Larkin Award for University Service recognizes outstanding and meritorious service to CSUMB. Although service is a component of faculty work, many faculty members contribute above and beyond in providing service that benefits the campus as a whole.
The award is named for Dr. Joe Larkin, who served the CSUMB community for years, with dedication to our students, the university's development, and its Founding Vision Statement, and whose "voice was one of reason, [which] always strove for consensus and resolution."
Dr. Vanessa Lopez-Littleton, Associate Professor, Health, Human Services, and Public Policy Department (I)
*(S) indicates Sustained impact for achievement and contributions typically made over time, in excess of two years
**(I) generally indicates Immediate impact for a specific accomplishment or for a shorter duration.