Commencement Festival on the midway adds to celebration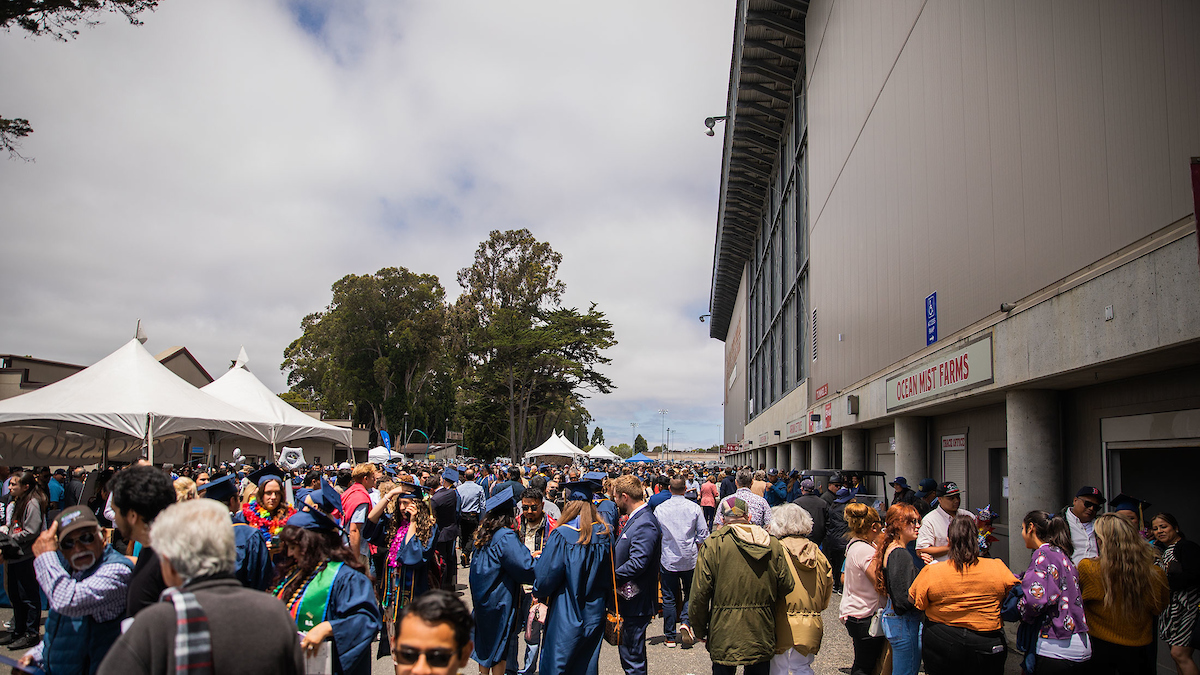 May 23, 2023
By Mark Muckenfuss
Maria Dominguez-Zavala, of Greenfield, was enjoying the music on the Salinas Sports Complex midway during CSU Monterey Bay's new Commencement Festival on Sunday, May 21.
Standing with a group of her fellow graduates, all education majors, she said she had been feeling on edge when she arrived at the venue, and walked in to find the air alive with thumping bass and drifting melodies provided by a live DJ.
"When we got here I was very anxious, [but] the music helped," Dominguez-Zavala said. "I like the music."
The rumbling tunes were only one element of the festive atmosphere greeting those arriving at the main rodeo arena. Stretched along the backside of the stadium seats were booths selling food and drinks, flowers and CSUMB merchandise.
People lined up 30-deep for the concession stands selling hamburgers, hot dogs, ice cream and more. Some moved their heads – and sometimes more – to the infectious music.
Bouquets of flowers were everywhere. And Monte Rey, CSUMB's otter mascot, wandered among the crowd in a cap and gown, taking selfies and giving hugs.
Terrence Fizer's family had come from Palmdale to watch him receive his bachelor's degree in kinesiology. Mom and Dad were standing at a table strewn with sweatshirts, hats and coffee cups, all bearing the CSUMB logo.
"I think they're buying me a beanie," Fizer said.
Items that were going fast included stickers, license plate frames and Class of 2023 tassels. Two styles of hoodies had almost sold out by 2 p.m. and a whole crate of sweatshirts was gone, according to those manning the booth.
Madison Kraut, a kinesiology major from Lake Elsinore, said she was enjoying the contrast to the on-campus ceremonies she attended in 2002 to see friends graduate.
"I like that there's a festival going on," she said. "It's a lot more organized and inviting."
For biology major Jessica Mendez of Hayward, it was a final opportunity to get a selfie with the school mascot.
"I don't think I've had a picture with him in all [my] four years," she said.
Students said they appreciated being able to mingle together in a space that helped to amplify the feelings of the day.
"It's like a carnival," said Enrique Acosta, a business major from Morgan Hill. "I definitely feel appreciated that the school did this for us."