2023 President's Award recognizes students who gave back as they progressed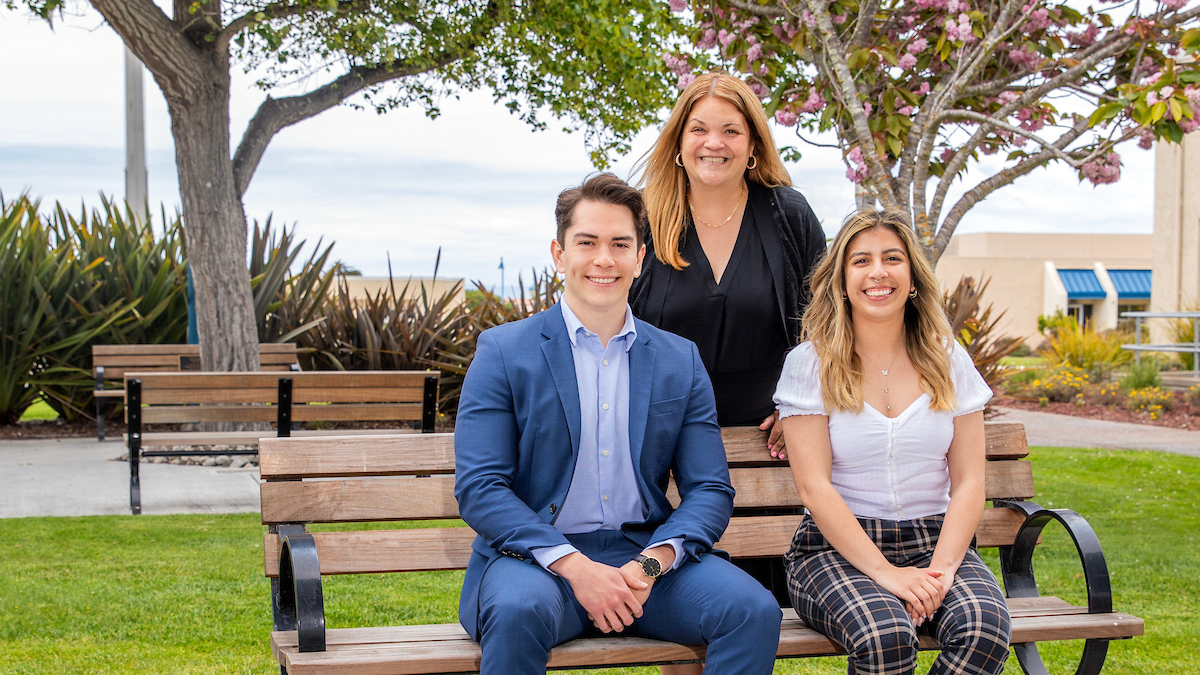 May 9, 2023
By Adrienn Mendonça-Jones
Graduating senior Andrés Mena and master's student Lissa Alaniz share a few qualities in common, chief among them: a commitment to inclusion; excellent bilingual communication skills; and the ability to foster a strong sense of community on campus.
They also share one other special status: they're the only two students to be selected by President Vanya Quiñones to receive one of the two President's Award that recognize student success.
"As president of California State University Monterey Bay, my favorite part of the job is getting to engage with our students and learning about their passions," said Quiñones.
"In reading through the nominations for both President's Awards, I discovered some of the accomplishments of the stellar students we have graduating this spring, and I can't wait to meet the recipients in person at the Student Awards Luncheon in May."
Andrés Mena, 2023 President's Award for Exemplary Student Achievement
Bachelor of Business Administration: Accounting major with a concentration in finance
Most students who were nominated for the President's Award received letters of support from one to two faculty or staff members who consider the nominee something of a campus treasure.
Mena had letters of support from seven mentors across campus, including Shyam Kamath, founding dean emeritus of the College of Business.
Mena is an international student from Costa Rica. He's also the current chair of the board of directors for the Otter Student Union, a role he relishes for its ability to transform the lives of other students as well as his own life.
"It helped me push myself out of my comfort zone, and that opened a lot of doors for me," said Mena, who previously served as the OSU's board treasurer, as well as the treasurer for the Finance and Accounting Society.
"It allowed me to grow personally, but I also got to help other students," Mena said. His service to fellow Otters didn't go unnoticed. Jeff Rensel, the director of the OSU, also nominated Mena.
"Andrés has worked to facilitate communication, relay the student voice, and help create a welcoming environment for the CSUMB community," Rensel wrote in a nomination letter.
Mena accomplished all of this and more – including interning with financial advisory firms in both Monterey and Costa Rica – during the pandemic.
"As an international student, Andrés said he almost dropped out when the pandemic hit his family economically," said Quiñones. "But faculty, staff, and peers at CSUMB encouraged him to stay, and he thrived by receiving the International Student Fee-Waiver Award for three years, among other awards."
She was impressed by Mena's ability to maintain a 4.0 GPA while serving in programs like the Mentor Collective, which supports underserved first-year students by matching them with more experienced mentors like him.
Mena's family is similarly proud of his accomplishments.
"I am truly honored and humbled to receive this special award," said Mena. "I owe a debt of gratitude to my family, who have supported me along the way."

Lissa Alaniz, 2023 President's Graduate Award for Exemplary Regional Stewardship
Master of Social Work with Pupil Personnel Services Credential and Child Welfare and Attendance credentials
Lissa Alaniz first graduated from CSUMB in 2020 as an undergrad during the height of the pandemic. Back then, her graduating class didn't have a chance to walk across a stage, so this year's ceremony is especially meaningful.
Today, Alaniz graduates with a job waiting for her as the retention advisor with the Educational Opportunity Program, a service that provides low-income students access to and support for achieving their higher education goals.
Alaniz is a first-generation college student who graduated with a degree in collaborative health and human services. She returned to the same department to earn her Master of Social Work and has served as an orientation leader with First-Year Experience, a residential advisor, and a program assistant with Upward Bound.
"I never allowed myself to take a break or breathe," said Alaniz. "It's always been so 'go, go, go.'"
The President's Award helped her realize that all her hard work has paid off, and her contributions to CSUMB are being recognized.
"It's given me the chance to stop and reflect on everything I've done," said Alaniz.
She's most proud of her work to ensure all families can receive campus orientations led by bilingual professionals, who can answer questions in multiple languages.
"Lissa stood out because she exemplifies the Otter values of giving back to the community and supporting others," said Quiñones. "She helped to create a program for Spanish-speaking parents at orientation to ensure they have the information necessary to help their students succeed. She also leads Spanish-speaking tours once a month."
"More than that," Quiñones continued, "she has worked in the community to support homeless youth, DACA-eligible youth, and children experiencing trauma. I know Lissa will continue to do great things and have an impact wherever she works next."
Alaniz is grateful for her time at CSUMB.
"The university taught me advocacy, supporting and uplifting individual voices," including the voices of farmworkers. Alongside her mother, Elmy Alaniz, Lissa Alaniz spent summers working in the grape fields of Bakersfield to be able to afford her education.
"One of the biggest reminders I hold close to me is the field workers telling me "mija, los que tienen educación no merecen estar aquí, siguele echando ganas para nosotros que no podíamos."
It's a reminder that "those who are educated do not belong in the field, keep working hard for those [who] didn't have the opportunity to [get one]."