2021 Dean's Medalists achieved excellence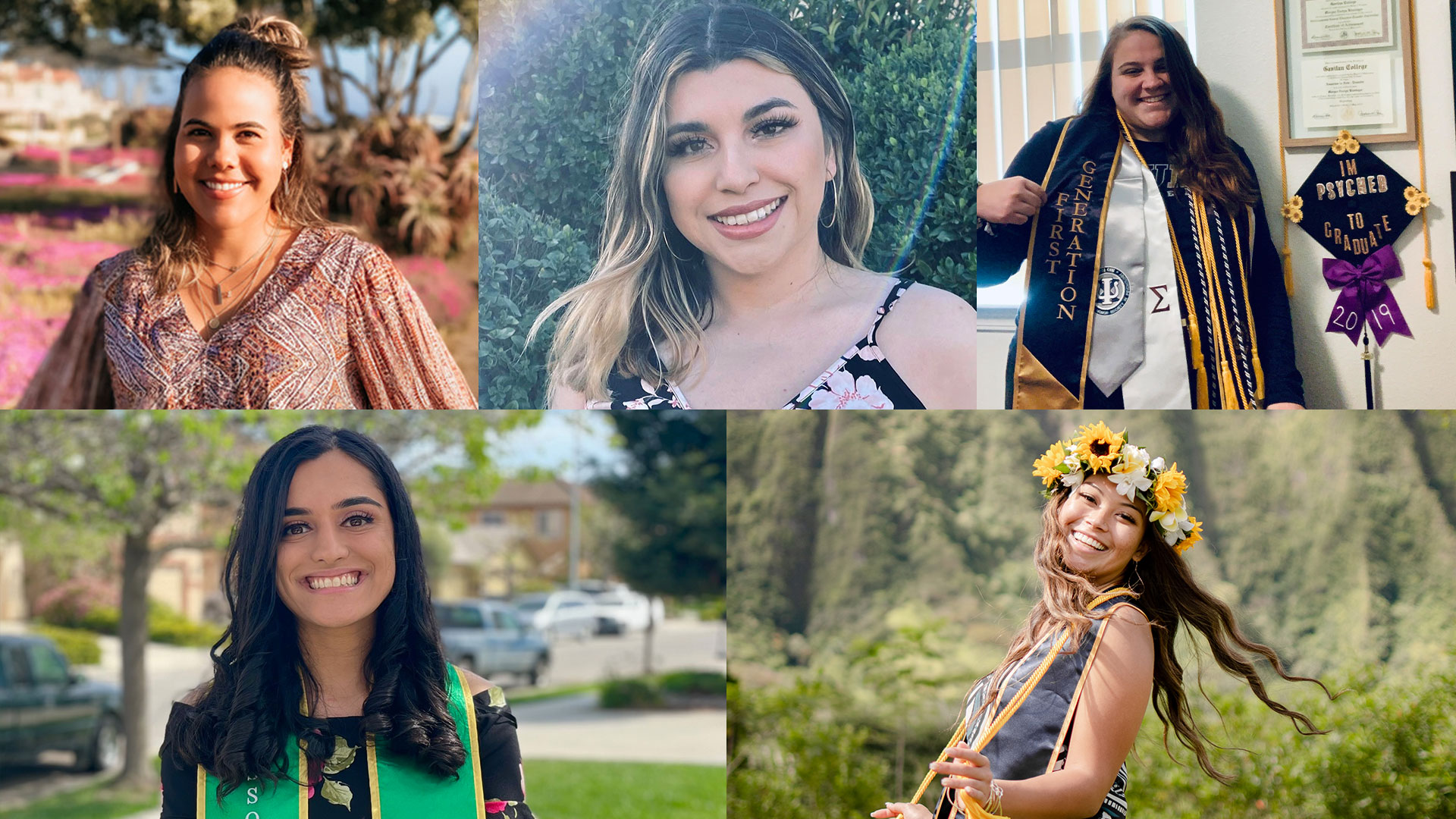 May 13, 2021
By Walter Ryce

Dean's Medalists must be graduating within the academic year, carry a cumulative GPA of 3.5 or higher, must be in good standing and not on probation, and be nominated by staff or faculty.
That is the minimum.
Further, the criteria looks for students who are well-rounded, have made significant contributions to students or the university, shown leadership, been a positive agent for innovation and action. The deans from each college select among those few to be Dean's Medalists.
Ciara Vernon - Collaborative Health & Human Services, College of Health, Sciences & Human Services
Vernon came to the States from Belize, attending community college while getting acclimated to American life. She transferred to CSUMB in spring of 2019, shy and terrified but ready to get involved in campus and community life.
"I didn't know where to go," she said, "and I thought being able to support students would be a good start."
She signed up to be a Peer Educator with the Personal Growth and Counseling Center, working at flu clinics, Safe Spring Break, Mental Health Awareness Month, Suicide Prevention Week, and conversation couches for discussion and support.
She had one semester in person before the pandemic lockdown, but that didn't slow her roll. She had just started her internship, so she decided that COVID-19 would be her internship.
She had earned her Certified Nursing Assistant certificate in 2017 in Sacramento, so she volunteered with the Monterey County Health Department at vaccination clinics, administering 1,200 shots. She did contact tracing for five months.
After that she went back to her original internship project, reducing cannabis use among pregnant and breastfeeding women.
"As of March 2021, Ciara has completed over 560 hours in her field placement — more than double the requirement," said Stephanie M. McMurtrie, a lecturer in Health, Human Services and Public Policy. "This is in a year in which many students are struggling to meet the minimum."
Adriana Vieyra - Human Development and Family Studies, College of Education
Vieyra came to CSUMB as a freshman and was part of the College Assistance Migrant Program (CAMP) which helps first-time freshman from migrant camp or seasonal farming backgrounds.
Today she is employed as a peer mentor in the program.
Carmen Ramirez, Advising and Recruitment Specialist, says that Vieyra has been a phenomenal contributor to the students in her purview, that she's effective and engaging because she can relate to where they are at in that moment.
Vieyra applies that same foundation of personal experience elsewhere. She has a physical disability and chronic health issues that sometimes cause "overwhelming stress," and volunteers with Special Kids Connect, a nonprofit that raises awareness and provides support for local kids with disabilities.
As a CAMP peer mentor, she works with about 25 incoming freshmen, meeting with them monthly to make sure they feel secure, educating them on self-advocacy, helping with composing emails.
"I also facilitated parent and student panels during Admitted Otter Days," Vieyra says. "I was able to give my own personal testimony on the importance of higher education and the benefits of programs such as CAMP."
Off campus, in the surrounding community, she's served as a Mini-Corps math, literacy and English tutor for K-5th grade students who identify as first-generation migrant students and whose parents are low-income fieldworkers.
It all adds up to a common goal: "Providing equal access to education for all students."
Seaenna Correa-Garcia - Marine Science, College of Science
Correa-Garcia flew 2,000 miles across the Pacific Ocean to become an Otter. Her home is Hawaii, but she came seeking opportunities that weren't available to her on "a small island in the middle of the sea."
In Hawaii she had begun conducting research on stable isotope values to assess food web relationships in a traditional Hawaiian fishpond. And she continued in that vein at CSUMB in the College of Science.
She got to showcase her research at the Society for the Advancement of Chicanos and Native Americans in Science 2019, a national multicultural and multidisciplinary conference. She also represented the Undergraduate Research Opportunities Center along with TRIO Student Support Services, and her home research institution, the Hawaii Institute of Marine Biology.
"I also had the honor and privilege to represent Marine Science students by bringing up concerns, initiatives and opportunities within the College of Science," she says.
She began getting involved in campus activities to ward off homesickness, but found them to be rewarding in their own right. She got a job with the Recreation Department, got promoted to the lead for recreation service staff, joined the Recreation Student Leadership Team, and it turned into a passion and a place of belonging.
She helped develop banquets, retreats, rallies, campus-wide events. Last semester she was made project manager for the week-long, multi-department National Recreation events to foster togetherness, wellbeing and personal health.
She has also been a Resident Advisor, a mentor for kids in the Wahine Project, and president of the Asian and Pacific Islander Association.
"The hardest part of working with such wonderful students [like Seaenna]," says Carlos E. Espinoza, Recreation Otter Cycle Center Specialist, "is that they do graduate."
Morgan Kissinger - Psychology, College of Arts, Humanities and Social Sciences
Kissinger transferred from Gavilan College to CSUMB in Fall 2019, so she wanted to get involved in campus life quickly and meaningfully. She did so by getting a job that would help her save money for grad school, but one that wasn't related to her major — in that way she would expand her experiences into new territory.
She chose to work with the Department of Education and Leadership. She did clerical and admissions work, and composed the monthly newsletter, but as she learned more she passed on career path advice to other psychology majors.
Then she enhanced her major by joining — and eventually becoming vice president and treasurer, then president of — the Psi Chi International Honor Society in Psychology.
She collaborated on several projects including the semi-annual department welcome back party, panels with professionals from social work and planning, and organizing events like the annual Induction Ceremony.
She delved deeper into her field, doing work as a direct care counselor for an eating disorder recovery treatment center, as well as a crisis text line counselor for people struggling with anxiety, depression and suicidal ideation.
"This is especially important work since the pandemic started because the rates of depression and anxiety have both gone up," says Psychology Professor Jill A. Yamashita. "She asked questions that showed that she wanted to understand 'why.' She showed a curiosity."
In December, Kissinger was accepted into a graduate school program.
"To be able to take these next steps and move forward with Cal State University Monterey Bay having my back, I know I can achieve anything," Kissinger says.
Jaspreet (Jasmine) Bhardwaj - Business Administration, College of Business
Read about Bhardwaj in the President's Award entry.