Campus Vision Retreat
A day of intellectual engagement with the CSUMB Vision Statement. President Ochoa facilitated a dialogue and exercise to provide campus input for the strategic planning process next Spring.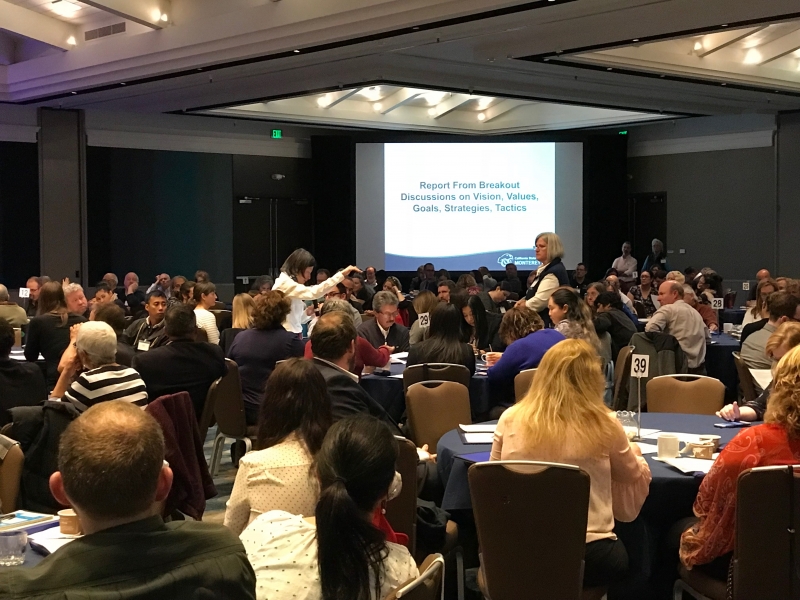 November 20, 2017
8:00am — 5:00pm
Hyatt Regency
1 Old Golf Course Road
Monterey, CA 93940
Video
Documents
President Ochoa's slide presentation
Timeline
8:00 a.m. - Check-in / breakfast
9:00 a.m. - Remarks by President Eduardo M. Ochoa and Professor and Academic Senate Chair Michael B. Scott.
9:45 a.m. - Mission discussion
10:45 a.m. - Break #1
11:00 a.m. - Reports from Breakout Discussions
12:00 p.m. - Buffet lunch
1:30 p.m. - Breakout sessions (vision, values, goals, strategies and tactics)
3:00 p.m. - Break #2
3:30 p.m. - Reports from Breakout Discussions
4:30 p.m. - Closing remarks
5:00 p.m. - End
Vision guidance to strategic planning
CSUMB's founding Vision Statement is a powerful, substantive document that has charted the character and direction of the university, and continues to be a reference point and rhetorical artifact invoked in many campus conversations involving policy, actions, and prioritization. Often the Vision Statement addresses the issues involved, but sometimes the views advanced are not in fact present in the statement. Over time, the perceived direction and the substantive content of the Vision Statement have some‐ times diverged.
As the university approaches its 25th anniversary, it is fitting for us to re-engage with the founding Vision Statement and do justice to its high‐caliber content. We can do so by a close critical reading that brings its rich ideas in contact with the 21st century realities facing our university, our region, and our world. Such an exercise will allow us to reaffirm the enduring aspects, discard those that are no longer relevant, and introduce new elements in response to the new environment. The results of this activity will inform the new strategic planning process that will take place in Spring 2018.
In preparation for this substantive exercise, it will also be useful to adopt more precise terminology and conceptual framework, consistent with best practices in strategic planning. In that context, the following terms have distinct definitions and follow different purposes in developing institutional effectiveness:
MISSION: the reason we exist; what the university is created to do;
TACTICS: specific technical, fine‐grained methods used to implement our strategies.
STRATEGIES: approaches we select to accomplish our goals;
GOALS: the major mid‐term objectives identified pursuant to our mission;
VALUES: the ethical, professional, and human characteristics that characterize how we accomplish our mission;
VISION: what we want to become as a university in a long‐term horizon;
A careful exegesis of the founding Vision Statement—prior to the critical evaluation referred to above—shows that the statement outlines not just a vision, but that it intro‐ duces all the elements 1 through 6 defined above. At the retreat, we will distribute a table that attempts to unbundle these distinct elements so we can analyze them more clearly both in substance and function.
Five‐year strategic planning cycle