Discover CSUMB: 6th Ave Live!
Come visit the World Theater during Discover CSUMB on Saturday, October 12, 2019. We want to welcome you to Discover CSUMB while providing all day activities at the World Theater from video and a feature film to live entertainment.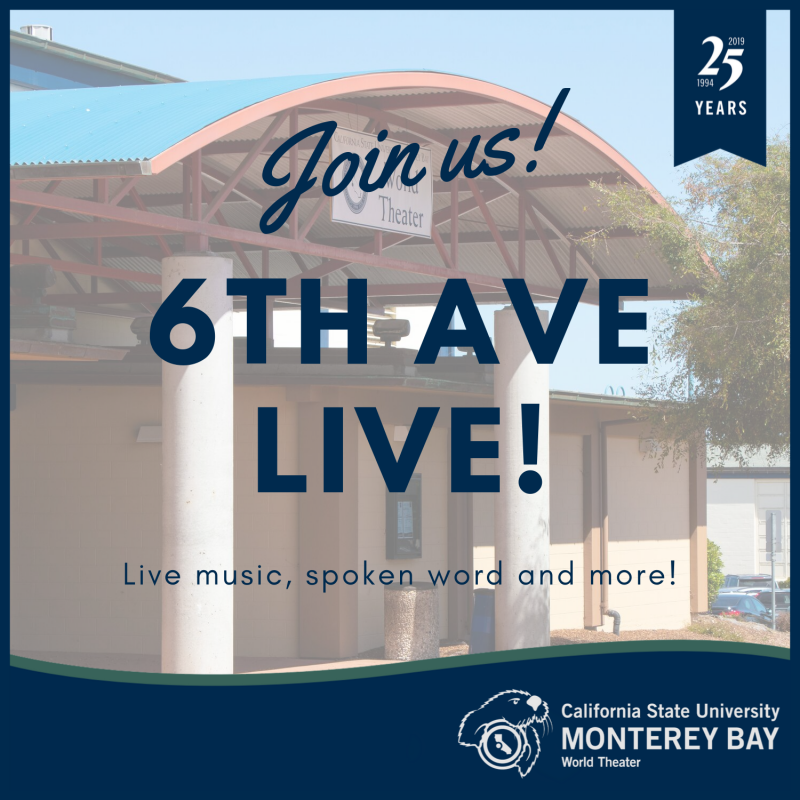 October 12, 2019
10:00am — 7:00pm
World Theater and 6th Ave. in front of World Theater
FREE to our community (Discover CSUMB)
Discover CSUMB
Schedule of 6th Ave. Live Events
10:00 AM - 4:00 PM
Video Presentations
In the World Theater, at the start of each hour, video presentations of past Performing Arts Series. See video clips from the Chinese Acrobats of Peking and performances of fusion Jazz and Rock and Roll!
2:00 PM - 5:00 PM
6th Ave Live! in front of the Theater
Relax and enjoy the music of Monterey's premier band First City Crew, Poetry from the CSUMB School of World Languages and Culture and tune-in to Enrique Rios and Sharp Nine, musicians from our own Music Department on-campus.
5:00 PM - 7:00 PM
A showing of La Bamba
Feature film La Bamba written and directed by CSUMB founding faculty member, Luis Valdez.
More on the First City Crew