MITA Bi-Coastal TradeTalks Conference
The MITA Bi-Coastal TradeTalks Conference brings together MIIS students and faculty, trade experts and professionals, and the interested public for a day of panel discussions relating to today's most important issues in trade.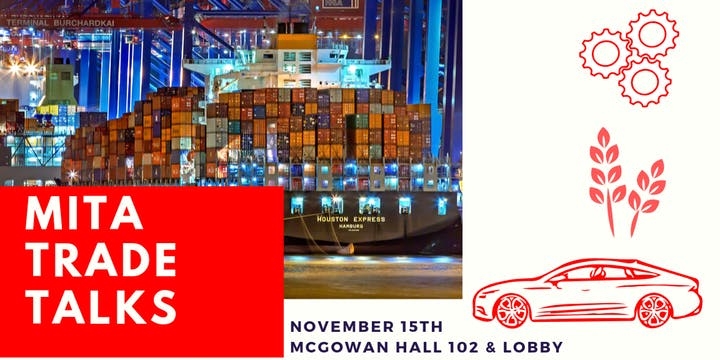 November 15, 2019
8:30am — 3:00pm
Middlebury Institute
411 PAcific St
Monterey, CA 93940
Middlebury Institute of International Studies at Monterey 411 Pacific Street McGowan Hall Room 102 Monterey, CA 93940
Free with Student ID
MITA Trade Talks - EventBrite
Prof. Liang and the Monterey ITED cohort have coordinated with Prof. Rogowsky and the DC cohort to create 3 diverse panels of experts, drawn from academia, government, and the NGO and private sectors. The conference is conducted via Zoom, allowing speakers in D.C. to reach our local audience, and vice versa. This conference is valuable for all MIIS students who wish to learn about international trade, connect with potential employers, and expand their academic and professional horizons.
2019 has been a year of major change in the field of international trade. Shifts in U.S. trade policy are expected to have wide-reaching impacts in the years to come. This conference will give our students a unique opportunity to find out what all of these developments meanwhile connecting with professionals in the community who come to how their businesses and organizations navigate today's changing regulatory climate. Experts in trade are expecting on the horizon. We will connect speakers in Monterey, CA and Washington, D.C. for panel discussions on this year's greatest trade issues, including U.S. trade with China and developments in export compliance. We will also investigate some of the broader effects of international trade on local actors.