About Monterey Bay
Monterey Bay is a small, safe, welcoming, and supportive community with amazing scenery and a lot of activity.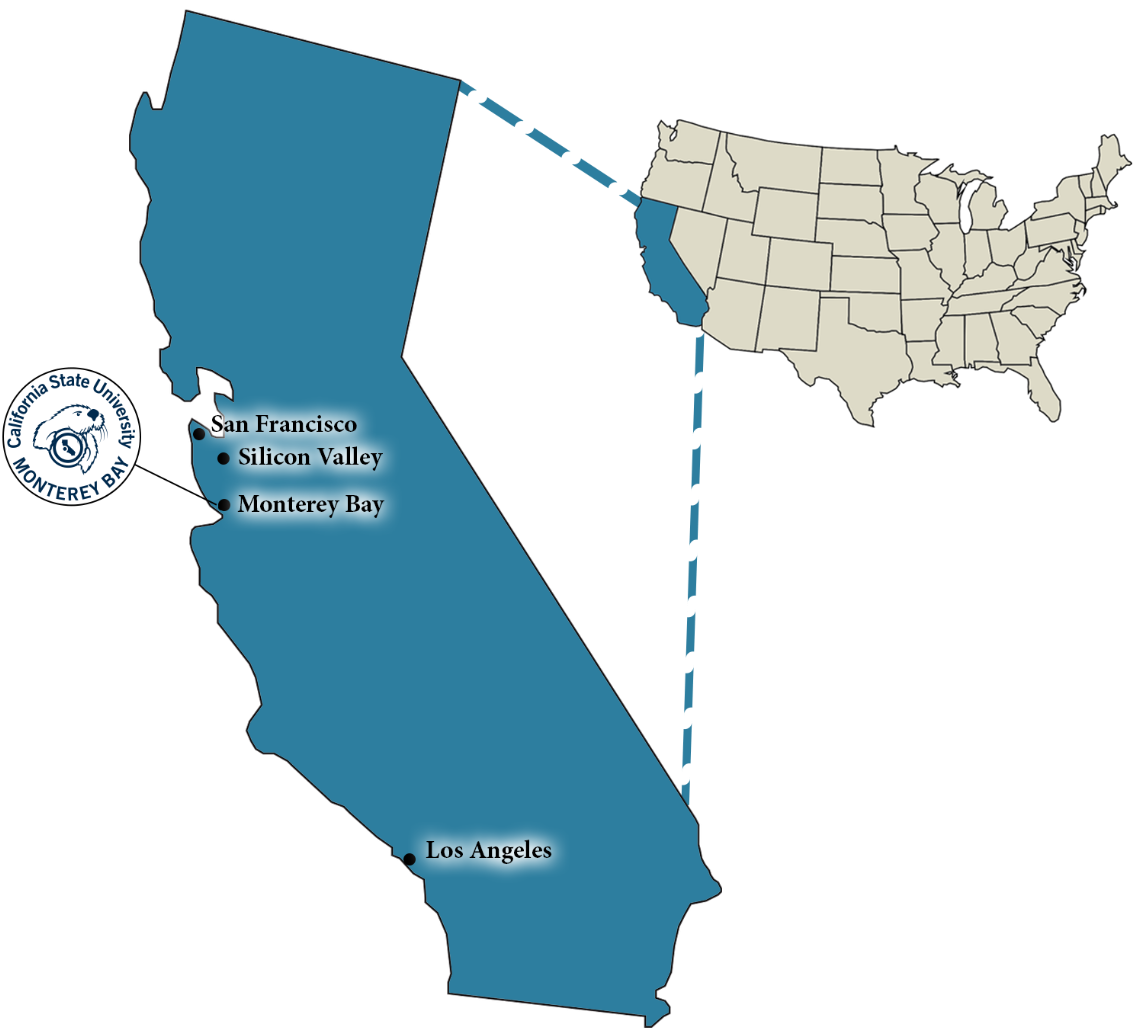 The white sand beaches are a short bike ride away from campus and are perfect for relaxation and recreation, while nearby mountains and redwood forests are ideal for camping and long hikes.
Marine wildlife can be seen from the shore at any time of the year. The area has great shopping, an excellent aquarium, and is a major tourist destination for its scenic views, best-in-class wineries, its vibrant arts scene, and abundant outdoor activities.
CSUMB's campus is located in the center of the California coastline, providing students easy access to famous destinations like San Francisco, Silicon Valley, and Los Angeles.
Conveniently located near some of the best attractions in the U.S.
2.5 km to Monterey Bay beaches
12 km to downtown Monterey

50 km to Big Sur

105 km to San Jose/Silicon Valley
180 km to San Francisco
500 km to LA/Hollywood/Disneyland
As a vibrant tourist destination, there is always something happening in Monterey! Check the below links for some ideas on how to spend your time.
The following video was produced by exchange student and Cinematic Arts & Technology Major, Tomoaki Yui of Dokkyo University (Sōka, Japan) with help from Ali Hamza of Østfold University College (Halden, Norway) and Alba Uruñuela of the Universidad de Deusto (Bilbao, Spain).
Monterey was first colonized by Spanish merchant Sebastian Vizcaino in 1602. When California was ratified as a state in 1849, Monterey was its first capital!
The widely acclaimed Monterey Jazz Festival occurs each September and is the longest continuously running jazz festival in the world.

Nearby Carmel-by-the-Sea has one art gallery for every 34 residents.

Famous actor Clint Eastwood once served as the mayor of Carmel-by-the-Sea
HBO's critically acclaimed series "Big Little Lies" is set in Monterey (though the people are much nicer than in the show, we promise!)
Built in 1844, California's First Theater in Monterey opened and is California's first (and still operating) theater. Nineteenth century melodramas have been presented here since the 1930s.
Facts gathered with help from SeeMonterey.com