Responsible Conduct of Research
Template for Proposal Submission
Certification of Student Training Completed
Training in Responsible Conduct of Research Management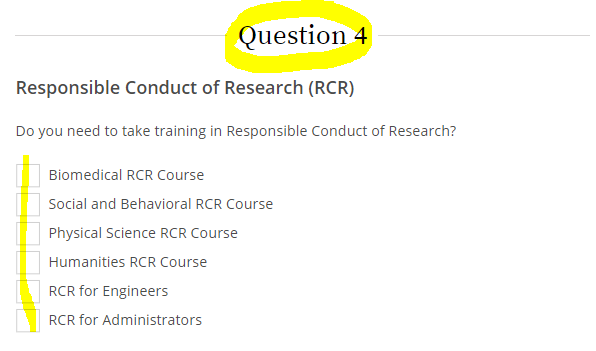 Many funding agencies require researchers to provide ongoing training and certification in ethical and responsible research conduct for their student assistants.
Common agency policies are below, along with tools for CSUMB researchers to provide to students who need CITI training and certification.
The National Institutes of Health requires that all applicants for Institutional National Research Service Award (NRSA) Research Training Grants (T32, T34) include explanation of an educational program in the responsible conduct of research.

Applications that do not include a plan for RCR instruction are considered incomplete.

The NIH suggests that the RCR instructional program include the following topics:

Conflict of interest
Responsible authorship
Policies for handling misconduct
Policies regarding the use of human participants and animal subjects
Data management

The proposed plan must include

Subject matter of the instruction
Format of the instruction
Degree of faculty participation
Trainee attendance
Frequency of instruction

In December of 2000, the Public Health Service issued a policy requiring all researchers supported by PHS funding to complete a program of instruction in the responsible conduct of research.

Congress has suspended the policy and has asked the PHS to review the format and content of the policy. The Office for Research Integrity (ORI) is currently revising the policy and plans to re-release the policy in the future.

The suspended policy required PHS supported researchers to engage in education on the following topics:

Data management and integrity
Mentor/trainee responsibilities
Publication practices and responsible authorship
Peer review
Collaborative science
Human subjects
Research involving animals
Research misconduct
Conflict of interest and commitment

Research institutions nationwide are taking steps to implement RCR educational programs prior to the re-release of the policy.

In addition, the recently enacted America COMPETES (America Creating Opportunities to Meaningfully Promote Excellence in Technology, Education, and Science) Act, will affect the National Science Foundation in several ways. Section 7009 requires that institutions receiving NSF grant funds in which undergraduate, graduate students, or postdocs are listed as research personnel must provide RCR training to those individuals. This section will of the America COMPETES act will be implement on January 4th, 2010. Please see the Federal Register announcement of the implementation of Section 7009 of America COMPETES Act.