Diversity Celebration Series - Infectious Disease Week: Understanding and Mitigating Emerging Pandemics
CHSHS is thrilled to welcome Sonia Shah, investigative journalist and award-winning author of "Pandemic" & "The Fever", to discuss the COVID-19 pandemic and the lessons we can apply to the global response to future infectious diseases.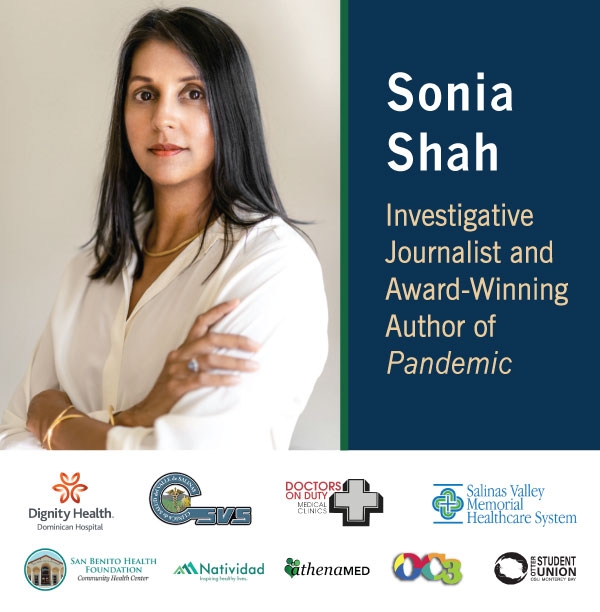 October 22, 2020
5:00pm — 7:00pm
Sonia Shah
2013 TED Talk on Eradicating Malaria
Sonia Shah is an investigative journalist and author of critically acclaimed and prize-winning books on science, human rights, and international politics. Her book, Pandemic: Tracking Contagions from Cholera to Ebola and Beyond was selected as a New York Times Book Review Editor's Choice and a finalist for the 2017 Los Angeles Times Book Prize in science/technology, the New York Public Library's Helen Bernstein Book Award for Excellence in Journalism, and the National Association of Science Writers' Science in Society Award. Her critically acclaimed 2010 book, The Fever: How Malaria Has Ruled Humankind for 500,000 Years (Sarah Crichton Books/ Farrar, Straus & Giroux, July 2010), which is based on five years of original reportage in Cameroon, Malawi, Panama and elsewhere, was long-listed for the Royal Society Winton Prize. Philanthropist Bill Gates called it one of his top four "good books on disease" in recent years. Her most recent book, The Next Great Migration: The Beauty and Terror of Life on the Move debuted in June 2020.
A former writing fellow of the Nation Institute and the Puffin Foundation, Shah's writing has appeared in The New York Times, The Wall Street Journal, Scientific American, Foreign Affairs, and elsewhere, and has been featured on current affairs programs around the United States, including RadioLab, Fresh Air with Terry Gross, and other NPR shows, as well as on CNN, Al Jazeera, and BBC. A popular public speaker (her TED talk on malaria has been viewed by over 1,000,000 around the world; she delivered the opening talk at the 2014 TEDMED conference) Shah has lectured at universities and colleges across the country, including Columbia's Earth Institute, MIT, Harvard, Yale, Brown, Georgetown and elsewhere. She served as the 2014 Ottaway Professor of Journalism at SUNY New Paltz and has been frequently supported by the Pulitzer Center on Crisis Reporting and The Nation Investigative Fund. Buzzfeed listed her groundbreaking 1997 collection Dragon Ladies: Asian American Feminists Breathe Fire on its "27 Books Every Woman in America Should Read."
Shah was born in 1969 in New York City to Indian immigrants. Growing up, she shuttled between the northeastern United States where her parents practiced medicine and Mumbai and Bangalore, India, where her extended working-class family lived, developing a life-long interest in inequality between and within societies. She holds a BA in journalism, philosophy, and neuroscience from Oberlin College, and lives with molecular ecologist Mark Bulmer and has two sons, Zakir and Kush.